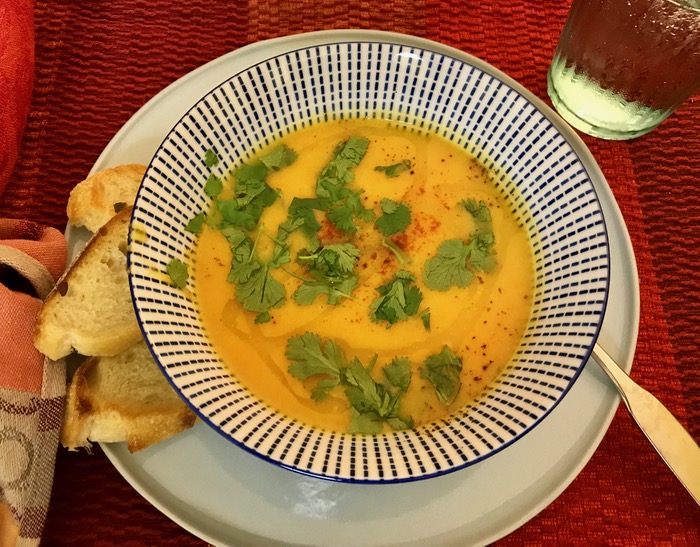 It's fall, so anything fall-colored seems to make its way to the menu, and that means a new recipe.  While this has been published in several places, I read about it in the New York Times where it goes by the name of Lemony Carrot Cauliflower Soup, and is a recipe by the talented Melissa Clark.  But I didn't think the amount of lemon in it (added at the end) warranted an inclusion in the title, although it is a necessary ingredient.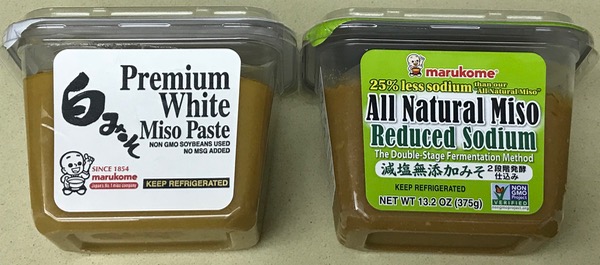 One of the more unusual ingredients is white miso, an item I'd never used.  In doing some internet reading, I found there were two main kinds: white miso and red. Apparently white miso has rice as the main ingredient.  It's kind of a paste, easily scooped out with a spoon.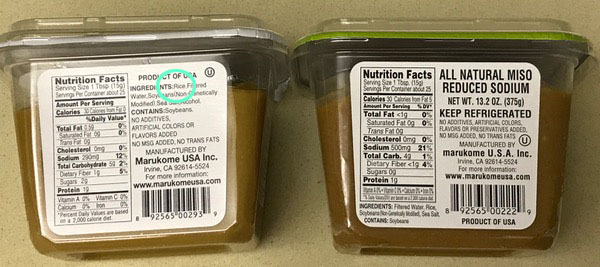 I bought some at the local grocery store, but it didn't say whether it was red or white (the green label container).  So I searched online for "Asian food stores" and found a little convenience mart near me (who knew?) and called.  They had it. The website I read said the difference was how much rice it had (circled, above) but both of them seemed to have rice listed as the first ingredient, but I used the slightly lighter one on the left.  It is not a pronounced flavor, but it adds a depth to the soup, giving it a more "rounded" flavor than just carrots and cauliflower.  I will save the low-sodium miso for another use, as apparently they keep forever. There are recipes everywhere, once you start looking.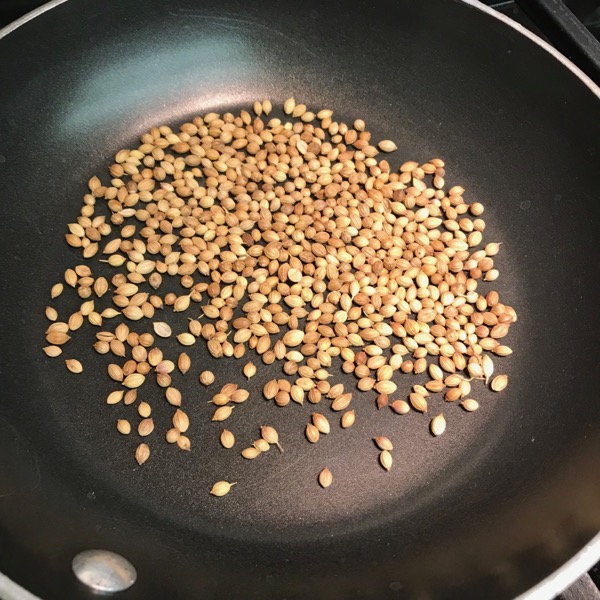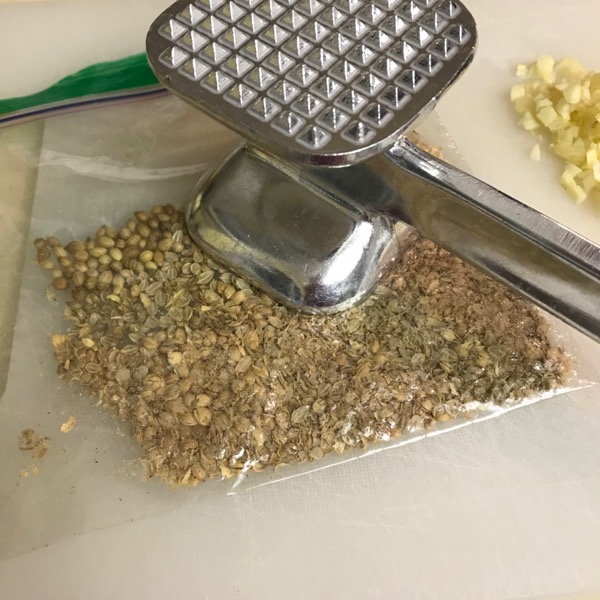 I have a spice grinder, but after toasting the coriander seeds, I went old-school and put them in a ziploc bag and crushed them with a food mallet.
I read through many of the comments and decided to make it as written, with the exception of using chicken broth as the base (original calls for water).  But the comments were right: it needs a bit of a flavor boost.  While Clark indicated adding cilantro, I would add more of the spices to the soup itself (rather than just a garnish at the end), and perhaps add some rotisserie chicken from the big box store.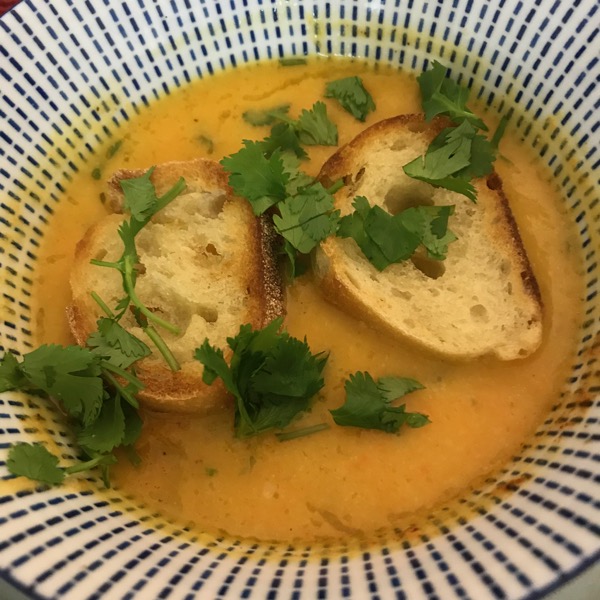 We served it with crostini, and ended up throwing them in, to absorb the soup and fall apart into big soggy delicious chunks.  Enjoy!
Ingredients
1 tablespoon coriander seeds
2 tablespoons extra-virgin olive oil, more for serving
1 large white onion, peeled and diced (2 cups)
2 large garlic cloves, finely chopped
5 medium carrots (1 pound), peeled and cut into 1/2-inch pieces (2 cups)
1 ½ teaspoons kosher salt, more as needed
3 tablespoons white miso
1 small (or half of a large) head cauliflower, trimmed and cut into florets
½ teaspoon lemon zest
2 tablespoons lemon juice, more to taste
Smoky chile powder, for serving [note: I didn't have this, so used smoked paprika and chili powder as a substitute]
Coarse sea salt, for serving
Cilantro leaves, for serving
Preparation
Toast coriander seeds until fragrant and dark golden-brown, 2 to 3 minutes, swirly often to keep them from burning. Coarsely crush.
In a large, heavy pot, add the oil and heat until warm. Stir in chopped onion; cook, stirring occasionally, until soft and lightly colored, 7 to 10 minutes. Stir in garlic and cook 1 minute.
Add carrots, crushed coriander, salt and 6 cups chicken broth to the pot. Stir in the miso until it dissolves (I was hesitant at first and only used half, but use the full amount). Bring mixture to a simmer and cook, uncovered, 5 minutes. Stir in cauliflower and cook, covered, over medium-low heat until the vegetables are very tender, about 10 minutes.
Remove the soup from the heat. Using an immersion blender, purée the soup until smooth. (Alternatively, you can let soup cool slightly then purée it in batches in a food processor or blender.) If necessary, return the puréed soup to the heat to warm through.
Stir in the lemon zest and juice just before serving. Drizzle with oil and sprinkle with chile, sea salt and cilantro leaves.
[Note: I added a wave of the paprika and a half-wave of chili powder to the soup, as well as the salt before serving.  We also garnished with the spices and the olive oil.  My favorite was using my lime-flavored olive oil, purchased from a local shop near me.]