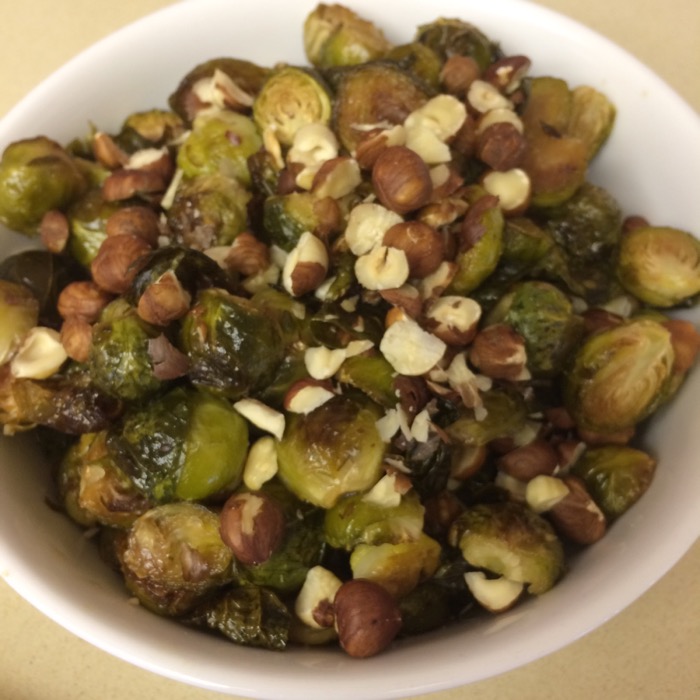 1 ½ – 2 pounds brussels sprouts
¼ cup olive oil
¾ teaspoon sea salt
¼ teaspoon (or 10 grinds) black pepper
2 tablespoons maple syrup
½ cup toasted hazelnuts, coarsely chopped
Preparation
Preheat the oven to 375 degrees.
To prepare the brussels sprouts, remove any yellow or brown outer leaves, cut off the stems and cut in half.
In a large bowl, toss the brussels sprouts, olive oil, salt and pepper together. Once all of the brussels sprouts are coated in oil, spread them into a 9-by-13-inch (or larger) baking dish or sheet tray to roast. Note: You may want to line your sheet tray with foil for easy cleanup because the caramelizing process leaves a sticky residue.
After 15 minutes, stir the brussels sprouts with a spatula or large spoon to even out the browning. After 30 minutes, stir in the maple syrup. Continue to roast the brussels sprouts for about 15 more minutes, or until they are fork tender (about 45 minutes total roasting time).  Toss the roasted brussels sprouts with the hazelnuts and devour!
NOTE: If your sprouts are on the smallish side, they may need less time overall.  Cook only until fork tender.
To toast hazelnuts, place in pan over low heat, tossing or stirring frequently so they don't burn.  They should let off a fragrance when they are toasted, in probably no more than 5 minutes total time.