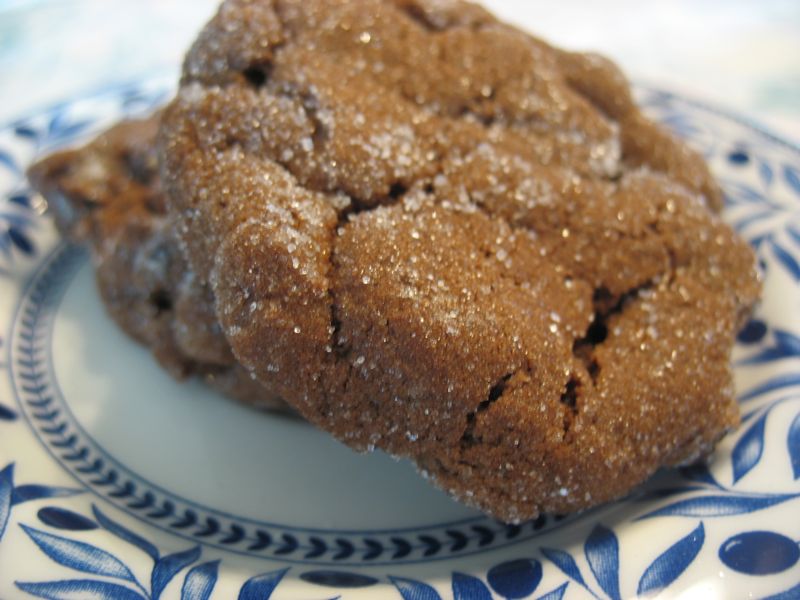 We were shopping–the Mr. and I–for Christmas, and beside the register was a brochure pushing anything Martha.  I picked it up because she had a recipe for these cookies.  I'd been thinking about trying to find a recipe like this ever since Dave and I had chewy gingerbread cookies at the Cheese Board Collective in Berkeley.  That day we'd driven down across the Delta, got stuck in horrid traffic, our tempers frayed and flared, but we made it to the Collective about 45 minutes before they closed down.  Our pizza was delicious, the salad was crisp, but the cookies–oh my–the cookies!  After we visited the Berkeley Rose Garden we went back for two more, but alas!  They'd sold out.  So they remain in my memory.  These resemble those from the Cheese Board, but I can't remember now if the Berkeley variety had chocolate chunks in it. Oh well–these are delicious, too.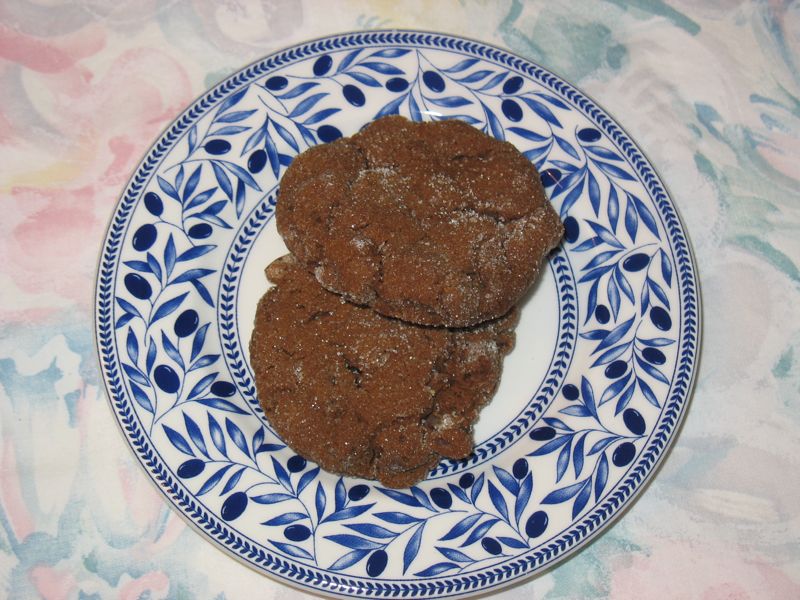 Chewy Gingerbread Cookies—yield: 30
originally from Martha Stewart, amended by me
Ingredients
14 ounces best-quality semisweet chocolate chips
3 cups plus 2 tablespoons all-purpose flour
2 tablespoons unsweetened Dutch-process cocoa powder
2 1/2 teaspoons ground ginger
2 teaspoons ground cinnamon
1/2 teaspoon ground cloves
1/4 teaspoon ground nutmeg
1 cup (2 sticks) butter, softened
1 cup packed dark-brown sugar
2 tablespoons finely grated, peeled fresh ginger
1/2 cup unsulfured molasses (I use the green label molasses)
2 teaspoons baking soda, dissolved in 1 tablespoon boiling water
2/3 cup granulated sugar, in bag (for coating)
Directions
1. Sift together flour, cocoa powder, and spices into a medium bowl. Put butter, brown sugar, and grated ginger into the bowl of an electric mixer fitted with the paddle attachment. Beat on medium speed until fluffy. Beat in molasses.
2. Beat in flour mixture in 2 batches, alternating with the baking soda mixture. Mix in chocolate chips. Shape dough into a disk, and wrap in plastic (or place in gallon-sized Ziploc bag). Refrigerate until firm, about 2 hours (up to overnight).
3. Preheat oven to 325 degrees. Shape dough into 1 and 1/2-inch balls, and drop them into a bag filled with some granulated sugar, tossing to coat. Place 2 inches apart on ungreased baking sheets, pressing down on each cookie slightly to flatten. (I used the bottom of a glass, dipped in sugar.)
4. Bake until surfaces crack slightly, 10 to 12 minutes. Let cool on sheets, 5 minutes. Transfer cookies to wire racks, and let cool completely. Cookies can be stored in an airtight container up to 3 days.
Cook's Confessions: I left mine in the fridge for 3 days–just couldn't get the time to bake them up.  They were fine.
Note: you can store fresh ginger in the freezer.  When needed, peel with a paring knife, then grate on the fine section of your cheese grater.
These cookies are best when warm–so set them in the sun for a few minutes to soften.