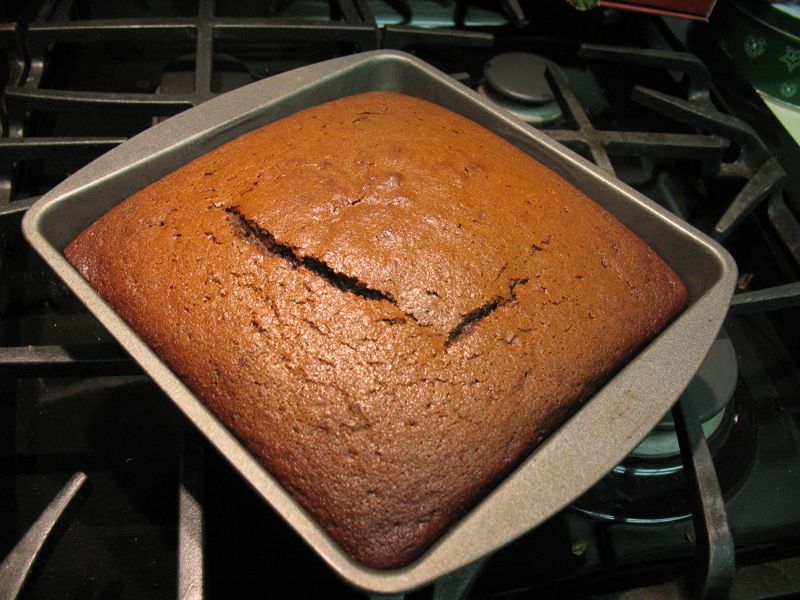 Merry Christmas to all!
Perhaps there is no more evocative scent for Christmas than that of ginger–specifically baked into shaped cookies, houses and cakes.  I'd always made a gingerbread using oil, but this year I took on the challenge to make it without oil.  It was a switch I should have made a long time ago, and I was glad for the chance to try a new recipe.  As you can see, we haven't cut into it yet, but the batter was yummy (yes, it's true that I come from a long line of beater-lickers).  Serve with Elizabeth's Lemon Butter Sauce, and maybe a dab of soft home-made whipped cream?  I wish you visions of sugarplums dancing in your head.
This is from the yellow Gourmet Cookbook, edited by Ruth Reichl.  It's a winner to have in a collection.
Old-fashioned Gingerbread
Ingredients
2 cups all-purpose flour
1 teaspoon baking soda
1 1/2 teaspoons ground ginger
1 teaspoon ground cinnamon
1/4 teaspoon ground cloves
1/2 teaspoon salt
1 stick (1/2 cup)  real butter, softened
3/4 cup packed light brown sugar
2 large eggs
1/2 cup molasses (not blackstrap)
2/3 cup hot water
Preparation
Preheat oven to 350°F.
Sift together flour, baking soda, spices, and salt into a bowl.
Beat together butter and brown sugar in a large bowl with an electric mixer at moderately high speed until pale and fluffy, 3 to 5 minutes. Add eggs 1 at a time, beating well after each addition, then beat in molasses. (Batter may look separated.) Mix in flour mixture at low speed, then water, mixing until batter is smooth, about 1 minute.
Pour batter into a buttered 9-inch square metal baking pan (2 inches deep). Bake in middle of oven until a tester comes out clean, 35 to 40 minutes. Cool in pan on a rack, about 20 minutes, then serve warm with Elizabeth's Lemon Butter Sauce.
Cook's Note: When I doubled it, I put it into a greased 9″ x 13″ x 2″ pan and baked it for 45 minutes, or until it tested done with a toothpick.  There will be a slight sinking in the middle, but it's not pronounced.