A million years and another life ago, I lived in Texas and across the street from me lived Margaret Hall, a "live one" as my Dad might say.  She lived life at full throttle, including cooking.  Because she had lived so many places with her husband, she had recipes from all over, but for some reason this one stands out–maybe it was her favorite?  She gave it to me with the admonition that I MUST eat black-eyed peas on New Year's day–for good luck in the coming year.  (It didn't work that year–her husband left her for another woman.  Talk about a woman scorned!  It was instructive.)
I have never made this recipe the same way twice.  I give you Margaret's basic Hoppin' John recipe, then directly after that, how I made this year's version.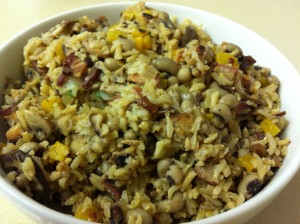 Hoppin' John (to serve at New Year's for Good Luck)
Prepare each ingredient separately:
1/2 cup brown rice (prepare according to package directions)
1/2 package Jimmy Dean Sage Sausage
1/2 lb. bacon, cut into 1/2″ pieces, cooked and drained
1/2 onion, chopped
3-4 celery stalks, chopped (I saute these last two ingredients in a small amount of the bacon grease)
1 to 1  1/2 cans black-eyes peas, undrained.
Add all to crock pot. It is ready when hot, about 2-3 hours. Rice can be white, brown or wild (I use brown rice). This is mild, add dashes of Tobasco until spicy enough or use spicy sausaage. I serve with blue corn chips or Fritos or hefty corn chips.
This Year
This year I sauteed up a yellow bell pepper with the onion, and used fresh black-eyed peas, found in the produce section of my grocery store. Instead of the sage sausage, I used some cooked chicken-apple sausage that we had left over from our holiday party.  I also sauteed crimini and shiitake mushrooms, and added them to the mix.
I gave it four-to-five shakes of Tobasco, added some salt and pepper and wrapped it up and put it in the fridge to mellow the flavors, while I started to take down Christmas.  I wasn't happy with the flavor, though–too bland.  Then I remembered Bayou Blast–a comglomeration of spices that I use when I make dishes for Mardi Gras (scroll down the the bottom of the linked page for the recipe).  I added in 3/4 teaspoon of those spices–a little a time, stirring well after each–and that did the trick.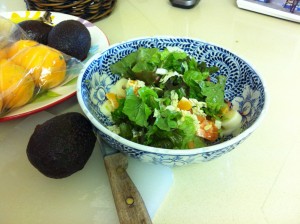 Serve it with your choice of bubbly (mine's Martinelli's) and an Everything Green Salad.  This one has chopped leafy green lettuce, chopped napa cabbage, mandarin oranges from my friend's tree, pine nuts, chopped tomato, palm hearts and (soon) avocado.  A light dressing of oil, vinegar, salt and pepper will complement the ingredients.
Happy New Year!