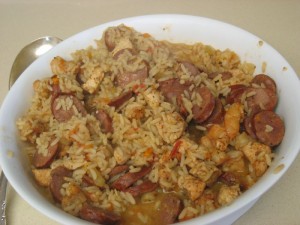 When I lived in Washington, DC for a year, the Washington Post newspaper had a really good food section that I loved to read.  When it was Mardi Gras time, they had Emeril Lagasse contribute one of his recipes to give us all a taste of "N'arlins" style food for our own celebrations.
I made this today in honor of the Saints football team getting into the Super Bowl.  I don't follow football but I was cheering for the team that had come from New Orleans only because that city needed a boost in their fortunes.  I also found a recipe from Mark Bittman's column this week for Scallop Gumbo and served it also.  I found I liked the two mixed together for some strange reason–try it some day.
Recipe courtesy of Emeril Lagasse
Recipe Summary
Prep Time: 15 minutes
Cook Time: 35 minutes
Yield: 4 servings
12 medium shrimp, peeled, deveined and chopped
4 ounces chicken, diced
1 tablespoon Creole seasoning, recipe follows
2 tablespoons olive oil
1/4 cup chopped onion
1/4 cup chopped green bell pepper (I used orange, because I don't like the green)
1/4 cup chopped celery
2 tablespoons chopped garlic
1/2 cup chopped tomatoes
3 bay leaves
1 teaspoon Worcestershire sauce
4-6 drops hot sauce (the original recipe called for 1 teaspoon, if you like it hot, go with it)
3/4 cup uncooked rice
3 cups chicken stock
5 ounces Andouille sausage, sliced
Salt and pepper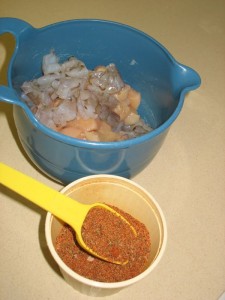 In a bowl combine shrimp, chicken and Creole seasoning, and work in seasoning well. In a large saucepan heat oil over high heat with onion, pepper and celery, 3 minutes. Add garlic, tomatoes, bay leaves, Worcestershire and hot sauces. Stir in rice and slowly add broth.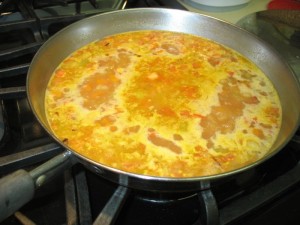 Reduce heat to medium and cook until rice absorbs liquid and becomes tender, stirring occasionally, about 15 minutes. I leave the lid off in order for the liquid to evaporate enough. When rice is just tender add shrimp and chicken mixture and sausage. Cook until meat is done, about 10 minutes more. Season to taste with salt, pepper and if desired, more Creole seasoning.
Emeril's ESSENCE Creole Seasoning (also referred to as Bayou Blast):
2 1/2 tablespoons paprika
2 tablespoons salt
2 tablespoons garlic powder
1 tablespoon black pepper
1 tablespoon onion powder
1 tablespoon cayenne pepper
1 tablespoon dried oregano
1 tablespoon dried thyme
Combine all ingredients thoroughly.
Yield: 2/3 cup