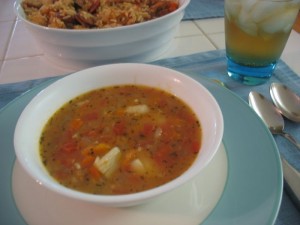 When I saw this recipe in the New York Times (recipe by Mark Bittman), I knew it would work beautifully with what I'd planned to serve for Super Bowl Sunday: Cajun Jambalaya.
Bittman said it was  lighter gumbo, and the seafood was scallops, rather than the shell fish and bivalves I'd seen in other recipes.  The only place I wondered about was where he said to cook the roux, stirring constantly, until it darkened.  Really?  How dark?  Chocolate brown? Mud-colored?  In the end, I went with his timer advice, cooking and stirring for about 15 minutes.  It did darken (see photos below), but I'll never know if it was dark enough.
The gumbo was a lighter version of a soup, flavorful, a bit spicy (but not uncomfortable) and I actually liked dumping spoonfuls of the Cajun Jamalaya into the soup, enjoying the rice, shrimp, chicken and sausauge all together in my bowl.  It's a fine gumbo on its own.
My advice? Prep all the ingredients before you start, because you are stirring the roux and won't have time to stop and chop.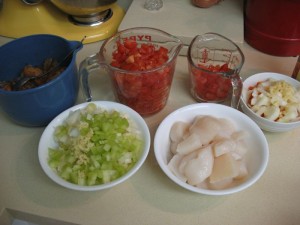 This is the prep for both dishes, the gumbo and the jamalaya.
Ingredients:
1/4 cup olive oil
2 tablespoons butter
1/3 cup flour
1 onion, chopped
1 green bell pepper, chopped
2 celery stalks, chopped
2 tablespoons minced garlic
Salt and black pepper
2 to 3 cups vegetable or chicken stock, or water
2 cups chopped tomatoes with their juice (canned are fine)
1 tablespoon fresh thyme, or 1 teaspoon dried
1 tablespoon fresh oregano, or 1 teaspoon dried
2 bay leaves
Cayenne to taste
1 pound scallops
Chopped fresh parsley, for garnish.
Method
1. Put oil and butter in a large pot or Dutch oven over medium-low heat. When butter is melted, add flour and cook, stirring almost constantly, until roux darkens and becomes fragrant, about 15 to 20 minutes; as it cooks, adjust heat as necessary to keep mixture from burning.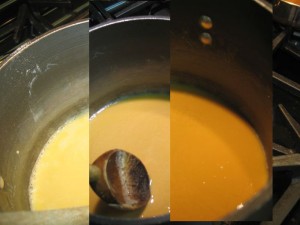 These are the stages of the roux as it darkened over 15 minutes.  I dumped in the vegetables when it was mud-colored.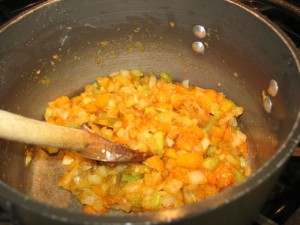 2. Add onion, bell pepper, celery and garlic and raise heat to medium. Sprinkle with salt and pepper and cook, stirring frequently, until vegetables have softened, about 10 more minutes.
2. Stir in the stock, tomatoes, thyme, oregano, bay leaves and cayenne. Cover, bring to a boil, then reduce heat so soup bubbles steadily. Cook for about 20 minutes or until flavors meld. Add scallops and cook until they are no longer translucent, about 2 minutes. Remove bay leaves. Taste, adjust seasoning and serve, garnished with parsley.