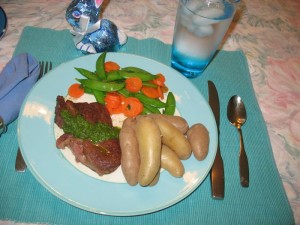 I had two Easters this year.  One was quiet by choice: a day of reflection and quiet, without family or friends (my husband was traveling).  I ate a simple meal of Asparagus Belgique and spent it recharging my batteries.  But the other Easter happened the day after the holiday, when my husband was home and we had our celebratory meal, complete with chocolate bunnies for dessert.
I wanted an easy meal that could be cooked up quickly, yet one that incorporated some traditional Easter ingredients.  I found this online on Epicurious, a recipe from Gourment Magazine, November 2009 by Paul Grimes.  They write: "Here, the sunny warmth of mint escapes the sweet-jelly cliché to find new expression in the thick Argentinean herb sauce called chimichurri. Its bright acidity cuts the lush richness of lamb shoulder chops."  Okay, that's food writing for you.  But I loved the sauce, cutting run-away mint sprigs from my garden to use.  I made a couple of changes to the original recipe which are reflected below in the process.  I served it with fingerling potatoes and a mix of Carrots and Snap Peas, also with some mint from my garden.
Yield: Makes 4 servings
Active Time: 10 min
Total Time: 20 min
Ingredients for lamb chops:
3/4 teaspoon cinnamon
4 (1-inch-thick) lamb shoulder chops
Ingredients for mint chimichurri:
1 to 2 garlic cloves
2 cups flat-leaf parsley including trimmed stems (sometimes called Italian parsley)
2 cups mint including trimmed stems
1/3 cup seasoned rice vinegar
1/2 cup extra-virgin olive oil
Preparation
Preheat broiler.
Stir together cinnamon and 1 and 1/2 teaspoon each of salt and pepper in a bowl, then rub over chops. Broil in a 4-sided sheet pan 3 to 4 inches from heat, turning once, 8 to 10 minutes total for medium-rare.
Note: At first I didn't understand this direction, but then realized they just didn't want you to put it on a rack.  So I sprayed the bottom of the broiler pan with non-stick spray goo and broiled them in there.  I don't like too rare of meat–just medium to medium rare, so I cooked them a little longer, perhaps 6 minutes each side, for a total of 12 minutes.
Meanwhile, make chimichurri:
With motor running, drop garlic into food processor and finely chop. Add remaining sauce ingredients and 1/2 teaspoon salt and pulse until herbs are finely chopped. Transfer to a bowl.
Serve chops drizzled with a little chimichurri and serve peas and remaining chimichurri on the side.  I liked it on the potatoes, as sometimes fingerlings can be a little dry, I think.