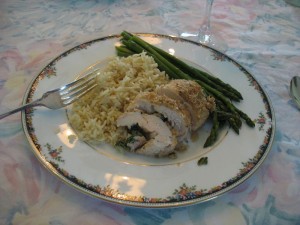 I opened the Williams-Sonoma Cookbook again, as it was my husband's birthday.  As I mentioned before, the celebrations of lots of noise and gifts and crazy fun have ebbed, and have been replaced with a quieter dinner on fine china.  This is a direct result of our nest emptying out.  While I miss (always) the happy parties with lots going on, I think this new tradition works well for us as well–challenging me as a cook to find new recipes.
This is a simple rolled-up chicken breast with a twist: no cheese and ham on the inside.  Instead chopped basil and salt and pepper provide the flavor, augmented by a yogurt mustard sauce.  Sometimes I think I'd like to write a recipe like it happens in my house. . . you know, when it says to pound the chicken fillets to a 3/8 thickness and you think you didn't yet buy the food mallet, and should you try the one in the garage that you use to pound the paint cans closed?  Instead you rummage through the gadget drawer and find the potato ricer–it's the right shape and the right heft and it pounds the breasts into fillets nicely.  Or when you go outside to snip the chives from the front flowerbed and you find the 15-year old patch has been weeded to within an inch of its life by the last set of garden workers, but (thankfully) you still find enough to use?  That's how it happens over here.
Ingredients:
8 ounces plain low-fat yogurt, divided (I used Greek yogurt)
1 1/2 Tbls. Dijon mustard, divided
2 teaspoons chopped fresh chives
2 Tbsp. melted butter
2-4 Tbsp. chopped fresh basil (I used a little more)
4 skinless, boneless chicken breast halves, each about 6 oz each
salt and freshly-ground pepper
1 cup seasoned bread crumbs (I use Contadina Italian)
1/2 cup freshly grated Parmesan cheese
Method:
Pound the chicken breast to 3/8-inch thickness.  I like to lay down two pieces of wax paper, lay the chicken breast on that, then cover with a layer of plastic wrap.  Pound, kind of mashing it this way and that, until it's uniformly thinner.  Slide your hand in between the two sheets of wax paper, and flip the chicken and its plastic wrap over, peel off the wax paper and replace on the first piece, then repeat with other three breasts.  At the end, you'll have 4 chicken flattened chicken breasts on their own piece of plastic wrap.
With the divided mustard and yogurt:
1) combine 1/2 cup of yogurt and 1 Tbs. mustard in one bowl, and add in the chopped chives.  This is the sauce. Set aside to come to room temperature while you keep working.
2) combine 1/2 cup of yogurt and 1/2 Tbs. mustard in another small bowl.  This is the coating.
Preheat oven to 400F.  Grease a baking sheet, then cover with a piece of parchment paper. (If you don't have parchment paper, try to use a non-stick sheet.  If you don't have that, prepare to scrub your pan at the end.)
In a shallow dish, combine the bread crumbs and the grated cheese. Place the yogurt/mustard coating in another small dish.
Sprinkle about 1 Tbls. (or less) chopped basil lengthwise down the pounded chicken breast; sprinkle with salt and pepper.  Fold in the short ends of the breast about 1/2-inch.  Starting at a long side, roll up the breast, enclosing the basil.  Repeat with remaining breasts.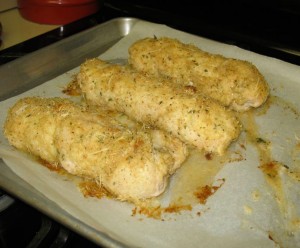 The recipe says to roll each chicken breast in the yogurt/mustard coating, then roll it in the crumb/cheese coating and place it on the prepared baking sheet.  I found more success in placing the rolled chicken on a plate, smoothing some sauce on it, then sprinkling the crumb mixture over this, all the while making sure the thing didn't unroll or slip out of my hands.  I then placed it on the prepared sheet.  (The baked rolls are above.)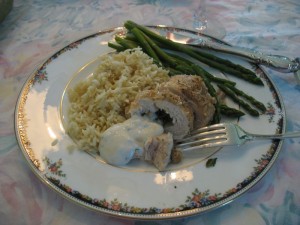 Drizzle the rolls with the melted butter, then bake until the coating is golden brown and the chicken shows no sign of pink when cut in the center, about 25 to 30 minutes.  Serve hot, with a dollop of the sauce on the side.
This was also good four days later, when we had it for leftovers after a weekend away and I didn't want to cook.