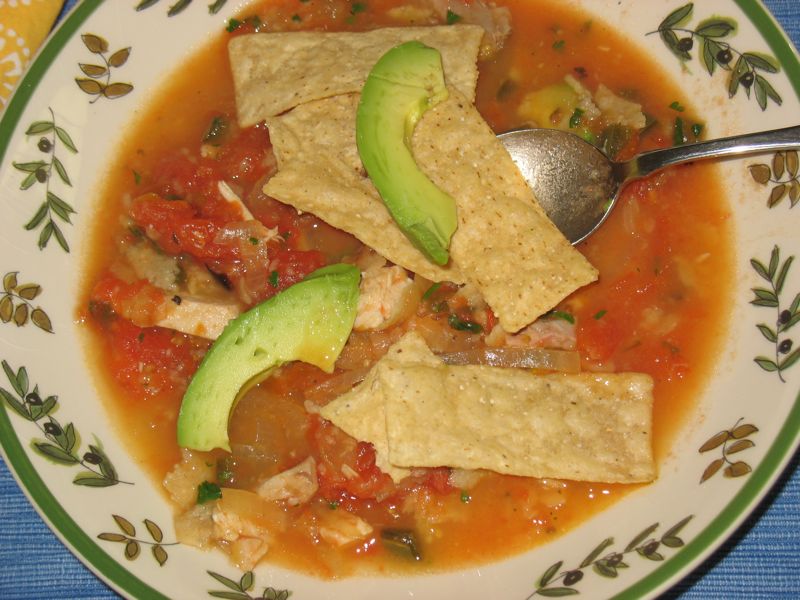 Well, here's one more dish I won't be ordering when I eat out.
That's what Dave and I say to each other when I cook something up that tastes better than any that we've had in eateries around our home.  I was craving Tortilla Soup, but didn't want Restaurant A's version (too watery) or Restaurant B's version (token tortillas on top and none in the soup).  I wanted MY version.  So I turned to Mark Bittman's How To Cook Everything (you should get this book) for a start.
Why did I change the recipe and add tomatillos to the mix?  I think it was because my sister had just gotten back from a Mexican Riveria vacation where she'd gone to a cooking class.  They used tomatillos, so it must have been on my mind.  What are tomatillos?  Little tart green tomatoes with a papery skin.  What if you can't find any in your market?  Eliminate them from the recipe (Bittman doesn't have them), but as they are TART, I think they punch up the flavor of this soup.  I compensated some for their pucker-inducing by adding sugar.  Add less or more to your taste at the end of the recipe, but remember that the tortillas will absorb some of the punch–your broth should be a bit tangy and spicy before adding the chips.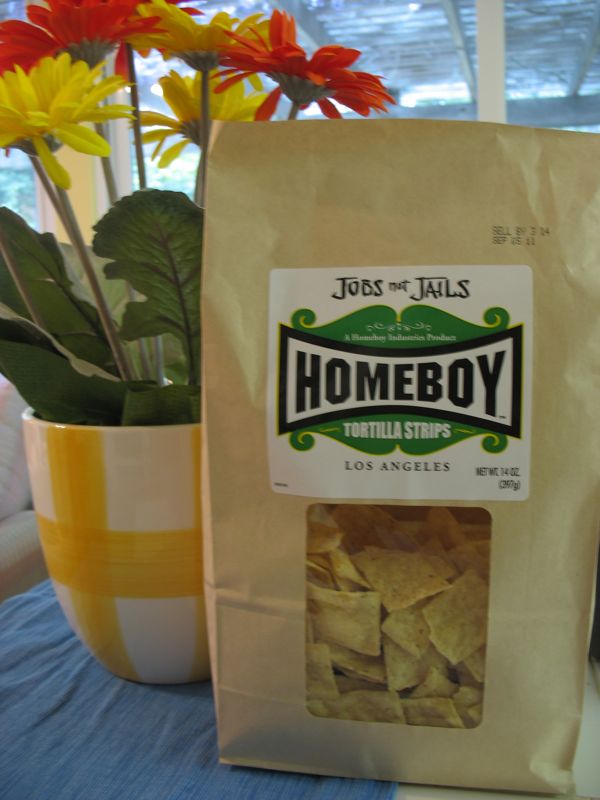 Here's our chips–crisp, salty with a bit of lime.  Homeboy Chips: Jobs Not Jails.
Made in Los Angeles.  Where else would no jail term be a selling point?
Ingredients:
1  1/2 fresh chilis, like jalapeno, serrano or Fresno (we used jalapeno)
1  1/2 pounds tomatoes, halved
2 tomatillos, with papery skin removed and stickiness washed off
2 tablespoons neutral oil, like corn or grapeseed
3 cloves garlic, sliced
1 large onion, sliced
Salt and freshly ground black pepper
Pinch dried oregano
4 cups chicken stock, or 2 low-salt 14 oz cans of broth
1/3 to 1/2 chopped fresh cilantro leaves (can use more for garnish, if desired)
2 cups sliced or shredded cooked chicken (Our favorite way to get this is to use the meat from a rotisserie chicken)
1/2 lime, juiced
1/2 lime, cut into wedges
1 ripe avocado, pitted peeled and sliced (for garnish)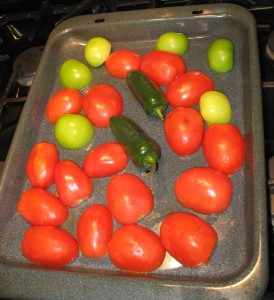 Wash the one-and-one-half pounds tomatoes, 2 tomatillos (removing the papery husk) and two jalapeno peppers.  I know I show more tomatillos in the above photo, but I removed one in the end. Slice in half, laying them out skin side UP on in a rimmed baking sheet and broil a few inches away from the heat until the skins are charred.  Then flip them over.  Take enough time that most of the tomatoes are a bit mushy and the skins on the peppers are nice and blistery. [NOTE: There is a temptation to remove the tomato skins.  Be aware that you are also removing some of the char flavor–maybe better to fish out the skins from the soup at the end of the simmering time?]

When cool, peel and seed the chili pepper (I discarded 1/2 of one pepper–we like mild heat in our food), then chop finely. Chop also the tomatillos (on the right of this picture). I didn't peel the tomatillos or the tomatoes, instead fishing out most of the skins later on–after it had sat for a while.
In a heavy pot over medium heat, put the oil.  When hot, add the garlic and onion and cook, stirring occasionally, until golden and softened, about 10 minutes (on the left in the above photo).  Add the tomatoes, tomatillos, and chilis, crushing the tomatoes with the back of the spoon (I found this easier to do AFTER they'd been cooking in the broth for a while).  Season with salt, pepper and oregano; add the stock and adjust the heat so the mixture simmers gently.  Cook for about 25 minutes, crushing the tomatoes from time to time.  Add 1/2 teaspoon sugar to offset the tartness of the tomatillos; see note above.
Bittman says that at this point, the soup can sit for a few hours or refrigerate, covered, for up to a day before reheating and finishing. (I let it sit for about 2 hours.)
Stir in the chicken and tortilla chips–crushing them slightly as you add them–and simmer for another 3 to 5 minutes.  Season to taste with 1/2 of a lime juiced, and sprinkle with salt and pepper (if needed–we found our chips were salty enough), then add in a handful (1/3 cup) of chopped fresh cilantro.  Serve, garnishing with more chips and sliced of avocado.