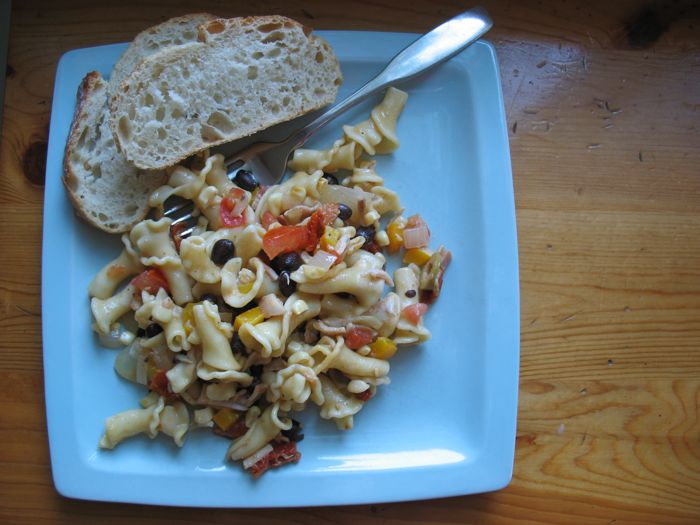 It was at the end of a long three weeks of baking, prepping, shopping, comparing prices and shopping again for a women's conference luncheon (for 300!), when we had the occasion to have over some family who had come into town unexpectedly.  What to serve?  While elaborate dishes can be fun to make if you are in the right mood, I was not in the right mood for such a recipe.  So my husband and I opened up our brains and creativity to pull together what we call Pasta Jumble.  It's quick, it's easy, and it contains just about whatever you have in your refrigerator. But it all starts with a box of small, shaped pasta. My favorite is campanelle–a trumpet-shaped pasta with a fluted edge, but do try and keep in your pantry interesting shaped pastas.  They go on sale quite often.
Ingredients:
This may vary depending on what vegetables and other items you have in your fridge; I'll list what has gone into the above dish.  This serves 6-8, amply.
1 lb. box shaped pasta (this is "campanelle")
1 bell pepper, red or yellow
1 Tablespoon butter
1 Tablespoon olive oil
1/2 white or yellow onion
8 oz. frozen white corn
about 10 Spanish olives (pimimiento-stuffed green olives), sliced (We usually use 1/3 small can of chopped black olives, but had run out.  So we substituted.)
1/4 pound good-quality bacon, cut crosswise into 1/4″ strips
1 can black beans, drained and rinsed
2 fresh tomatoes, chopped into small pieces (about 1/2″ dice)
1/2 cup sun-dried tomatoes, packed in oil, cut into smaller pieces (about 1/4″ dice, approximately)
2 cups chopped rotisserie chicken (we buy it at Costco, take it off the bone and pack it into freezer bags for a quick meal–one chicken yields about 4 bags)
1 tablespoon Dijon mustard
cayenne
salt & pepper
olive oil
red wine vinegar
Boil pasta until nearly tender (al dente), drain well, then place into large mixing bowl.  While pasta cooks, fry bacon until cooked, but not dark or too crisp; drain on paper towels.  And while that cooks, melt butter and olive oil together and add onion and bell pepper; cook until tender, about 5-8 minutes.
Add corn, olives, chicken, sun-dried tomatoes, black beans, cooked bacon, sauteed vegetables, fresh tomatoes to the pasta, and toss lightly to mix.
A proper vinaigrette could be made here, but instead I'll include the cheater method: glob some olive oil over the mixture (about 1/4 cup), two to three shakes of vinegar (roughly 2 Tablespoons), a squirt of mustard, salt and pepper, and stir.  Add cayenne to taste (we're wimpy–about 1/4 teaspoon for this amount).  Add more salt and pepper if needed.
Serve!