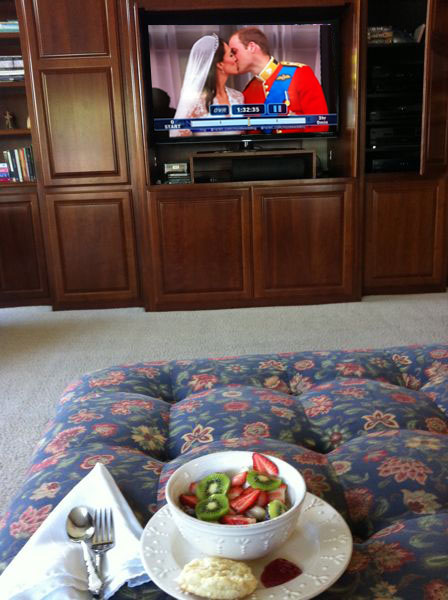 I had these scones on the morning of the Royal Wedding–very fitting.  My friend Judy had combed the internet for a treat for us to eat while we watched the Royal Wedding off of her TiVo, and combined two recipes to create this yummy treat.  She served it with fruit with a yogurt/honey topping and some orange juice.  These scones are a little sweeter, said her husband, than anything they'd serve in Britain, and I agree.  The texture is more biscuit-like, but I think they are delicious and was happy to have such a treat while we critiqued the hats and swooned over the festivities.
Royal Wedding White Chocolate Scones
1 3/4 cups flour
1/3 cup sugar
2 tsp. baking powder
1/2 tsp salt
1-2 Tbsp. orange zest
1 stick butter, chilled and cubed (1/4 lb.)
2/3 cup white chocolate chips, coarsely chopped
1/2 cup orange juice
Directions:
1. Preheat oven to 400º F. Spray a cookie sheet with nonstick cooking spray.
2. Whisk together the flour, sugar, baking powder, salt, and zest. Using a pastry blender, cut it the butter until the mixture resembles coarse crumbs. Stir in the chocolate chips. Gradually mix in the orange juice, one or two tablespoons at a time, to form the dough.
3. Turn out the dough on a floured surface. If necessary, knead briefly to form a compact ball. Pat into a 9-inch circle that is about ½ inch thick. Use a 2 ½-inch biscut cutter to cut out 12 scones, reforming leftover dough as needed. Transfer scones to cookie sheet.
4. Bake in oven about 12 minutes.