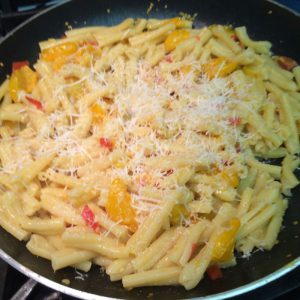 This recipe, found on the New York Times' Recipe Site is a total winner, if you've got cherry tomatoes going gangbusters in the garden, which I do.  Melissa Clark made hers with red tomatoes, but I always plant the little golden plum cherry tomatoes and they keep going when all the other toms in the garden have given up because of the heat.  While she calls for fusilli pasta, any small shaped pasta will do.  I adjusted the ratio of tomato mixture to pasta, using a little bit less pasta than she called for.  Lastly, my garden's mint wasn't producing, so I omitted that as well, but I'm looking forward to trying it!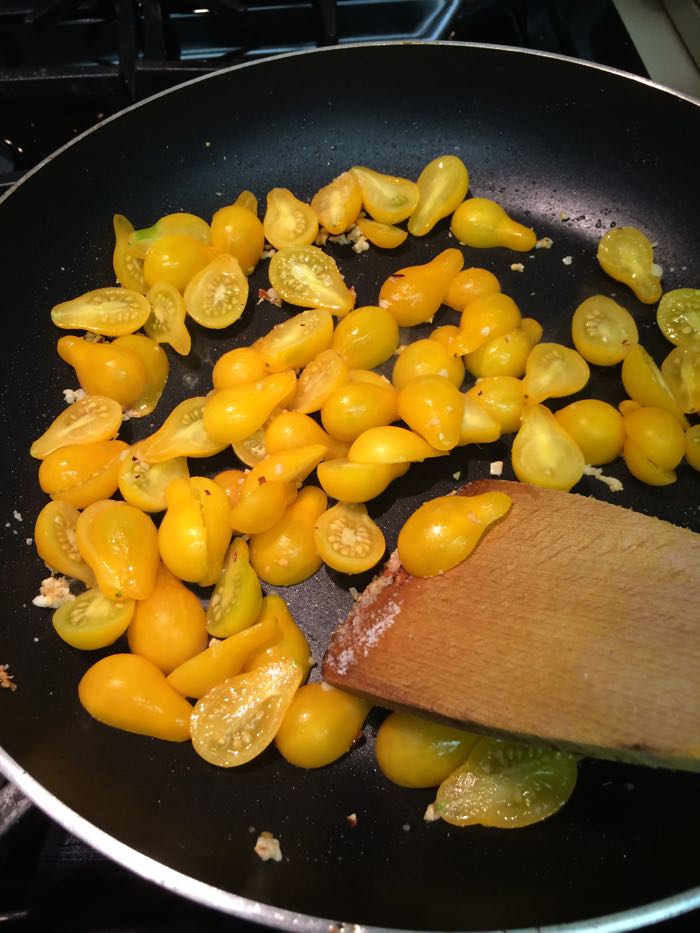 1 pound fusilli pasta
1 tablespoon extra-virgin olive oil, more for drizzling
6 ounces pancetta, preferably thick cut, diced (available at Trader Joe's)
4 garlic cloves, smashed and peeled
Pinch of red pepper flakes
Fine sea salt and black pepper, as needed
1 quart cherry or grape tomatoes, halved
3 tablespoons butter
Fresh ricotta cheese, for serving (optional)
3 cups whole mint leaves, torn (I didn't use)
4 scallions, preferably red scallions for color, thinly sliced
Flaky sea salt, to finish
PREPARATION
Bring a large pot of heavily salted water to a boil. Add pasta and cook until 1 minute shy of al dente. Drain pasta, reserving 1/2 cup pasta cooking water.
Meanwhile, heat a large skillet over medium-high heat for 15 seconds, then add the oil and heat until it thins out and easily coats the pan when swirled. Add pancetta and cook until it starts to render its fat, about 2 minutes. Add garlic, red pepper flakes and a large pinch of salt and pepper and cook until fragrant, about 2 minutes. Add tomatoes and cook until they burst, turn golden at the edges and shrivel up slightly, about 5 to 8 minutes.
Add pasta to pan and toss with tomato-pancetta mixture; if the mixture looks dry add a little pasta cooking water a few tablespoons at a time. Cook over high heat until the pasta finishes cooking in the sauce. Add the butter and toss until it melts and coats everything.
Divide pasta among warmed pasta bowls. Garnish with dollops of ricotta if desired, and top with a generous mound of fresh mint and scallions. Drizzle with olive oil and sprinkle with sea salt and more pepper before serving.