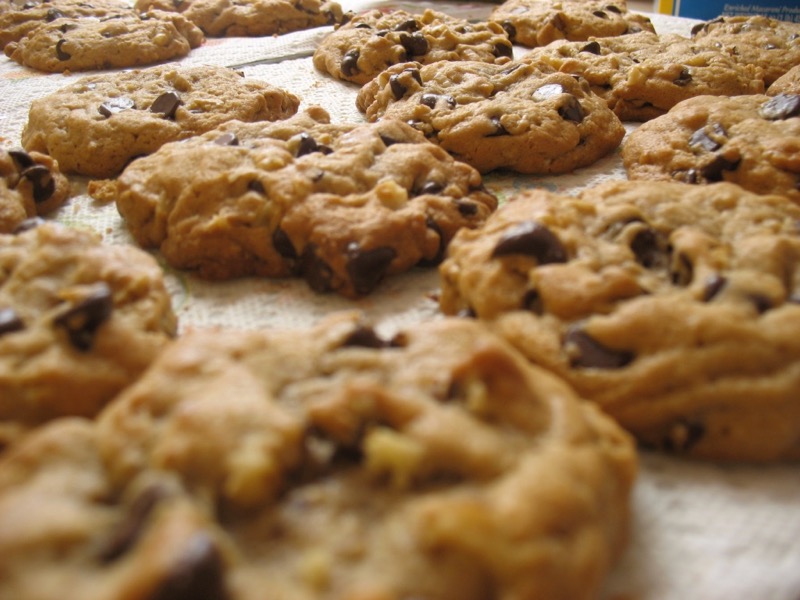 Chocolate Chip Cookies at Their Best
(My Favorite Recipe—from Sunset)
1 cup solid shortening
1/2 cup (1 stick) butter or margarine, softened
1 1/3 cups granulated sugar
1 cup firmly packed brown sugar
4 eggs
1 Tablespoon vanilla
1 teaspoon lemon juice (freshly squeezed!!)
2 teaspoons baking soda
1 1/2 teaspoons salt
1 teaspoon ground cinnamon
1/2 cup regular oats (oatmeal)
2 to 2 1/2 cups all-purpose flour
1 cup whole wheat flour*
2 large packages (12 oz. each) semisweet chocolate chips–that's about 4 cups
2 cups chopped walnuts
In a large bowl of an electric mixer, beat shortening, butter, granulated sugar and brown sugar at high speed until light and fluffy (about 5 minutes).  Add eggs, one at a time, beating well after each addition.  Beat in vanilla and lemon juice.
Add oats.  Mix together soda, salt, whole wheat flour, cinnamon.  Beat into creamed mixture until well combined; add rest of flour until dough is not too sticky when you pick up bit with your fingers.  Stir in chocolate chips and nuts.
For each cooky, drop a scant 1/4 cup dough on a lightly greased baking sheet, spacing cookies about 3 inches apart.  Bake in a 350 oven for 16-18 minutes or until golden brown.  Transfer to racks and let cool.  Makes about 3 dozen large cookies.
*Note: if you don't have whole wheat flour, you can use all white (all-purpose) flour.