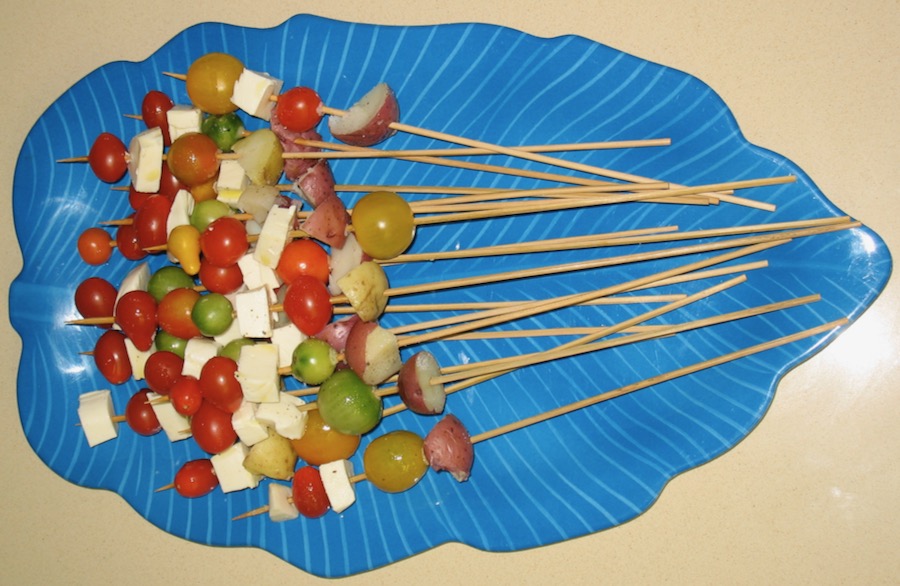 I'm a party planner by accident, not by trade, and finding recipes mostly consists of opening every cookbook in my house and then looking online for whatever they may have. If the website's too complicated, I skip it (no time, of course). This year for Dave's department party, I realized we needed some vegetables but was just not up to blanching and arranging vegetables, so I went for these skewered vegetables instead.
Ingredients:
red or white-skinned baby potatoes
heirloom tomatoes (in a variety of colors)
fresh mozzerella cheese
olive oil and salt & pepper
Cook the baby potatoes in boiling salted water until just tender, about 10 minutes, then put into an ice-cube cold water bath. Pat dry, then quarter (or half them if they are really tiny).
Twisting the skewer, ease the potato on first, skin-side up, then an heirloom tomato (they're slightly crunchy), a cube of fresh mozzerella (the old packaged kind in your grocery store is not really good for this use–get FRESH), then a sweet grape tomato. You can skewer more or less items, as you like. Place on a pan, and lightly drizzle then with olive oil, then salt and pepper. I arranged them on a platter, and nearly all were eaten.