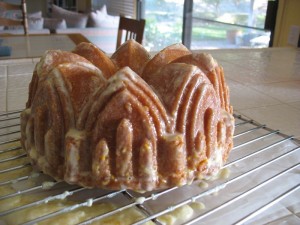 I remember the first time I ate this cake.  My brother's wife, Rachel, served it for one of her parties.  Rachel is the consummate hostess, always perfectly dressed complete with accessories, her house spotless, her children well-mannered, and the table set like you were in a House Beautiful spread.  It was an Occasion–a birthday celebration–and we were invited.  The food was amazing, but when this cake came out, I wanted to drop all pretense of manners and have another piece.  And another.  I think I did eat two.  I could have eaten more, but then I wouldn't have been a good guest.
Rachel, while formal and gracious, is warm and inviting.  I always glean ideas for decorating from her house, pick up a new recipe or two, and this was one of those.  I phoned her after we got home and she sent me a copy of the recipe.  It's from the Silver Palate cookbook, and in her notes at the top, she writes: "Worth owning."  So I went out and bought a copy.  So should you.
We use a fancy bundt-style pan we call "The Cathedral Pan."  It makes for a wonderful presentation and no one knows how easy this was to make.  We bought ours from Williams-Sonoma, but I noticed that Sur La Table had some last time I was there.
Be sure to use fresh lemons and real butter for the full effect.  (Of course.)
1/2 pound (2 sticks) sweet butter, softened
2 cups granulated sugar
3 eggs
3 cups unbleached, all-purpose flour, stirred or sifted
1/2 teaspoon baking soda
1/2 teaspoon salt
1 cup buttermilk
2 tightly packed Tbls. grated lemon zest (from 1 lemon)
2 Tbls. fresh lemon juice
Lemon Icing (recipe follows)
Preheat oven to 325 degrees F.  Grease and flour a 10-inch tube pan.
Cream butter and sugar until light and fluffy.  Beat in eggs, one at a time, blending well after each addition.
Sift together flour, baking soda and salt (I just stir them together).  Stir dry ingredients into egg mixture alternatively with buttermilk, beginning and ending with dry ingredients.  Add lemon zest and juice.
Pour batter into prepared tube pan.  Set on the middle rack of the oven and bake for 1 hour and 5 minutes, or until cake pulls away from side of pan and a tester inserted in the center comes out clean.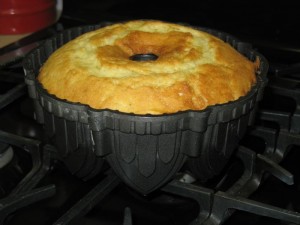 Cool cake in the pan, set on a rack, for 10-15 minutes, then gently loosen top edge of cake from pan all the way around.  Invert onto a rack, then spread immediately with the Lemon Icing, using a pastry brush to smooth out if needed.  Below is the cake, fresh from the pan.  At the very top is the cake with the lemon glaze all over it.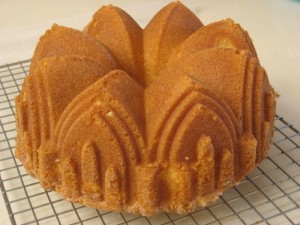 Lemon Icing
2 cups (1/2 pound) confectioners' sugar (powdered sugar)
1/2 stick (4 Tbls) sweet butter, softened
2 Tbls. packed grated lemon zest (from 1 lemon)
1/4 cup fresh lemon juice
Cream butter and sugar thoroughly. Mix in lemon juice and zest; spread on warm cake.  It helps to lay down some wax paper underneath the rack where the cake sits.  This catches the drips from the frosting.  You'll definitely have some run-off.