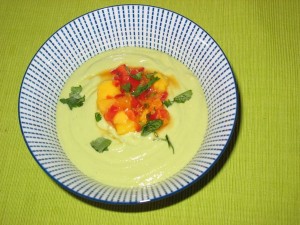 A few weekends ago, Dave and I went up to San Jose to attend a wedding and while there, slipped off to the San Jose Musem of Art to catch the Thiebaud exhibit and lunch at their in-house spot: Café Too!  I chose Avocado and Orange Soup with Tropical Salsa and immediately thought I'd partaken of the manna of the gods with this dish.  Oh my.  So, coming home, I've tried to recreate it in some fashion.  I'm still working on it, but here's my latest incarnation.
Avocado-Orange Soup
2 large ripe avocados; pitted and peeled and cut into chunks
1 c  Freshly squeezed orange juice
1 c  Plain yogurt–I use Greek yogurt as it's a little thicker
juice of 1/2 of a lime–cut in half, and stick a fork into the pulp, turning and squeezing until you see no more juice
1/4 tsp. Tobasco pepper sauce–about four shakes, I think (that's what I use)
Salt to taste–this takes more than you think
In food processor, blend avocados and orange juice. Add yogurt and the rest of the ingredients. Blend until smooth. Refrigerate until ready to serve. Garnish with orange slices.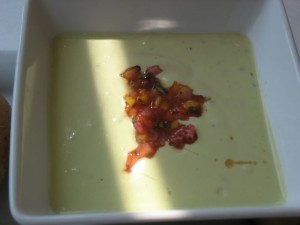 When I look at the soup from the restaurant, I see little flecks of green in their soup, which isn't in mine.  Bits of jalepeno? Flecks of cilantro?  I used chopped cilantro on the first batch of soup (above) and it just wasn't right.  Leave a comment if you've figured it out.
Citrusy Salsa
I use three piece of citrus (of three different types) and it varies from whatever's in the market.  This week I had a Cara Cara orange (cross between a grapefruit and an orange), but you could also use a blood orange, a tangelo, a mandarin orange or other interesting citrus fruit.  The museum had something unrecognizable in theirs–tomato? soft pomegranite?  Never could figure it out, but this one works just as well, I think.  This salsa is also good on grilled salmon.
3 pieces of citrus fruit, all different
1 red bell pepper, chopped teensy–really teensy pieces!
1 mango, pitted and chopped finely
salt to taste
To prepare the citrus, cut off the top and bottom of the fruit, so it stands squarely on your cutting board.  Then, following the curve of the fruit, remove the outer layer of the rind, cutting every so slightly into the fruit in order to remove the membrane.  Cut down the middle, then into section, chopping each into very small pieces.  Repeat for each piece of citrus.
Mix citrus, pepper, mango in a bowl and salt slightly.  I always think now would be a good time to add some minced cilantro (just a bit) or Italian parsley or even a small jalepeno. with seeds and membranes removed and finely minced.
Ladle the soup in the bowl, then top with a healthy spoonful of Citrusy Salsa.  Pass more salsa as needed.