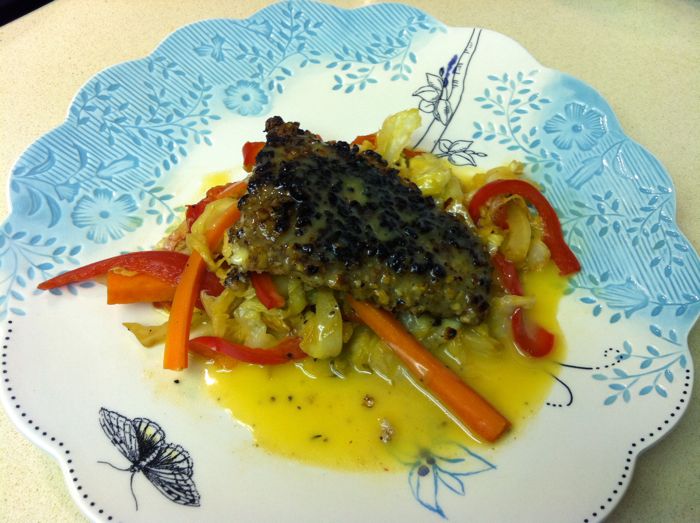 I got this recipe from–where else?–Bon Appétit, published in April 1996.  I'd been over to our local grocers and they had a fine selection of fresh fish.  I randomly selected trout, thinking of when we'd had it on our honeymoon in Austria.  We were in the hills above the town of Salzburg and the owner had diverted some of the mountain stream into a holding tank, where he farmed trout.  As we sat down to dinner that night, he asked us what size fish we would like.  We used our hands to gesture, as neither of us spoke German.  He went over behind us, and I heard some splashing, then a firm *whack*.  He held up two now-whacked-dead trout.  "Gut?" he asked, with a huge grin on his face.  We nodded. "Gut."  And they were.  We even ordered one more and shared it.  When are you ever–except if you catch it yourself–going to have trout that fresh?
Bon Appetit addes this note: At the fish market, ask them to remove the head, tail and bones from the trout, then to cut each trout into two fillets, leaving the skin intact. Mine was already a fillet, so I didn't have to do any of that.  We thought this was delicious.
Yield: Serves 4
Ingredients for trout
2 cups pecans (about 8 ounces)
1 cup all purpose flour
2 large (12- to 14-ounce) trout, filleted, skin left intact
3 large egg whites, beaten to blend
Ingredients for sauce
1 1/2 cups fresh orange juice
1 cup dry wine–I don't drink, so I used apple juice with a splash of rice vinegar
2/3 cup chopped shallots
1/4 cup white wine vinegar
8 5-inch-long fresh parsley stems
1 1/2 tablespoons fresh lemon juice
1 large fresh thyme sprig (ACK! didn't have any, so I sprinkled some dried thyme into the mix)
2 fresh rosemary sprigs
1/4 cup whipping cream
3/4 cup (1 1/2 sticks) unsalted butter, cut into 12 pieces
For assembly
4 tablespoons olive oil
3 carrots, peeled, cut into matchstick-size strips
1 red bell pepper, thinly sliced
4 cups thinly sliced savoy cabbage
2 tablespoons (1/4 stick) unsalted butter
Chopped fresh chives
Preparation
Make trout:
Combine pecans and 1 tablespoon flour in processor. Grind pecans finely; transfer to plate. Place remaining flour on another plate. Sprinkle fish with salt and pepper. Dip 1 fillet into flour to coat; shake off excess. Using pastry brush, brush flesh side with egg whites. Place fillet, egg white side down, onto pecans; press to coat with nuts. Transfer to waxed paper-lined baking sheet, pecan side down. Repeat with remaining 3 fillets; chill.
Make sauce:
Combine first 7 ingredients in medium saucepan. Boil 10 minutes; add rosemary. Boil until liquid is reduced to 1/2 cup, about 10 minutes. Strain sauce into another medium saucepan, pressing on solids in sieve. Add cream; bring to boil. Reduce heat to medium-low. Whisk in butter 1 piece at a time (do not boil). Season with salt and pepper. Let stand at room temperature up to 2 hours.
To assemble:
Heat 2 tablespoons oil in heavy large Dutch oven over high heat. Add carrot and bell pepper; toss 2 minutes. Add cabbage; toss until cabbage wilts, about 4 minutes. Season with salt and pepper. Remove from heat.
Melt 1 tablespoon butter with 1 tablespoon oil in heavy large skillet over medium-high heat. Place 2 fillets, pecan side down, into skillet. Cook until crust is golden and crisp, about 2 minutes. Using spatula, turn fillets over. Cook until just opaque in center, about 2 minutes. Transfer to plate. Repeat with remaining butter, oil and fish.
Whisk sauce over low heat to rewarm (do not boil). Divide vegetables among plates. Top with fish. Spoon sauce around fish and vegetables. Sprinkle with chopped chives and serve.