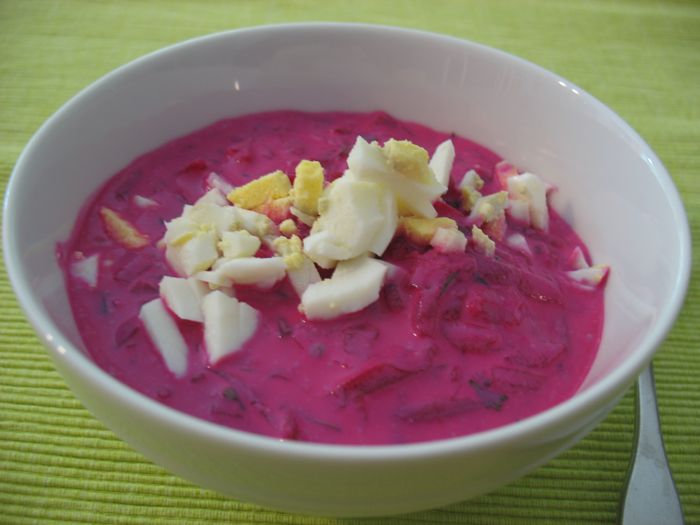 I loved this soup–a thick, rich beety soup with a brilliant color.  It's perfect on a hot, hot day–and it made the Los Angeles Times' Top Ten recipes of 2010 list!
Total time: About 1 hour, plus cooling time for the beets
Servings: 4
Note: Adapted from Warszawa in Santa Monica
Ingredients:
1/2 pound red beets, tops and roots trimmed but unpeeled (it's about three medium to large beets)
2 cups buttermilk or yogurt
3/4 cup sour cream
2 tablespoons sugar
1/4 cup fresh lemon juice, about half a lemon
2 teaspoons salt
1/3 cup thinly sliced green onions, green part only
1 large cucumber, peeled, not seeded, and diced into small pieces
1/4 cup finely chopped fresh dill, plus more for garnish
1/4 cup finely chopped Italian parsley
1 hard-boiled egg, peeled and sliced crosswise or diced
1. Cook the beets in a medium saucepan with enough water to cover them by 1 inch. Simmer the beets until they are tender, about 45 minutes. Remove from heat, drain the beets and set them aside until cool enough to handle.
2. Peel and grate the beets, saving any liquid produced when grating. You should have at least 1 cup of beets (any extra can be used as a garnish for salads and will keep, refrigerated, for up to 1 week).
3. In a large bowl, combine 1 cup grated beets and reserved liquid, buttermilk, sour cream, sugar, lemon juice and salt using a large spatula.
3. One hour before serving, gently stir in the green onions, cucumber, dill and parsley. Cover and refrigerate to allow the flavors to marry. This makes a scant 5 cups of soup.
4. Serve each bowl with a sprinkling of dill and slices of hard-boiled egg.
Each of 4 servings: 179 calories; 6 grams protein; 21 grams carbohydrates; 2 grams fiber; 8 grams fat; 5 grams saturated fat; 24 mg cholesterol; 18 grams sugar; 1,361 mg sodium.