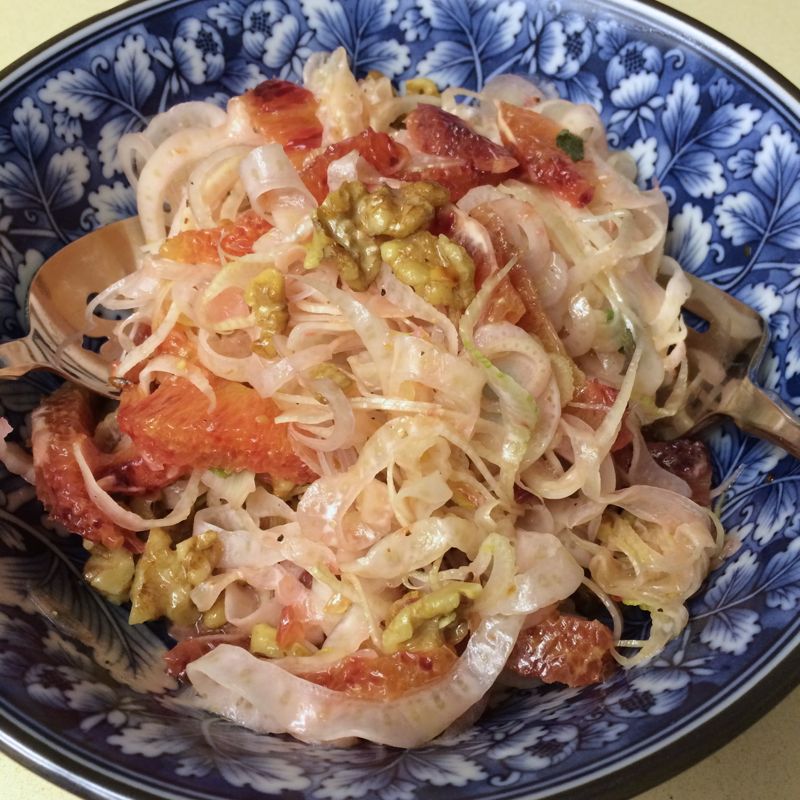 I found this on Smitten Kitchen, who found it on the New York Times.  When I went looking for my typed file today, I found that it had been published in 2002.  I can't believe it took me that long to finally try it and put it up here on the blog.  Well, don't you wait that long.  It's easy and quick and has miles and miles of flavor.
FENNEL AND BLOOD ORANGE SALAD
By Kurt Gutenbrunner
Published: January 23, 2002
Time: 30 minutes
1/4 cup very coarsely chopped walnuts
1 teaspoon walnut oil
1 medium-large fennel bulb, leaves and stems trimmed off
Salt and freshly ground black pepper
Juice of 1 lemon
2 large blood oranges
1 tablespoon paper-thin shallot slices
10 mint leaves
2 tablespoons extra virgin olive oil
1 teaspoon lime zest
1. Place walnuts in dry skillet and cook over medium heat, stirring, to toast. Toss with walnut oil, and set aside.
2. Slice about 1/2 inch from bottom of fennel and discard. Slice fennel very fine on mandoline, starting with flat bottom side. Put in a bowl. Season with salt and pepper, and add lemon juice.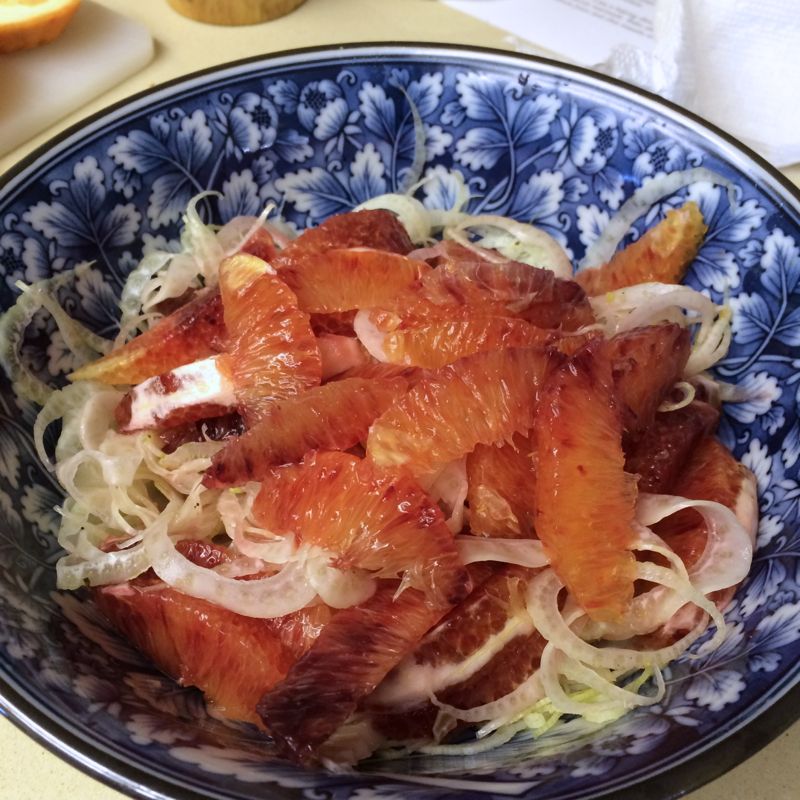 3. Trim all peel and pith from oranges. Holding peeled fruit over bowl containing fennel, use sharp knife to cut sections from membrane. Let them drop into bowl. Squeeze remaining membrane over bowl to add remainder of juice. Discard membrane.  (This is how it looks before tossing it with everything else.)
4. Add shallots, mint leaves, olive oil and reserved walnuts. Toss gently. Sprinkle on lime zest, and serve perhaps as a first course with smoked salmon or as a side dish with grilled fish..
Yield: 3 servings.