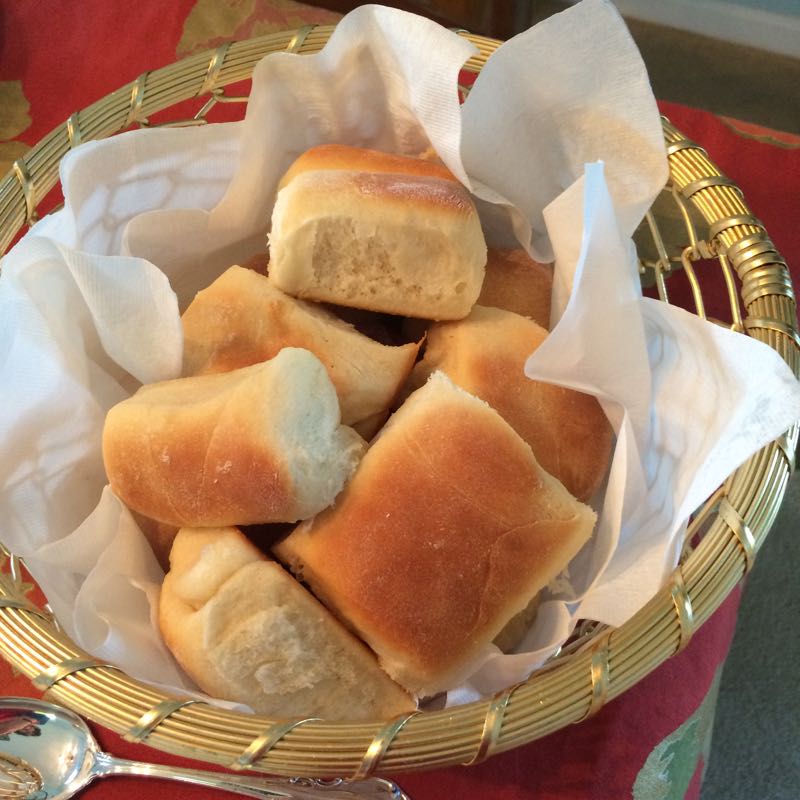 These are a basic roll recipe, without too much egg, so they are light, white and fluffy and taste very good.  I made them last year as well as this year, and we loved them both times.  This is from the Fleischman's Bake It Easy Yeast cookbook, a staple in my house.  Although it was published in 1973, and retails on Amazon for $196.00 (gotta love those bots), this recipe can also be found on Breadworld by Fleischman, which has many of the recipes I love.
4-3/4 to 5-1/4 cups all-purpose flour
1/3 cup sugar
2 envelopes yeast (or 4 1/2 tsp. yeast)
1-1/2 teaspoons salt
3/4 cup milk
3/4 cup water
1/4 cup butter, melted
1 egg
For top, if desired: 1/4 cup butter, melted
Directions
Combine 2 cups flour, sugar, undissolved yeast and salt in a large mixer bowl. Heat milk, water, and 1/4 cup butter until very warm (120° to 130°F). Stir into flour mixture. Beat 2 minutes at medium speed of electric mixer, scraping bowl occasionally. Add egg and 1/2 cup flour; beat 2 minutes at high speed. Stir in enough remaining flour to make a soft dough. Knead on lightly floured surface until smooth and elastic, about 8 to 10 minutes. Cover; let rest 10 minutes. (Or, if desired, place dough in a greased bowl, cover with plastic wrap, and allow to rise in refrigerator for 12 to 24 hours.)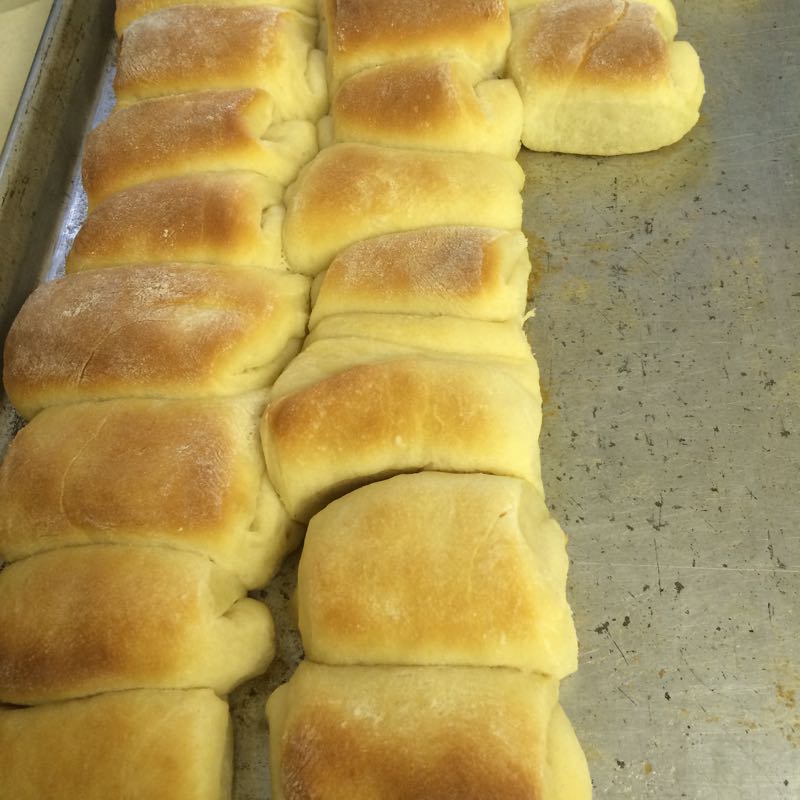 Divide dough in half; roll each half to a 12-inch square, about 1/4-inch thick. Cut each into 6 (12 x 2-inch) strips. Cut each strip into 3 (4 x 2-inch) rectangles. Brush each rectangle with melted butter. Crease rectangles slightly off center with dull edge of knife and fold at crease. Arrange in rows, slightly overlapping, on greased baking sheets, with shorter side of each roll facing down. Allow 1/4-inch of space between each row. Cover; let rise in warm, draft-free place until doubled in size, about 30-45 minutes.  Take the time to let them get nicely risen.
Bake in preheated 400°F oven for 13 to 15 minutes or until done. Remove from sheets; cool on wire rack. Brush with more melted butter, if desired.
NOTE:  I do not like the RapidRise yeast, as I feel the breads go too stale when using that (must be the conditioners they have in there, or something).  Regular yeast is what I used, but made sure to allow a bit more time for the rising.