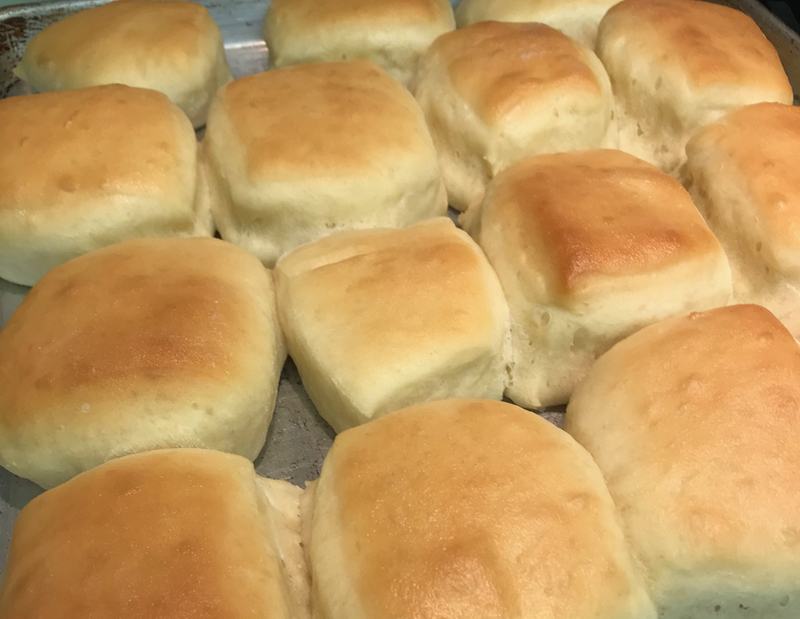 Ingredients
4 tsp active dry yeast
1/2 cup warm water
1 tsp sugar (to activate the yeast)
2 cups milk scalded and cooled to lukewarm
3 tbsp butter unsalted, melted and slightly cooled
1/2 cup sugar
7 – 8 cups all-purpose flour (start with less, then add as you go)
2 eggs
2 tsp salt
2 tbsp butter unsalted, for brushing over the finished rolls
Instructions
Add the yeast, warm water and sugar to the bowl of your mixer and lightly whisk. Let it sit for about 10 to 15 minutes until the yeast dissolves and starts to foam.
    To the bowl of the mixer add the milk, butter, sugar, eggs and salt. Lightly mix everything together, using the dough hook of your mixer, for about one minute. Add the flour, 2 or 3 cups at a time, and mix.
   Add additional flour as needed and mix until the dough comes clean from the sides of the bowl and forms a soft dough. (The total flour could be anywhere from 6 to 8 cups, depending on your environment.)
Don't overmix as roll dough should be softer than bread dough. Place the dough in an oiled bowl and cover with a clean kitchen towel. Let rise in a warm place until double in bulk.
   Brush two baking sheets with melted butter.
   Punch down the dough and turn it onto a floured surface. Divide into two portions for shaping. Roll out the dough so that it's about 1/2-inch in thickness. Cut into squares or rectangles; some of the edges will be triangular. Re-roll those, or just enjoy the shape. Repeat with remaining dough.  Yield is roughly 30 to 35 rolls. Place onto the prepared baking sheets. Let the rolls rise until doubled in size.
    Preheat your oven to 350 F degrees. Bake the rolls for about 15 to 20 minutes or until golden brown. Brush immediately with melted butter.
If desired, serve with Cinnamon Honey Butter.
Prepare while rolls are baking, by whisking all the ingredients together:
1 stick butter unsalted, softened
1/4 cup powdered sugar
1/4 cup honey
1 tsp cinnamon