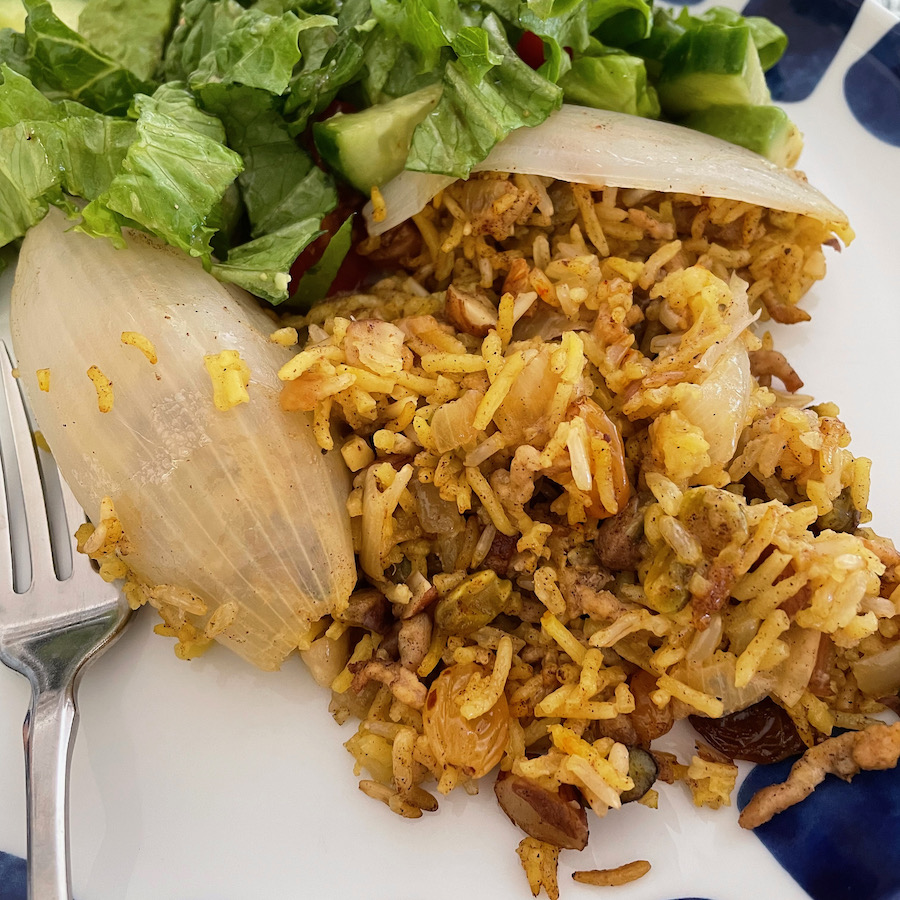 I read about this one in the New York Times, but then went wandering onto the internet to see others. This version of riced-stuffed onions is adapted from a couple of different recipes.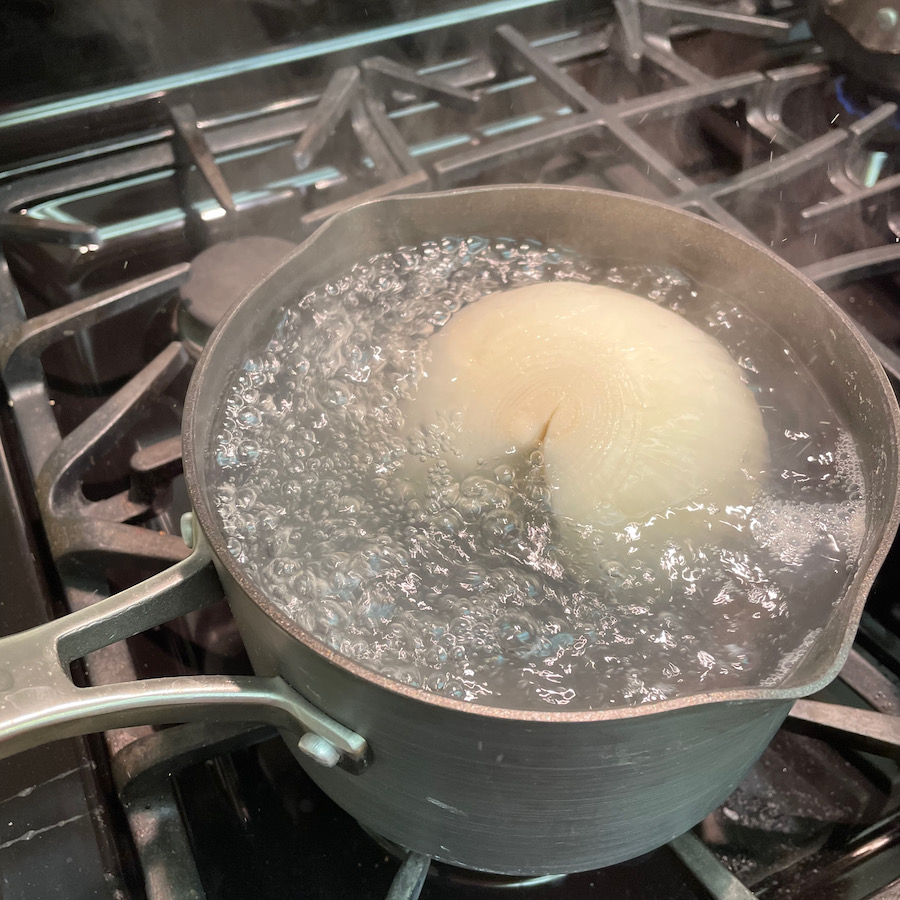 Once you get the large onion boiled up and slightly cooled, the recipe is not a hard one. Leftovers are good, too. This makes about 4-6 servings.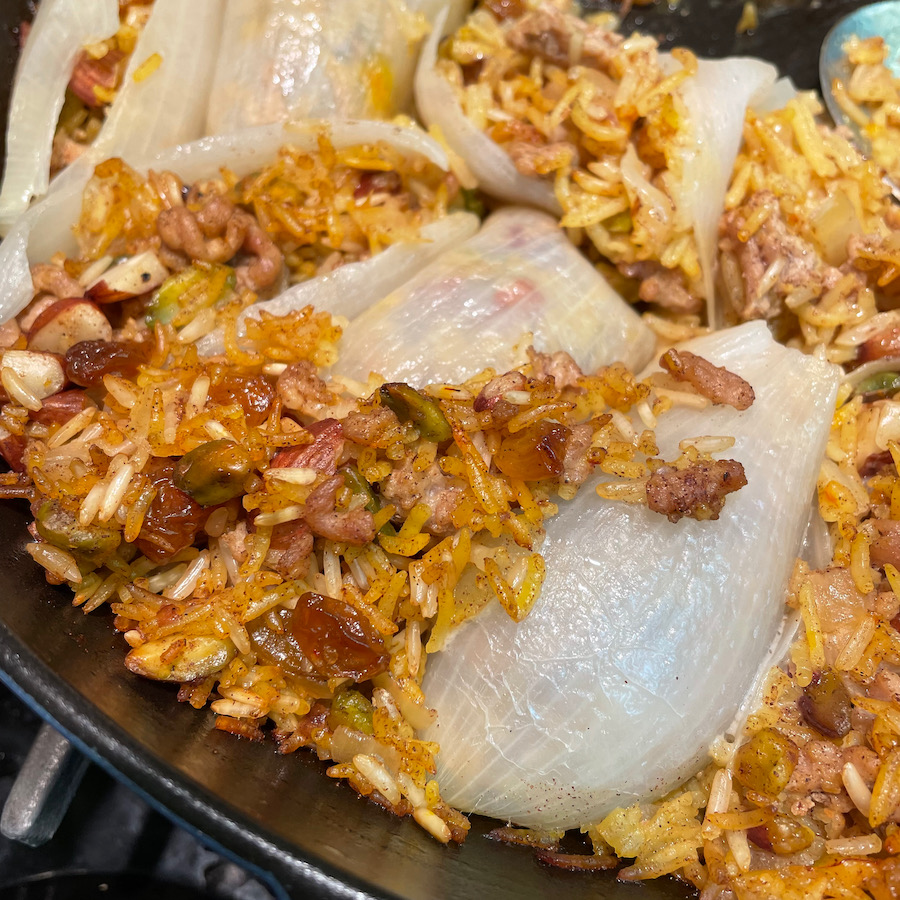 NOTE: Two large onions are recommended, unless you are cooking for a small group. I also used a mixture of brown and white basmati rice.
INGREDIENTS
2 large white or yellow onions.
1/4 sliced almonds (I used chopped almonds as it was all I had)
1/2 teaspoon loosely packed saffron, crumbled
1 tablespoons fresh lemon juice
4 tablespoons extra-virgin olive oil, plus more for drizzling
1 cup basmati rice, rinsed until water runs clear
4 tablespoons unsalted butter, melted
ground pepper
1/2 teaspoon cumin
1/2 teaspoon ground cardamon
1 teaspoon cinnamon, or one 3″ stick of cinnamon
1/2 pound ground pork (can be left out, if you want a vegetarian version)
1/4 cup shelled salted pistachios, chopped
3 tablespoons golden raisins
2 tablespoons dried tart cherries, chopped (if you don't have, increase the amount of golden raisins)
1/4 cup chopped parsley, plus more for garnish
1 1/2 tablespoons white wine or cider vinegar
PREPARATION
Bring a large deep pot of salted water to a boil. Cut off a sliver of the root end and top of an onion, then peel. Cut a lengthwise cut into each onion from the top to the root end of the onion (which will make it easier to separate the layers). Submerge it into the boiling water, reduce heat to let it simmer until the onions are softened through the middle and the layers separate easily, about 20 minutes. Sometimes mine liked to pop up, so I sometimes use a spatula at an angle or a smaller pot lid, also at an angle to keep it submerged. Transfer to a cutting board and let cool.
Meanwhile, heat oven to 400 degrees. Also meanwhile, brown the ground pork, adding some salt and pepper as it cooks. Drain if too greasy and set aside.
In a dry saucepan, toast the almonds, keeping an eye on them so they don't burn. Let cool.
In a small bowl, combine the saffron and lemon juice and let it sit.
Separate the onion into layers; if they are stubborn, you may have to slice off a bit of the top and the bottom. On the larger outside layers, cut in half. Try to get a total of 24 layers.
Finely chop any extra layers to make 1 cup. If you don't have any extras (like me), cut up a raw onion.
Heat 2 Tablespoons of the oil in a high-sided, 12″ ovenproof skillet with a lid over medium heat. Add chopped onion (raw or cooked) and cook, stirring occasionally until tender (approx. 3-8 minutes).
Stir in rinsed rice, 2 tablespoons butter and stir until evenly coated. Stir in 1 teaspoon salt, the pepper, saffron-lemon juice, cinnamon, cumin, cardamon, and 1 cup of water. Bring to a boil over high, then cover and reduce heat to medium-low. Cook until the liquid is just absorbed — about 3 minutes (rice will still be undercooked).
Stir in toasted almonds, pistachios, raisins, cherries and parsley. If the rice mixture isn't golden-looking enough, add 1/2 teaspoon ground turmeric. Transfer rice mixture to a bowl, and wipe out pan. Coat the skillet with the remaining 2 Tablespoons of oil.
Spoon two tablespoons of rice mixture in the center of each onion layer piece, wrap. Set aside. Repeat until all layers have been filled, or you've run out of rice. If you have extra rice mixture you can save it to spoon around the stuffed onions.
Heat pan over medium-high heat. When pan is hot, place the onions seam-side down. Let cook for 2 minutes until the bottoms have browned slightly. Add vinegar to 1 cup water and pour around the onions. Drizzle with remaining 2 tablespoons melted butter, then sprinkle lightly with granulated sugar.
Cover the pan with the lid, and transfer to the oven to bake until all liquid has been absorbed, rice is cooked through, and onions are tender, about 25-30 minutes. Remove from oven. Garnish with parsley and drizzle with oil (opt.) Serve warm.