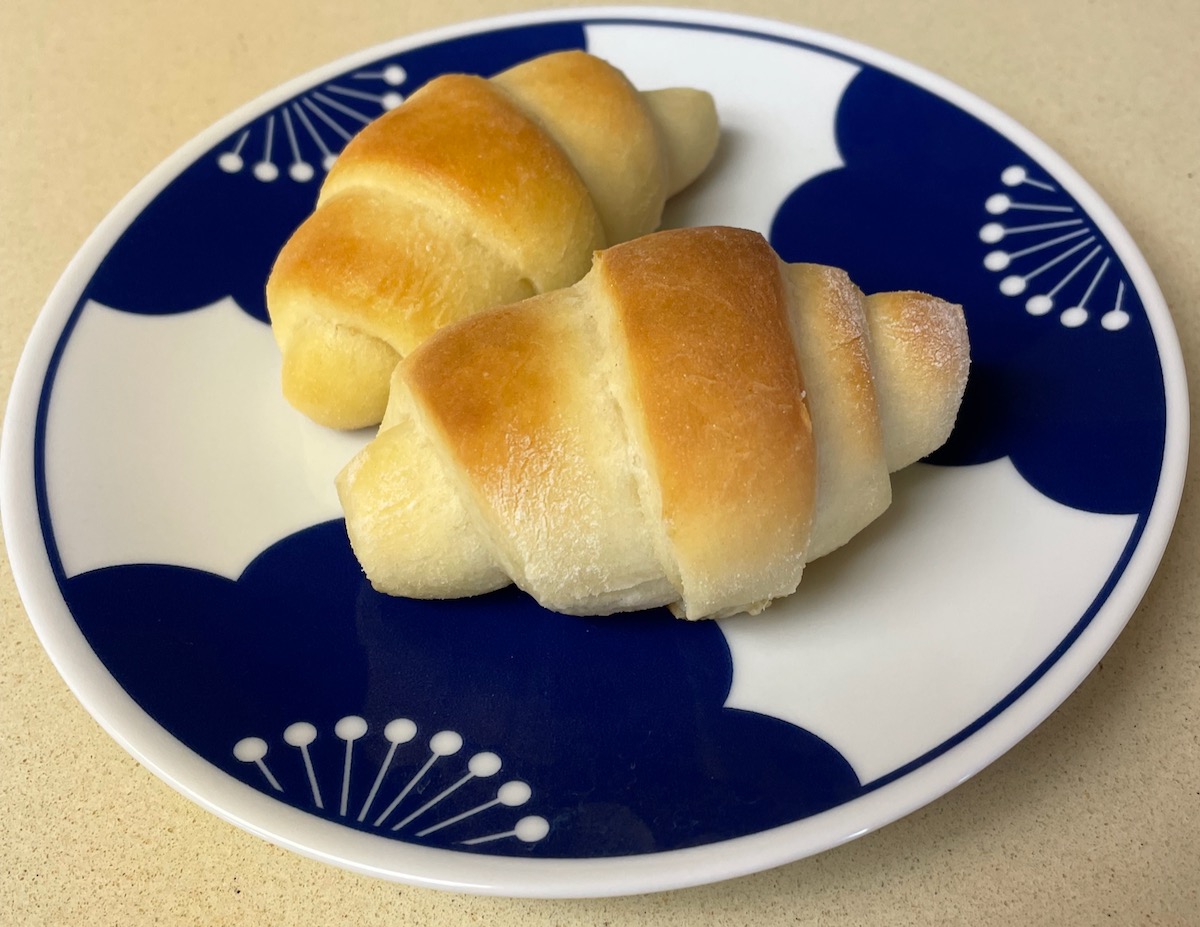 My ancient recipe card with my mother's recipe says it came from Judy Caldwell, who must have been one of her friends. I've modified it since, not only to cut down on the sugar, but also to make it easier to mix.
To shape crescents, divide dough in half and roll into a circle. Cut into 12-16 slices, and roll up from the bottom. I also brushed a bit of melted butter on the tops when they came out of the oven.
Dinner Rolls, from Barbara Sessions
1/4 cup lukewarm water
1 package dry yeast
1 cup milk
1 stick REAL butter
2 eggs
1/4 cup sugar
1 teaspoon salt
4 1/2 cups flour
Optional: 2 Tbls. melted butter to brush on top
In a mixing bowl, place 1/4 cup lukewarm water (110-115 F). Sprinkle one package of dry yeast over the top, or 2 1/4 teaspoons, if measuring from bulk. Let sit until yeast blooms and softens.
Meanwhile, measure 1 cup whole milk in a glass measuring cup. Add 1 stick real butter, cut into pieces. Microwave until warm (no hotter than 115; let sit until cool if it measures too warm). Pour lukewarm milk/butter mixture into bowl with yeast.
Add 2 eggs, mix. Add 1/4 cup sugar and 1 teaspoon salt. Mix.
Add 1 1/2 cups flour and mix; then add the rest of the flour in batches, but letting it remain sticky. I switched to a dough hook when I had 3 1/2 cups in, and added flour until the dough cleaned the bowl. Don't overmix, and don't add extra flour.
Remove beaters and cover dough with plastic wrap. Let it rise until double (about an hour). Divide into two, and on floured surface, roll out and shape (see note, above, for crescent rolls). Let rise.
Bake 12 minutes in a preheated 400 F degree oven. When rolls come out of the oven, brush tops with a small amount of melted butter.