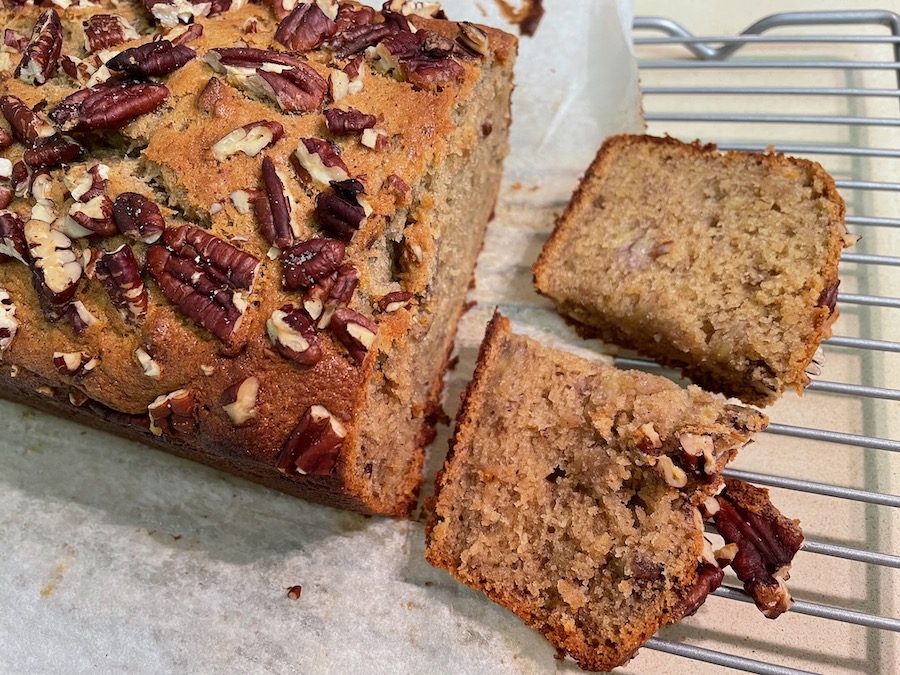 Intrigued by the ingredient list in this New York Times recipe (miso?), I wanted to try it. Roasting the pecans is the first step, and I resolve to come back to this and just roast some for snacking. My first hurdle: not enough banana (I measured mine).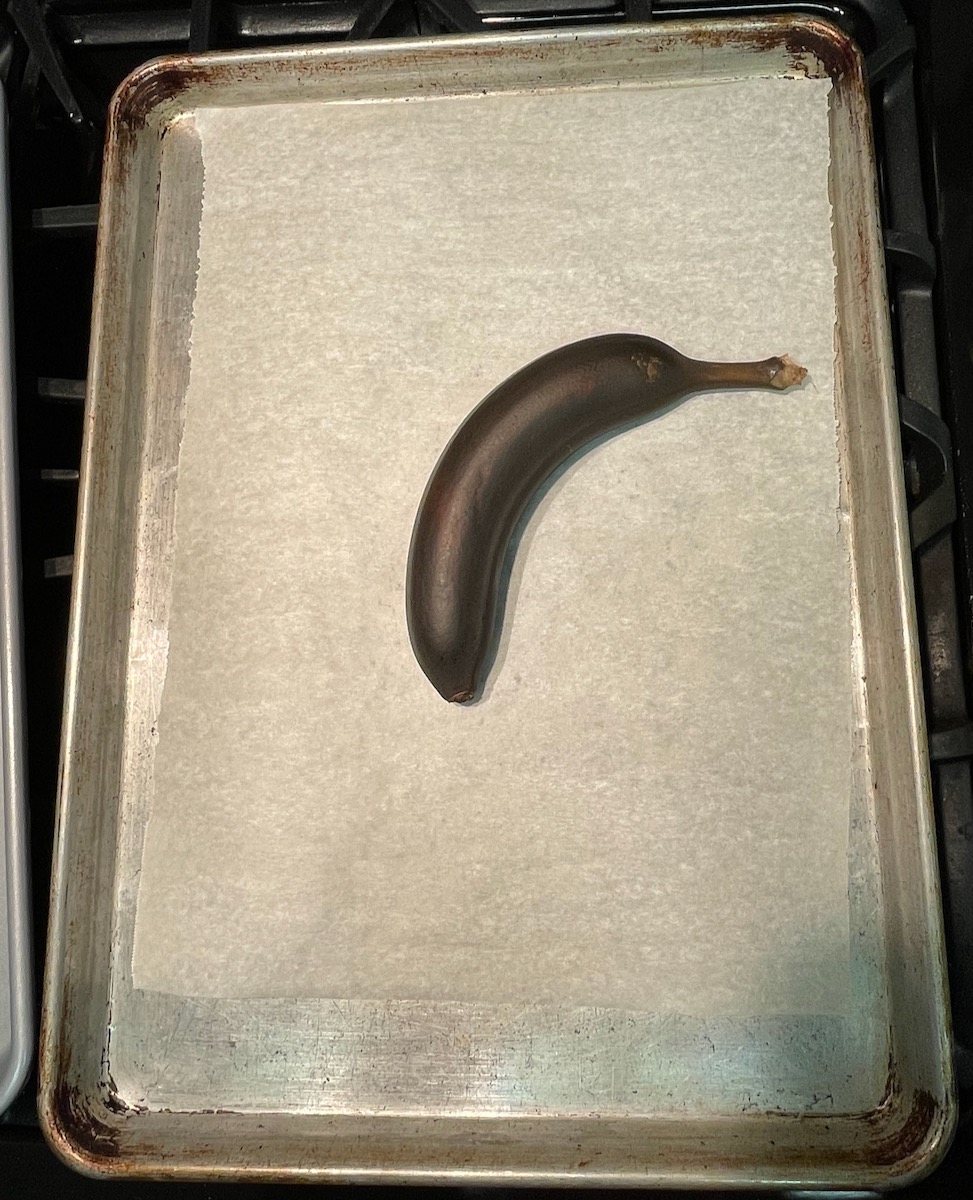 In the notes someone had mentioned that his grandmother baked her bananas in order to get enough for a recipe. So while the oven was preheating, I took a mostly unripe banana, placed it on some parchment paper and put it in the oven. I took it out after 10 minutes, but it could have used another ten, I think. It was hot to the touch, and most all of the banana was soft enough for mushing, which I did.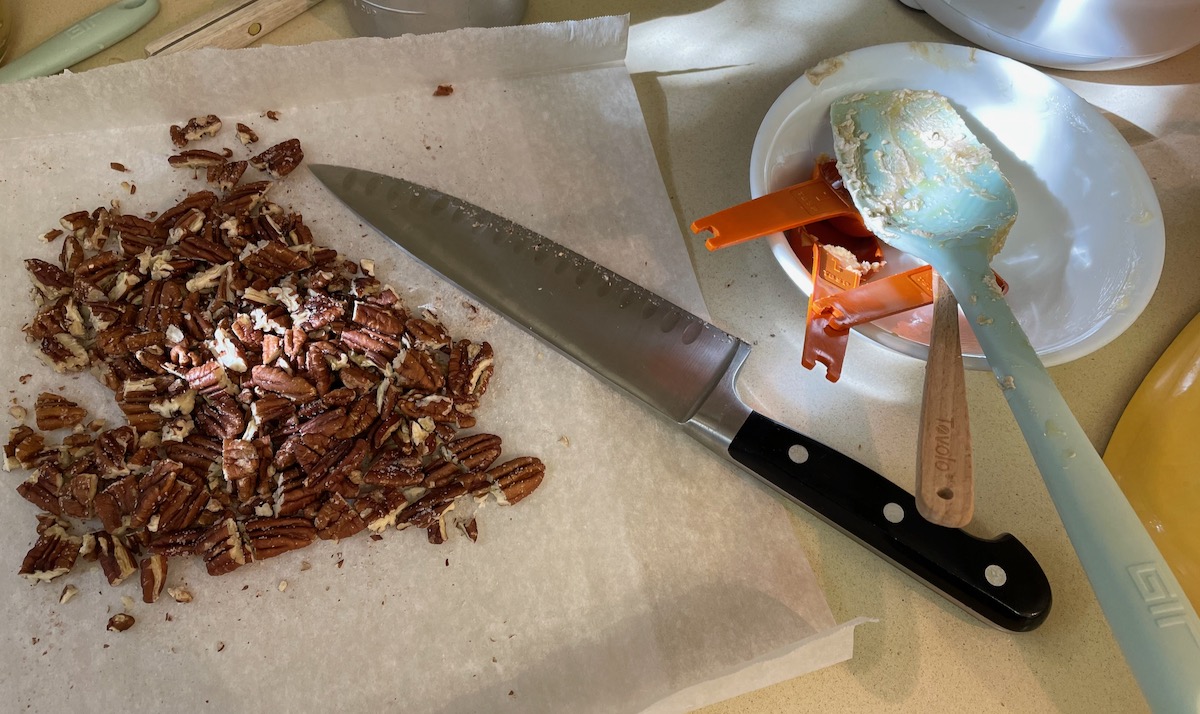 After the nuts were roasted, I just lifted over the parchment paper to the cutting board, and chopped on that. E-Z Cleen-Up!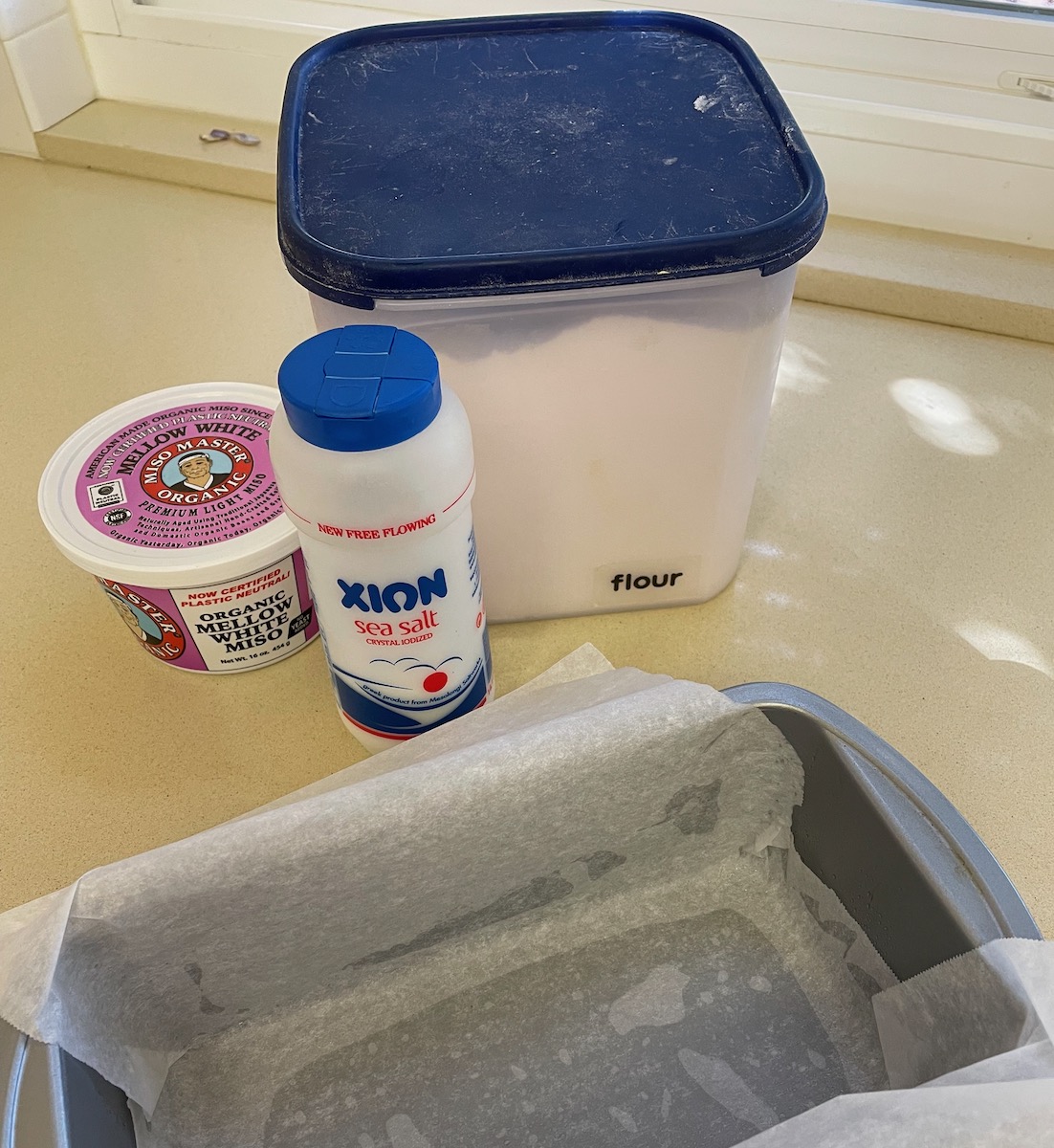 Another commenter lined their pan with a length of parchment paper, oiling it before putting down and then a light brush of oil on the bottom after it was set in. They said it was helpful to have "handles" to get the bread out, so all the chopped pecans on the top didn't fall off.
Other Ingredients: I used fine sea salt, and organic mellow white miso (mild); I'm showing this as some mentioned that their bread was salty. Ours wasn't. I also added more pecans, subbed in some whole wheat flour.
Last changes: I added more nuts; scoop off 1/2 cup for the top, and the rest (plus salt) go into the loaf. I also cut back on the banana. This makes one loaf.
Ingredients
½ teaspoon vegetable oil, plus more for pan
1 1/2 cups pecans
1 teaspoon fine sea or table salt
1/2 cup whole-wheat flour
1 1/2 cups white flour
1 teaspoon ground cinnamon
½ teaspoon ground nutmeg
½ teaspoon baking soda
½ teaspoon baking powder
½ cup butter, at room temperature
1 cup packed brown sugar
2 large eggs, lightly beaten
3 tablespoons milk
2 tablespoons white miso (measure exactly)
1 tablespoon honey
1 teaspoon vanilla extract
3-4 very ripe bananas, mashed (1 1/2 cups) If you are slightly below the measure, add a bit of water to bring it to 1 1/2 cups.
Preparation
Heat oven to 350 degrees. Lightly oil a 9- or 10-inch loaf tin, then line the base with length of parchment paper, letting the edges extend over the sides of pan to serve as handles.
Toss pecans on a parchment-lined baking sheet with salt and oil. Bake until fragrant, 7 to 10 minutes. When cool, chop coarsely and reserve one-half cup for the top.
While the pecans cool, whisk together flour, cinnamon, nutmeg, baking soda and baking powder in a medium bowl.
In a large bowl, beat butter and sugar using an electric mixer until creamy, 3 to 4 minutes. Beat in eggs, milk, miso, honey and vanilla extract until well-combined. Gradually beat in dry ingredients until just combined.
Using a spatula, stir bananas into the batter to combine evenly. Add the remaining one cup of the pecans (and any salt on the pan) to the batter and mix to combine evenly throughout. Add batter to the loaf pan, smoothing when complete. Sprinkle the remaining pecans evenly on top.
Bake until a wooden skewer inserted in several areas around the center comes out clean, 1 hour to 1 hour 10 minutes. Tent with foil if it starts to darken too much on top before the middle is baked through. Check often after 1 hour; time to cook will be variable.
Let bread sit in tin for 10 minutes before removing. Lift out by using the parchment "handles," and set on a rack to cool for 60 minutes before slicing.
Last thoughts: We found this bread to be rather dense the first time around, so made the changes I suggested. I think I still prefer my regular banana bread, but am thinking about how to combine those salty chopped pecans into my standard recipe.