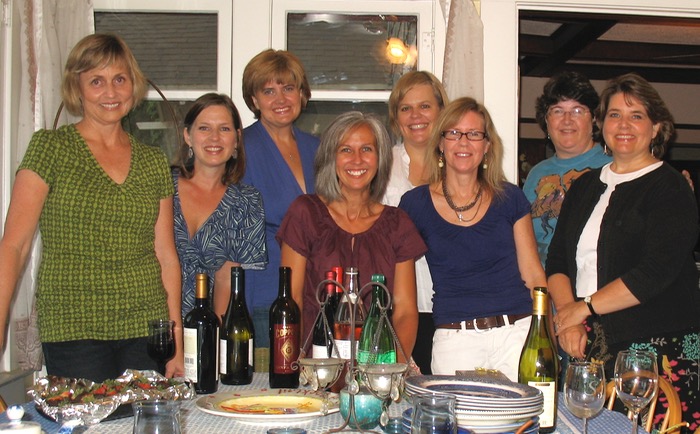 My friend Susan, tired of not seeing her friends, got a few of us together the other night at her house for what her ninth-grade daughter christened as Salon du Chocolat.  Who knows why a French title, but it does sound really cool.  (Maybe she'd heard about the famous one in Paris?) So we all racked our brains to come up with something French to contribute to the evening.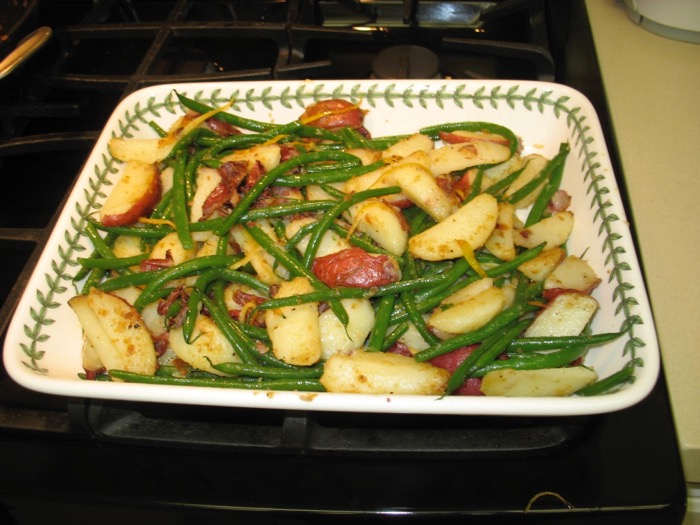 This was mine, a mixture of sauteed haricots verts, red new potatoes and strips of lemon zest.  It's not my recipe; head over to Food & Style to read all about it and even watch Viviane's video.  Then come back here and I'll tell you what I learned.
I learned that I should have cooked the potatoes earlier, like an hour or two earlier.  They were too hot when I put them into the pan to saute them up.  I also think you could get away with just 2 Tbls of olive oil, instead of 3, but that's just us.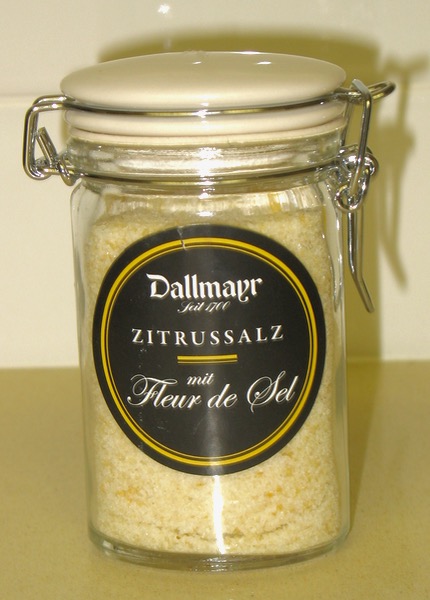 The secret ingredient I had that night was  this:  Fleur de Sel from the Dallmayr's shop in Munich.  I used three hearty pinches, and yes you could substitute regular sea salt if you wanted to.  I walked past their food emporium in Munich and one of the windows was a like a scene from a bazaar, with large flat bowls of various types of Fleur de Sel.  I chose the lemon flavor–I thought it would be the most useful, and besides the jar was really cute. In earlier days, I would have saved the jar for a special occasion–always years in the future.  But now, I notice that special occasions are all around me–like tonight's Salon du Chocolat, so why wait?
Others got into the spirit as well with quiches (from Susan), tartlets (which Thatcher was quick to note was food, not tiny wayward women), ratatouille from Kara, chocolate-dipped strawberries (Kris), watermelon salad (Julie), Choux Pastry with Almonds (Jo) .  Donna and Nicole joined us after the picture and I didn't keep track of the food after that as I was in a happy haze of  delicious dishes and good company.
Sautéed Haricots Verts With Baby Red Potatoes And Lemon Zest, with changes
(I made two batches)
1 1/4 lbs baby red potatoes – unpeeled and left whole
1/2 lb haricots verts – stem ends trimmed and cut in half
1 tablespoon sea salt for the blanching water
2 tablespoons unsalted butter
3 tablespoons olive oil
zest of half a lemon – peel zest with vegetable hand-peeler and cut in 1/8" julienne strips
3/4 to 1 teaspoon sea salt to taste
freshly ground pepper to taste
Step 1: Fill a medium heavy bottom soup pot with cold water, add the potatoes and bring to a boil at medium-high heat. Fast simmer, uncovered for 10 to 14 minutes depending on their size. The potatoes should be tender but still firm. Drain, then set aside to dry and cool.
Step 2: Fill a large bowl with cold water and several ice cubes.
Step 3: Fill a large heavy-bottomed soup pot with water and bring to a boil. Add the salt and blanch the haricots verts(tender green beans) for 3 to 4 minutes (depending on their size) until tender, but still crunchy. Scoop them out with a slotted spoon and transfer to the ice water bath until cool. Drain on towel, then pat dry, and set aside.
Step 4: Cut the potatoes in 1/2" edges. Heat a large non-stick skillet over high heat. Add the butter and olive oil. As soon as the butter is melted, add the potato slices and sauté for 2 to 3 minutes until golden. Toss the potatoes and continue sautéing for an additional 1 to 2 minutes, until golden. If needed, repeat the process until the potatoes are golden brown on all sides. Add the lemon zest, toss well and sauté for an additional 1 minute until lemon is crispy and golden. Add the haricots verts. Toss well until the beans are warmed through, about 1 minute. Add the salt and pepper, toss again and remove from heat.