The other night Dave said he'd take me out, but as it got closer to dinnertime, I thought about how tired he was (we both are–this jetlag is tough this time!) and maybe it would be better if we'd just eat in. So, like most of my recipes, I hopped onto the web to find something to cook. My favorite site is Epicurious.com, an aggregation of the recipes from Bon Appetit and Gourmet magazines. I like that Foodie People comment on the recipes, warning me or helping me to cook my own version of the dish, although I must admit little patience with those who substitute nearly every ingredient then say they can't stand the recipe. I try for a certain amount of fidelity, especially if the rating is high.
The category I browsed that night was Quick Meals, but it wasn't until the next night that I cooked this up. I'd give it a very high rating in these categories: low-fat, easy, quick, not-so-pricey and delicious. Choose a mild white fish (we used Orange Roughy) that is firm and won't fall apart. I served it with quinoa (see recipe elsewhere on this site) and some sliced al dente carrots, drizzled with the teensiest amount of honey. We probably didn't need the carrots, but they were good.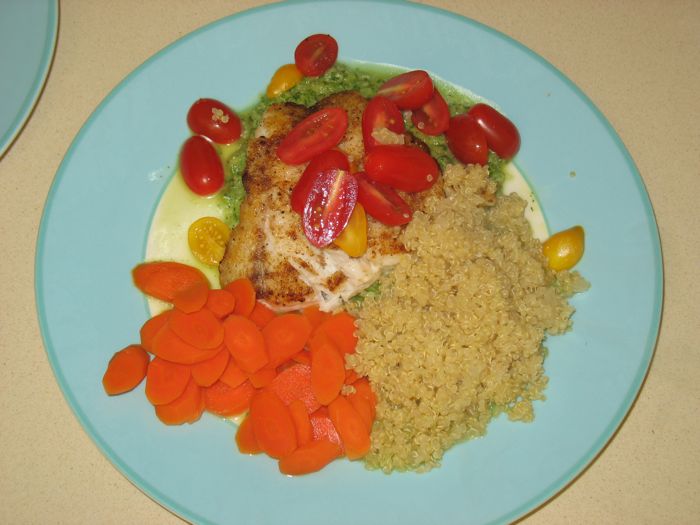 Ingredients
1 1/2 cups coarsely chopped English hothouse cucumber (about 3/4 of a large cake). Don't peel, just scrub clean
3/4 cup coarsely chopped green onions
1/2 cup coarsely chopped fresh cilantro
5 1/2 tablespoons olive oil, divided
1 1/2 tablespoons (or more) white balsamic vinegar (I used rice wine vinegar, but had to add more to bump up the taste–used almost 3 Tbls.)
1 medium chopped seeded jalepeno chile–remove seeds and inner membrane (and wash hands thoroughly!)
2 7-to 8-ounce fillets of a mild white fish
1 1/2 teaspoons ground cumin
6 ounces small red and yellow cherry, pear, or grape tomatoes, halved (about two handfuls, but we like tomatoes)
Preparation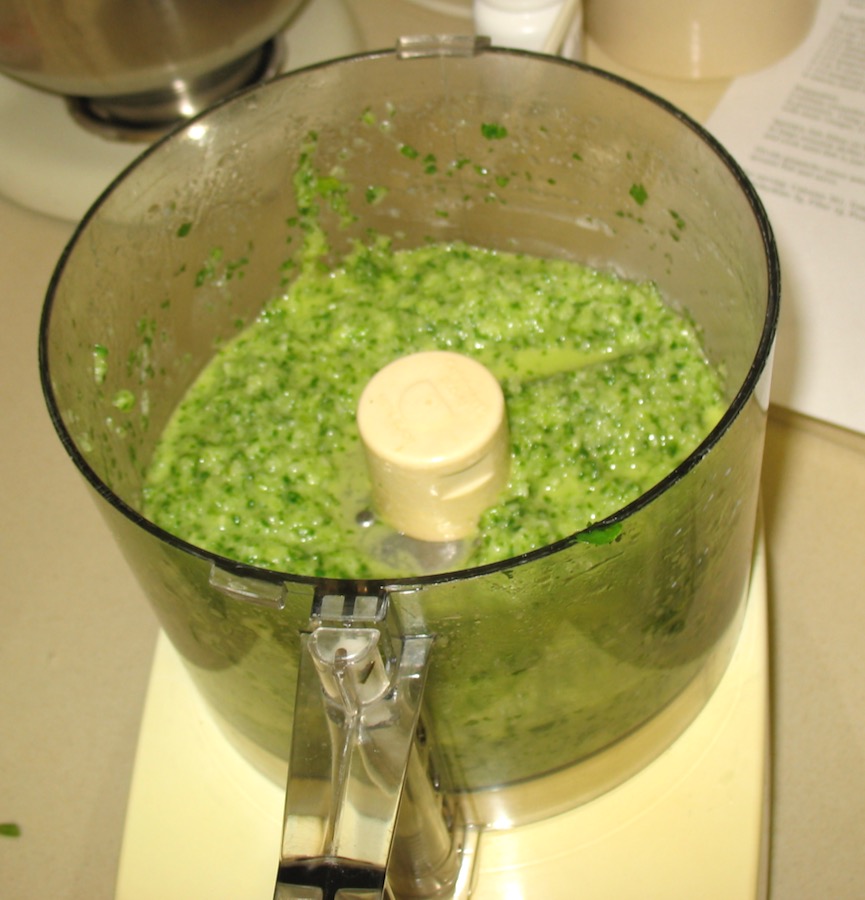 Gazpacho Sauce: Combine cucumber, onions, cilantro, 4 1/2 tablespoons oil, 1 1/2 tablespoons vinegar, and chile in processor. Using on/off turns, blend mixture until finely chopped. Transfer to bowl. Season with more vinegar, if desired, and salt and black pepper. (Note: I'm thinking this could be done a couple hours ahead if needed.  It does separate a little, but just stir it back together.)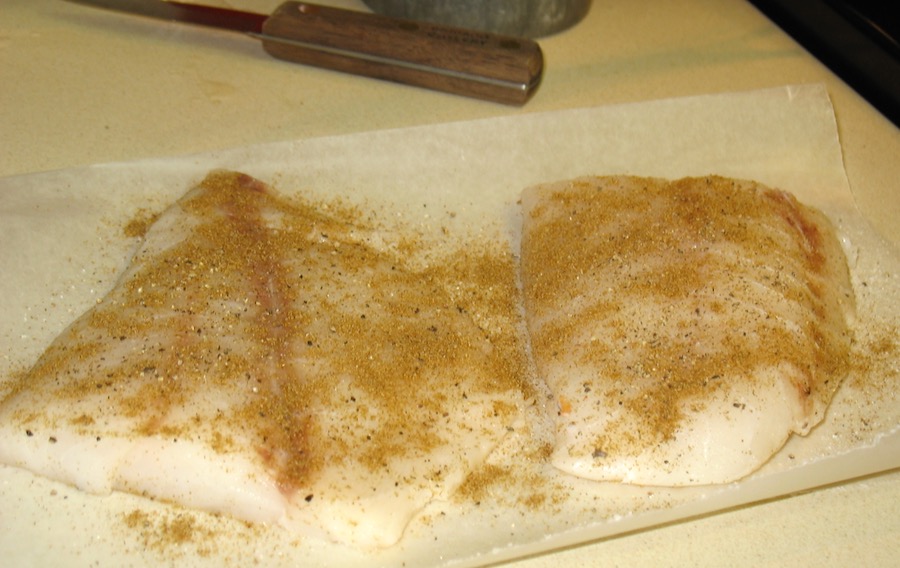 Sprinkle fish fillets on both sides with salt, pepper, and cumin. Heat remaining 1 tablespoon oil in large nonstick skillet over medium-high heat. Add fish and cook 5 minutes. Turn over, cover, and cook until fish is just opaque in center, 4 to 5 minutes. (This photo is the fillets, before cooking.)
Ladle some gazpacho sauce on each of 2 plates. Top each with 1 fish fillet. Scatter tomatoes atop and around fish and serve.
Per serving (without quinoa or carrots): Calories 361, Total fat 20g, Saturated Fat 3g, Cholesterol 151mg, Sodium 188mg, Carbohydrate 5g, Fiber 1g, Protein 39g