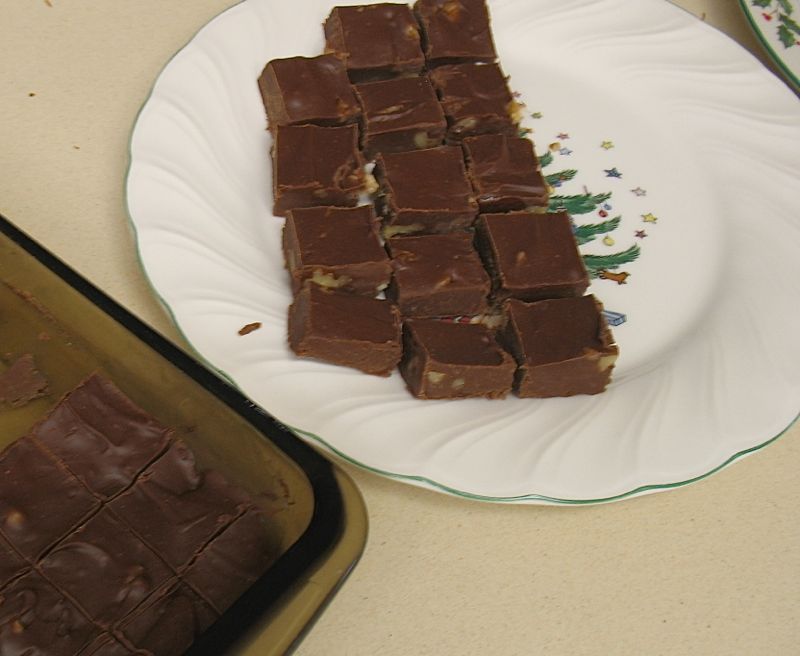 One year I was in charge of the Universe. Just kidding. But I was in charge of a Christmas event at church which included a video broadcast and Those In Charge wanted a big turnout. So I hit on the idea of singing Christmas Carols before, then having a giant cookie feast afterward. I think desserts is always a category where church-goers excel.
The tables were covered with all different plates and kinds of cookies, and then this one tin of fudge. I slipped a piece into my mouth. Mmmm. It wasn't the least bit sugary or dry. It was creamy with the right amount of crunch from walnuts. Manna, I thought. I watched as the hoards of children hit the first table, piling up cookies in their napkins in spite of my best-practiced Withering Glance, the swarm getting closer and closer to this Bit of Heavenly fudge. Just as the leading edge hit my section, I snatched up the tin. "No," I said. "This is just for the adults." I then walked around offering a piece at a time to the grown-ups, trying to locate the owner and maker of this perfection. I found her, and she sent me the recipe. So, Monique–if you're reading this blog–many thanks!
Creamy Chocolate Fudge
1 jar (7 ounces) of marshmallow creme
1  1/2 cups sugar
2/3 cup undiluted evaporated milk
1/4 cup butter or margarine
1/4 teaspoon salt
1 package (11 1/2 ounce) milk chocolate chips (~2 cups)
1 package (6 oz.) semi-sweet chocolate chips (~1 cup)
(Note: I have reversed the proportions of the chips on occasions for a slightly less-sweet fudge.  It works fine.)
1 cup chopped walnuts
1 teaspoon vanilla extract
In a large saucepan over medium heat, combine marshmallow creme, sugar, evaporated milk, butter and salt; bring to a full rolling boil, stirring constantly. BOIL FOR 45 SECONDS ONLY!! Otherwise it will be too grainy. Remove from heat and stir in chips until melted, stirring vigorously. Add vanilla and nuts and pour into buttered 9 x 13″ pan. Cool 2 hours or until firm.