My mother used to cook up great huge vats of chili on cold winter nights. In hindsight, as an adult, I'm sure it was a regular-sized pot, but to a child, it seemed bottomless. This was a good thing, because my mother's chili was delicious and I loved plopping in oyster crackers, lifting up the spoonful to my mouth in a perfect combination of crunch, heat, and rich meaty-tomato taste. I hadn't made it for a while, then our church had a chili cook-off. I brushed off her recipe, modified it, added a few things and cooked it up for the Halloween celebration.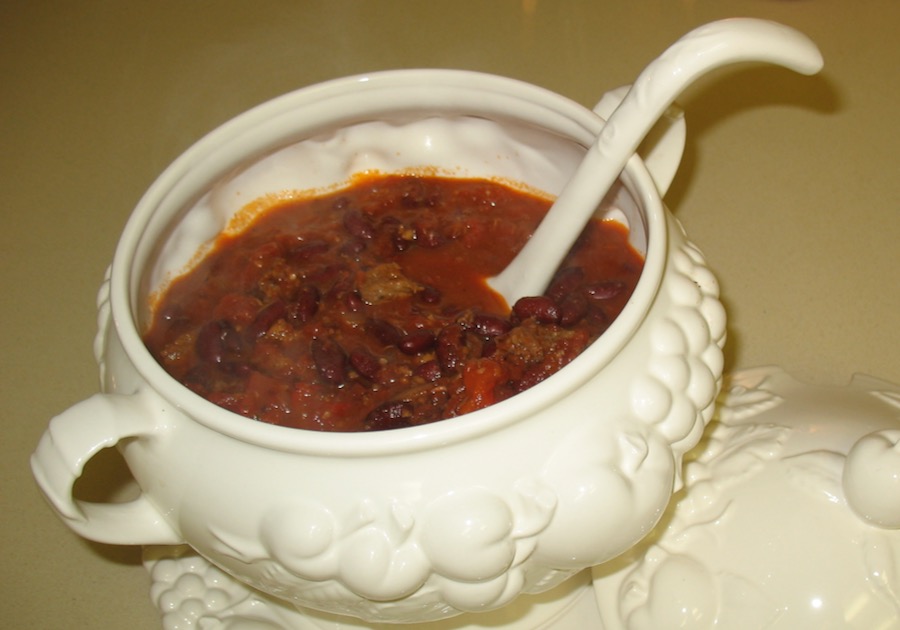 I made it again this past week for my husband's holiday department party, along with a series of toppings. It was very popular, surprising me. The weather that night was cold and rainy–was that it? Or is it because I'm noticing a huge trend towards all things Retro–and maybe this recipe qualifies.
I do think chili is best the next day. After you stir the beans in, cool it down, stirring often to release the heat and steam (I always pour half off into another dish to quicken the process). Store in the refrigerator in a sealed container until the next day; reheat either in crockpot or in microwave.
Ingredients:
2 Tbls. olive oil
1 pound stew meat, trimmed of most (not all) fat, and cut into half-inch (approx.) cubes
1/2 pound Jimmy Dean's Sage sausage
1 yellow or red bell pepper, seeded and chopped into small dice
1 onion, peeled and chopped coarsely
1 large can Contadina Whole Italian Tomatoes (29 oz.)
1 8 oz can tomato sauce
1/2 cup water (if needed)
1 Tablespoon chili powder
3 whole cloves
salt and pepper
3 small cans red kidney beans
Heat olive oil in large stewpot and brown the stew meat. Be careful not to crowd it; do in two batches if you need to. Remove to the side, then brown the sausage, with the onion and pepper. Add back the stew meat (and any juice). Chop the canned tomatoes (this is messy–keep scraping it all into the pan as you go, esp. the juices), and plop those in. Add the tomato sauce, the spices and stir well. Simmer for 2 hours, adding water if necessary. Skim the fat as it rises, if desired, or stir back in (don't tell the Cholesterol Police!) for more flavor. Add in the drained cans of red kidney beans, add more salt and pepper if needed. Serve.
Toppings (listed in order of what was most popular):
Shredded cheese
Diced avocado, tossed with some lime juice to preserve the color
Sour Cream
Chopped green onion
Cilantro, chopped
Oyster crackers (hardly touched at all, but this was a West Coast crowd)
Note: Contadina tomatoes really do make a difference. For an experiment, I bought Hunt's, the Contadina, and a store brand. Contadina won out by a mile in terms of color, ripeness and flavor.