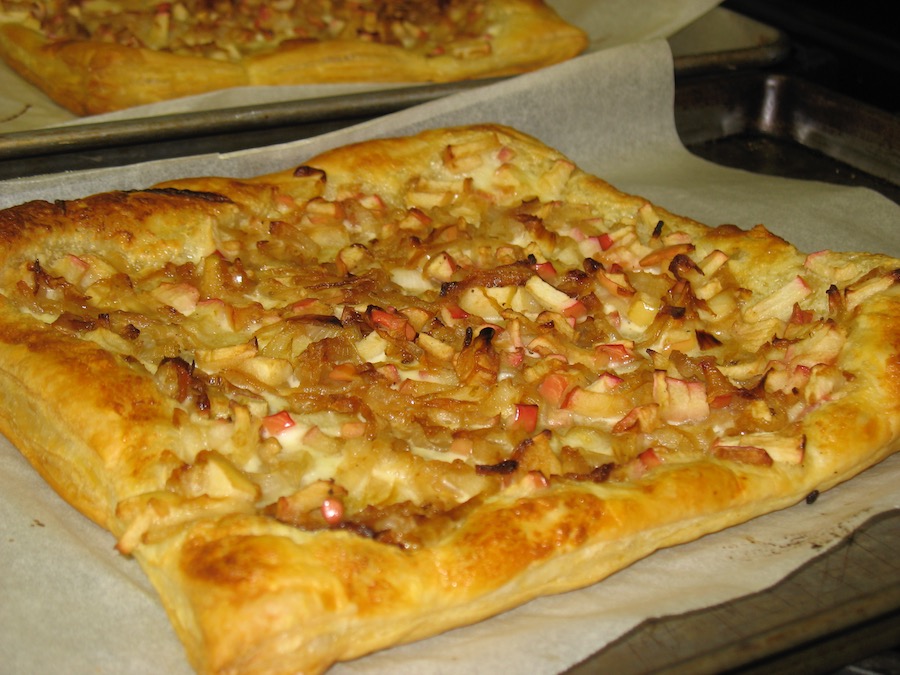 This was perhaps my favorite new recipe of the night, found online somewhere. Purchase pre-made puff pastry (Pepperidge Farms is the one in our grocery store), top with crème fraîche, the onion/apple mixture and bake. I slid them over onto a rack to cool for a minute, then sliced it up into squares. I plan to make this one often; it's easy and it went really quickly–both in the making of and into people's mouths.
Ingredients:
2 tablespoons olive oil
2  and 1/2  medium onions, sliced
2 red apples (such as Braeburn or Gala), cut into very small dice
salt and pepper
2 sheets frozen puff pastry (from a 17.3-ounce package), thawed
1/2 cup crème fraîche (you can substitute sour cream, but check Trader Joe's for the crème fraîche before you do)
Heat oven to 400º F. Heat the oil in a large skillet over medium-low heat. Add the onions and cook, stirring occasionally, until soft and golden brown, 12 to 15 minutes. Stir in the apples, some salt, a shake of pepper and cook until just tender, 2 minutes.
Place each sheet of pastry on a parchment-lined baking sheet and prick all over with a fork. Spread with the crème fraîche, leaving a one-quarter inch border. Top with the onion mixture and bake until the pastry is crisp and browned, approximately 30 minutes. Cut into pieces before serving.