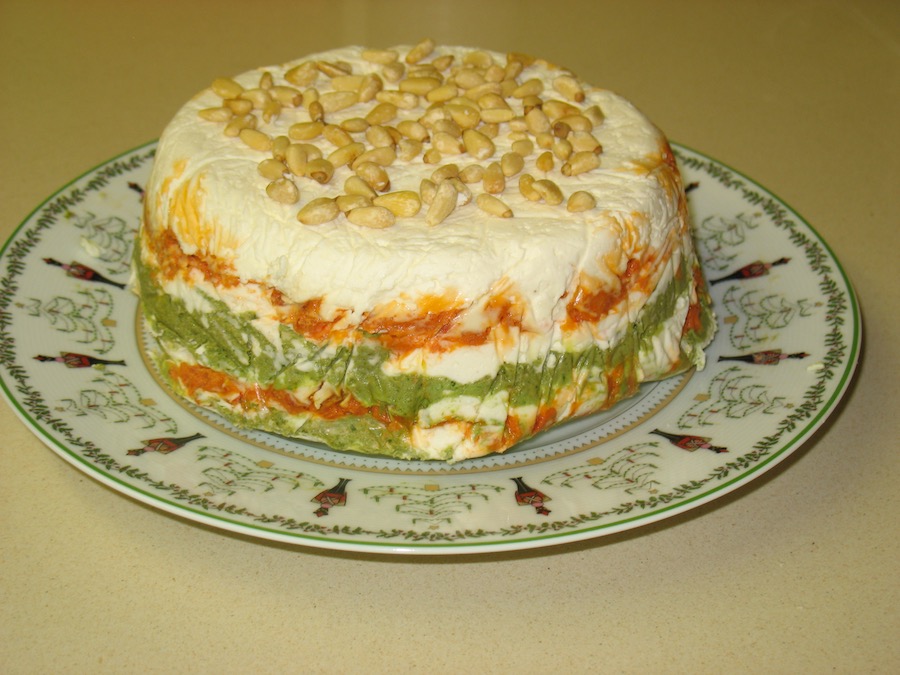 I made this for the first time last December, and fought with it the whole time.  Part of the problem was that I tried a shortcut, and used pesto from Trader Joe's.  Mistake.  If you decide to make this, consider it like investing in a plane trip abroad: once you board, there's no getting off until the plane's landed.  Stay with it and you'll be rewarded with lots of compliments.
For the presentation, I garnished the top with pine nuts, set it out on my husband's nutcracker Christmas plate up on a cake pedestal, and served it with crostini. The recipe is originally from Bon Appetit magazine, published in December 1999, and the only modification I made was to cut down on the garlic to two cloves (from the original recipe's four cloves). I think it was a good call as it was much better this year.
You can make this up to three days ahead; be sure to start at least one day in advance.
2 garlic cloves
1 1/2 cups (packed) fresh basil leaves
1/4 cup pine nuts
2 tablespoons extra-virgin olive oil
1 teaspoon fresh lemon juice
2 2/3 cups cream cheese, room temperature (about 21 ounces)
1/4 cup freshly grated Parmesan cheese
1 1/3 cups drained oil-packed sun-dried tomatoes (confession: I forgot to drain the oil; it was fine).  I used an 8 oz jar of julienned tomatoes from (where else?) Trader Joe's.
1/3 cup tomato paste
1/2 cup butter, room temperature
Nonstick vegetable oil spray
Fresh basil sprigs
Toasted pine nuts
Crostini
Finely chop garlic in processor. Add basil, 1/4 cup pine nuts, oil and lemon juice. Process until well blended. Add 1/3 cup cream cheese and 1/4 cup Parmesan cheese. Using on/off turns, process just until blended. Transfer pesto to medium bowl.
Coarsely chop tomatoes in processor. Add tomato paste and process until mixture is almost smooth. Add 1/3 cup cream cheese and blend well.
Using electric mixer, beat 2 cups cream cheese and butter in large bowl until fluffy. Season with salt and pepper.
Spray 6-cup soufflé dish with nonstick spray. Line with plastic wrap, extending plastic over sides. Spread 3/4 cup cream cheese-butter mixture evenly over bottom of prepared dish. Top with half of tomato mixture, then 1/2 cup cream cheese-butter mixture, then half of pesto mixture. Repeat layering with 1/2 cup cream cheese-butter mixture, remaining tomato mixture, 1/2 cup cream cheese-butter mixture and remaining pesto. Top with remaining cream cheese-butter mixture. Cover and chill overnight. (Can be made 3 days ahead. Keep refrigerated.)
Invert torta onto platter. Peel off plastic. Garnish with basil sprigs and toasted pine nuts. Serve with crostini.
Makes 20 servings.