Whenever I walk down Costco's book table, esp. the cookbook section, I always seem to pick up a new book or four.  I now have a dedicated shelf to cookbooks, where before there were none, so thought I should open them and use them besides just reading them for enjoyment and ideas.  One book I've had for a while is The Williams-Sonoma Cookbook, published in 2008, and that's where I found this recipe.  I wanted something light but impressive for my birthday dinner and this filled the bill.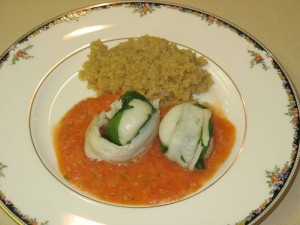 When the house was full of children, we had balloons on the banister, cards and presents and chaos denoting it a different–and special–day.  Now that there's just the two of us, I always serve birthday dinners on china.
This recipe makes four servings, but you can adjust it easily.  Make the same amount of vinaigrette, and adjust the fish portions.  I served it with a butter lettuce salad with lemon vinaigrette and quinoa, with sauteed shallot (do first, then add the quinoa and chicken broth).
Vinaigrette:
2 tomatoes, peeled and seeded and chopped
2 Tbs. fresh minced tarragon or flat-leaf (Italian) parsley
1 Tbs. minced shallot
6 Tbs. olive oil (of good quality)
2 Tbs. fresh lemon juice (none of that stuff in the container–ICK)
Course salt and freshly ground pepper
In a blender or food processor, combine the tomatoes, tarragon, shallot, oil and lemon juice and season to taste with S&P.  Blend or process to make a smooth sauce.  Set aside.
Main Dish
4 sole, flounder or fluke fillets (I used sole), skinned
20 young spinach leaves, stemmed and halved lengthwise (you can see from my picture that I'd forgotten this step)
12 medium to large sea scallops, small muscles removed
2 cups fish stock (or equal parts of clam juice and chicken broth–which is what I used)
Preheat the oven to 400 degrees F.  Cut each fillet lenthwise into thirds.  Place thd strips on a work surface (I use a double thickness of wax paper), and season to taste with salt and pepper. Cover the strips with the spinach leaves.  Place a scallop near the slender end of the each strip, and starting from that end, roll up the fillet, enclosing the spinach leaves and scallop.  Use your two extra hands if you need to (just kidding, but I did feel like I needed a pair), then secure the roll with a toothpick.  Places the rolls in a baking dish and pour the stock over the fish.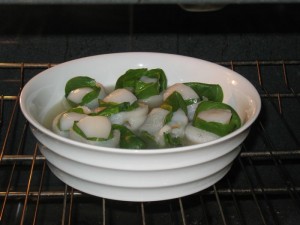 Into the oven it goes, for about 20 minutes–just enough time to make the quinoa and assemble the butter lettuce salad.
Bake the rolls, basting occasionally (I just turned them over once), until the scallops are firm and opaque throughout (like I mentioned–for about 20 minutes).  Just before serving, heat the vinaigrette to warm, then spoon onto the plate.  Place fish rolls in the center of the viaigrette, twisting the toothpick carefully to remove it.  Garnish with more tarragon or parsley, if you want to.
It was so good, we had seconds, and didn't feel the least bit guilty doing so.  This is an EASY dish to make, but it looks and tastes really fancy-schmancy.