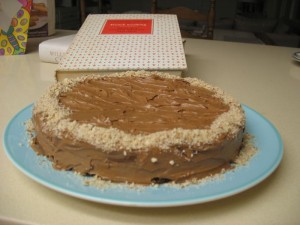 For my birthday, I wanted to try this cake from Julia Child's Mastering the Art of French Cooking.  No big culinary reason, other than it looked really good in the movie (however, their cake frosting is different than this one).  Usually every year Dave makes my cake for me; it's one reason why I married him, but he's working on a big project and I didn't think it was fair to spring a scratch cake on him at this time.
The first thing you have to do is buy a new cake pan.  Yep.  Our American cake pans–the kind we all use on those double-layer cakes, are too short.  The pan has to be at least 1 1/2 inches deep. I had a coupon for Michael's and went over there and bought one, but it's lightweight aluminum.  If you want a heavier one, try Sur La Table, or a good cooking store.  With my coupon, however, the price was right.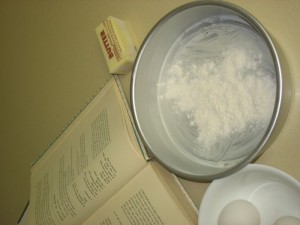 Butter the pan, using soft real butter and a corner of a paper towel, then dust it with flour, shaking out the excess.
Ingredients:
4 ounces (squares) semi-sweet baking chocolate
1 stick, or 1/4 pound softened butter
2/3 cup granulate sugar
3 egg yolks
3 egg whites
pinch of salt
1 Tbs. granulate sugar
1/3 cup ground almonds
1/4 teaspoon almond extract
3/4 cup sifted cake flour (confession: I stirred mine up to lighten it, and used regular flour)
Method:
Preheat the oven to 350 degrees.
Melt the chocolate over almost simmering water.  Julia says to add 2 Tbls rum or coffee–a problem, because in this house, we have neither. So I flipped to her page about "melted chocolate" and it says I can use water as well.  So I did.  Don't have a double boiler?  Get creative.  I ended up using the bottom half of my juicer.  You could also throw some forks or something in the bottom of pan, bring the water just to below them, then set a metal bowl over the water.  Kmart also sells double boilers for $40, which is why I was improvising.
Cream the butter and sugar together for several minutes until the form a pale yellow, fluffy mixture.  Beat in the egg yolks until well-blended.
Beat the egg whites and  salt in a separate bowl until soft peaks are formed; sprinkle on the sugar and beat until stiff peaks are formed.
Blend the melted chocolate mixture into the butter/sugar, then stir in the almonds (Julia calls them pulverized–I call them: through them into your food processor and whirl along until they are finely ground.)  Don't overmix.  Remove the beater, and then, with a spatula, immediately stir  in one-fourth of the stiffly beaten egg whites to lighten the batter.
Then, delicately fold in a third of the remaining egg whites, and when partially blended, sift on one third of the flour and continue folding.  Alternate rapidly with more egg white and more flour until all the eff whites and flour are incorporated.
Folding In Egg Whites Have You Nervous?
As one website described the process: Using a large spatula, cut a path down the middle of the mixture with the edge of the spatula. Then gently turn half the mixture over onto the other half. Continue cutting down the middle and turning a portion over. Don't stir. The purpose of folding is to retain the air you have beaten into the whites. Be careful to only work the batter enough to incorporate the whites, and never use an electric mixer for this step.  You can Google "folding egg whites" to find videos on this process, if you are the type of person who likes to thoroughly understand a step before attempting it.
Julia says the whole process should "not take more than a minute and do not attempt to be too thorough.  It is better to leave a few unblended patches than to deflate the egg whites." Okey-dokey.
Back to the cake:
Turn the batter into the cake pan, pushing the batter up to its rim with a rubber spatula.  Lick the bowl clean, because you can't help yourself.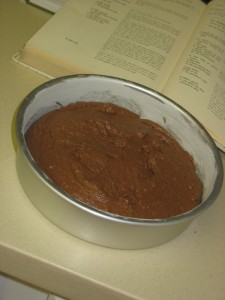 Bake in middle level of a preheated oven for about 25 minutes.  Cake is done, she says, when it has puffed and 2 1/2 to 3 inches around the circumference are set so that a tester plunged into that area comes out clean; the center should move slightly if the pan is shaken and a tester comes out oily.  We had the latter, but not the former (it didn't move slightly).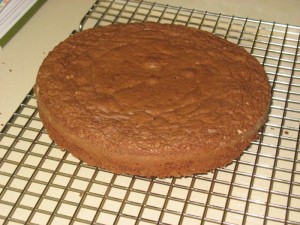 Allow cake to cool in the pan for 10 minutes.  Run a knife around the edge. and reverse the cake onto a rack.  Allow it to cool for an hour or two; it must be thoroughly cool if it is to be iced.
Chocolate-butter icing, or Glacage au Chocolat
1 ounce semi-sweet baking chocolate
1 Tbls. rum or coffee or water
3 Tbs. unsalted butter
Melt the chocolate with the water, over a double boiler until chocolate has melted into a very smooth cream.  Remove from the hot water, and beat the butter into the chocolate, a tablespoon at a time.  Then beat over cold water until chocolate mixture is cool and of spreading consistency.  Spread it at once over the cake and garnish with almonds.
I have no idea why I decided to try this one.  After watching the movie where the actors ate this cake so heartily that they'd smeared the frosting all over their faces, I assumed it would be the simplest version.  Although this frosting was good, it was not so good that we wanted to smear cake all over ourselves.  I'd double the frosting amounts, for sure, or even try her Butter Cream frosting I, with powdered sugar.  Dave kind of looked funny when I told him there was no powdered sugar in this icing.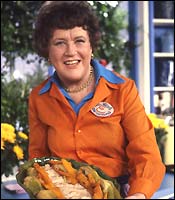 According to the Boston Globe, Julia Child writes in ''The Way to Cook'' that this was the first French cake she ever ate, prepared by her coauthor Simone Beck, ''and I have never forgotten it.''
This cake is also known as the Queen of Sheba cake, apparently in some allusion to the opera, and there seems to be a billion posts of this recipe online, some much fancier than mine.  Have fun looking. . . and baking.