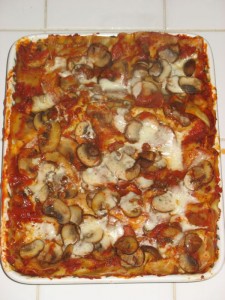 I don't know how I dreamed up this dish.  I guess it was when I had to take something to a church supper, and I didn't want another lasagna that weighed 40 tons on the plate and would send a person into cardiac arrest.  I wanted something that had a rich taste, but didn't have the greasy, overloaded-with-cheese experience that is germane to this dish.  Now those types have their place.  Just not on my plate.
This recipe is open to variations, and is always a winner, even though that is a cliche.  I think the inclusion of the mushrooms give it a meaty taste, the vegetables bring it juiciness and the minimal cheese brings it richness.
We make this a lot in summer and it is really good leftover in lunch containers.  I like it also in winter as it is satisfying.  Okay, enough of telling you what it is and isn't–the recipe follows with pictures.  Make it yourself and decide.
Ingredients:
about 1 pound crimini mushrooms, also known as brown mushrooms, cleaned and sliced
1 red sweet bell pepper, julienned
1 yellow sweet bell pepper, julienned
3 medium or 2 large zucchini, scrubbed clean and sliced
9 oz package of no-boil flat lasagne noodles (I use Barilla brand in a blue box)
1 jar spaghetti sauce (I use Ragu with extra mushrooms)
1/2 to 1 cup water
less than 8 oz. whole-milk mozzerella cheese, cut in thin slices (I use Precious brand, in shrink wrap)  I can't give you an exact amount because while I use it sparingly, you may want more.
Start by sauteeing about a pound of mushrooms in a small amount of olive oil and butter (equal parts).  Don't crowd the pan–do it in several bathes.  Then slice up the bell peppers and do the same. The zucchini needs the same workup.
Place about 1/2 cup of sauce in the bottom of a baking dish, approximately 9 by 13-inch size.  Spread the sauce to cover the bottom, then place a layer of noodles on top of that, covering the bottom of the dish.  It's okay to break some in half if you need to do that, now, or later on.  Add water to the top of the spaghetti sauce jar, replace lid and shake to blend.
Top the noodles with about one-third of your mushrooms.  Spoon some sauce over that, then using a light touch, place the thin slices of cheese on top of that.  I do not cover the surface.  Instead it looks more like the red squares on a checkerboard, with the black squares being left devoid of cheese.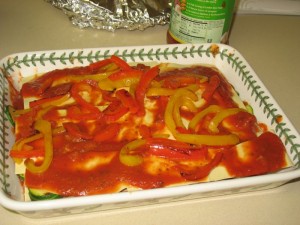 Layer in more noodles, more sauce, and then add about another 1/2 cup of water to the jar of sauce, shake to blend.  Your next layer can be the peppers, as shown above, or zucchini. There's no set order, just alternate mushrooms, peppers, and zucchini until the pan is full.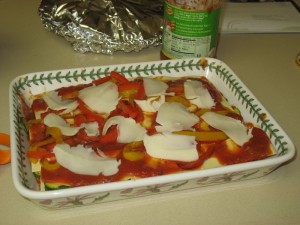 This is how I place my cheese: sparingly. I promise you that you won't miss the excess.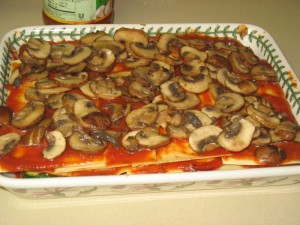 Keep layering (this is the mushroom layer–I heap those babies on) until you end with noodles.  Or mushrooms, or whatever. Place the rest of the sauce on top of that (you can always slosh in some more water if you're running low on sauce), then cheese. Stroke the dull side of a large piece of tinfoil with a cube of butter to grease it, then place it over your lasagna, crimping to seal the edges.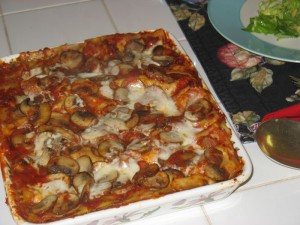 Bake in a 375-degree oven until bubbly, about 50-60 minutes.  If your cheese isn't melted (take a peek), you can uncover your lasagna and bake for about 5 more minutes, until it is.  Let it stand for a about 10-15 minutes before serving, then enjoy!