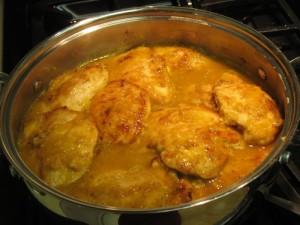 Who knows how I happened on this recipe, but given the fact that we live in the area where naval oranges are in abundance, it only made sense for me to find something to do with them besides squeeze them for orange juice. I like this recipe because it makes a lot, quickly, and it's always a hit.  I've modified the originally published recipe with some of my own quirks–isn't that how we all do things?
Ingredients
4 boneless, skinless chicken breasts
All-purpose flour
2 tablespoons (1/4 stick) butter
1 tablespoon olive oil
4 teaspoons minced peeled fresh ginger
2 tablespoons brown sugar
2 teaspoons dijon mustard
1 1/2 cups orange juice
2 teaspoons grated orange peel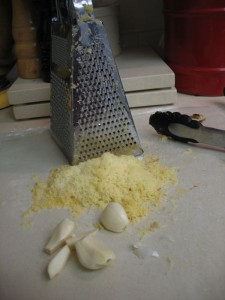 *Note: I store my ginger root in the freezer, a trick taught to me by Susan Jones, an old friend.  When I need some, I peel/scrape off the skin using a paring knife, then grate the frozen ginger using the fine-hole section of my box grater to get the amount I need.  It's shown above with the peeled garlic, ready for mincing or putting through a garlic press (I do that interchangeably).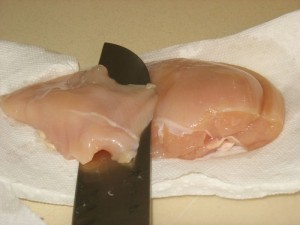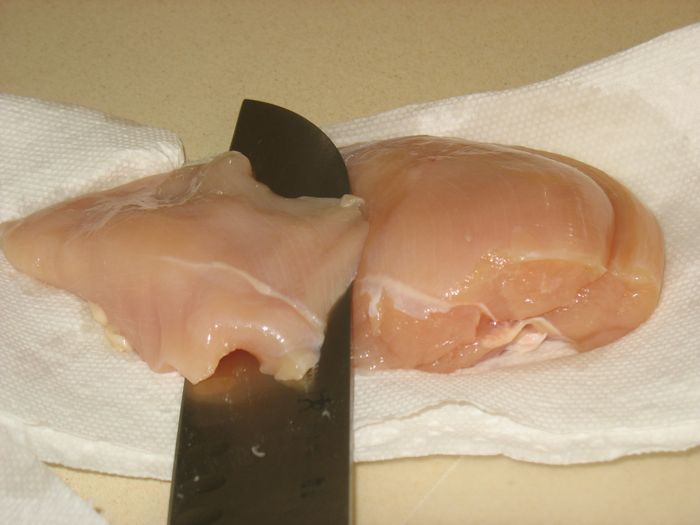 Since I believe that the chicken breasts these days have gotten out of hand, size-wise, I always "fillet" them by cutting them horizontally into thirds, as shown.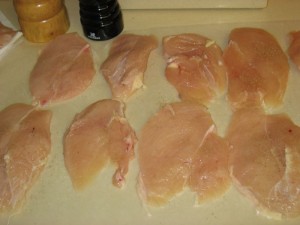 Lay out the pieces on a double-layer of wax paper.  Sprinkle chicken with salt and pepper; dust with flour.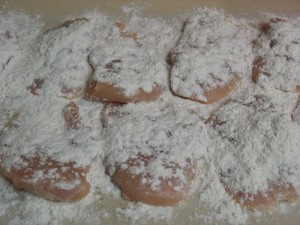 Turn over and repeat on other side, shaking off excess flour before transferring to pan. Melt butter with oil in large skillet over medium-high heat.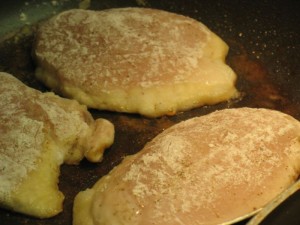 Add chicken; sauté until brown, about 3 minutes per side. (They'll cook some more in the next step, so no worries if the chicken is a little pink in some parts.  I like to use my non-stick skillets for this step.
Transfer chicken to a stove-top lidded casserole pan, or other pan with sides. Add ginger to the original skillet; stir 1 minute. Add brown sugar and mustard and stir to blend into drippings. Add orange juice and orange peel. Cook until all the bits and little pieces have released from the skillet into the sauce and it is slightly thick, about 3 minutes.  Pour over the chicken in other pan and simmer until chicken is cooked through and sauce is thick enough to coat spoon.  Keep spooning it over chicken while it thickens up (anywhere from 6-10 minutes—don't overcook chicken). Season sauce with salt and pepper. Transfer chicken and sauce to platter.
Originally published in Bon Appetit Magazine; this recipe can be prepared in 45 minutes or less.
*Yes, you can just use one skillet, if it has a lid and steeper sides.  Transfer the browned chicken to a plate, then add back to the cooked sauce and cook as above.