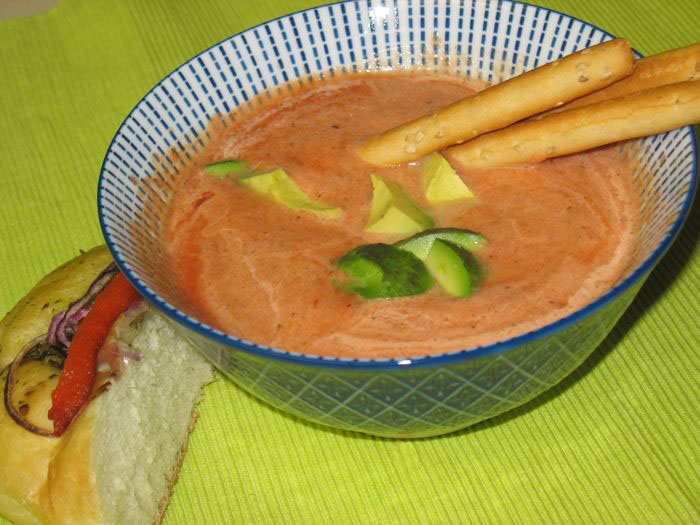 Every once in a while I get a craving for really good tomato soup, that is, cream of tomato soup.  Of course we all know that the best kind is made in summer when the tomatoes in the garden–that you've managed to keep watered, keep the birds and pests away from–ripen into some glorious explosion of flavor and then you could eat that fresh tomato soup version forever.
But I usually want this soup on a cold day, when the tomatoes in the grocery store look like waxed pink balls and are fairly flavorless.  So I hit on this idea: what if I got some really good canned tomatoes, added my own spices and cream and made a go of that? So I tried it and it worked, so here's the recipe.  You'll be eating it 20 minutes after you start. I paired mine with some breadsticks (in honor of our time in Prague, where we had a really delicious tomato soup in a small cafe overlooking the city (photo below) and some foccacia from the local bakery. I garnished this with some chopped avocado, but that's really not necessary.

Now for the recipe.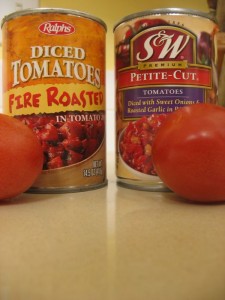 Buy one of each of these cans: 14 ounce can of fire roasted tomatoes (there's many brands out there–my store just happened to have one) and a 14 ounce can of chopped tomatoes that have been flavored in some way.  I usually go with S & W's petite-cut tomatoes with onions and garlic.  Dump into a saucepan, stir, and let them warm up over medium heat.
Now open your cupboards and add:
a shake of soy sauce (all shakes are about 1/4 teaspoon)
a shake of Worcestershire sauce
1 teaspoon fresh lemon juice (haven't tried it with the bottled stuff)
3 drop of Tabasco sauce, depending on the heat of your fire-roasted tomatoes, you may need more
1/8 teaspoon powdered cloves (apparently the secret ingredient to Campbell's Tom. Soup)
salt and pepper to taste
dash of cayenne pepper
Simmer for about 5 minutes, then transfer to a blender or food processor in batches, whirling it almost smooth (I don't mind a little chunkiness here and there–blend it to your liking).  If you have an immersion blender, use that instead.  Return it to the pan after blending, but remove from heat.  Now add a swirl of cream to your taste, blending it as much as you'd like.  I think I used about 1/4 cup for this batch.  Eat!