We went back and forth this year on whether or not to go out to a restaurant or stay home and cook.  Out?  In?  And since all our children were taken care of and I heard it was going to rain, In was what won in the end.  I went looking for my mother's most recent cranberry sauce recipe–tore apart all my stashes of clipped, stained, printed-out papers but couldn't find it.  I went to Epicurious and searched.  Then I realized I probably had it on my computer.  Duh.
So here are two cranberry sauce recipes.  The first is from Epicurious, dated 2000. It's a bit tart, but with the addition of ginger and the pepper, has a good tang to it. The second came from my mother and I don't know where she got it from.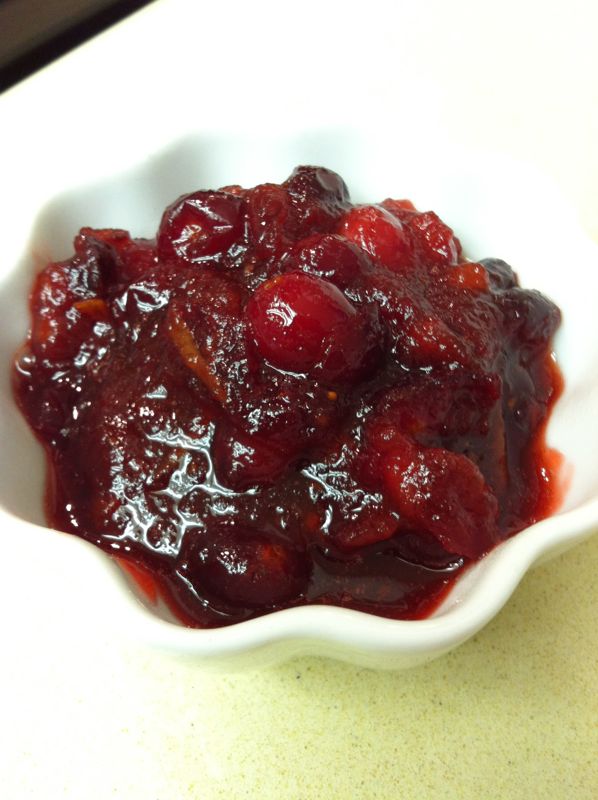 Cranberry Relish, from Epicurious
2 oranges
1 cup sugar
2 teaspoons lemon juice
2 teaspoons fresh ginger, cut in fine julienne
1 bag (12 ounces) fresh or frozen cranberries
1/2 teaspoon freshly ground white pepper
Preparation
1. Peel 1 orange and cut the zest (orange part only) into a very fine julienne, as thin as possible; set aside. Squeeze both oranges for juice; set aside.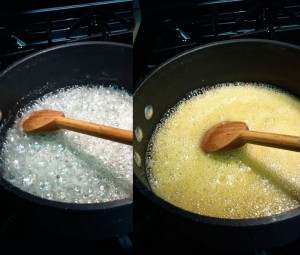 2. Combine sugar and lemon juice in a small sauté pan. Heat up slowly and continue cooking until the sugar begins to caramelize. If necessary, wash down the sides of the pan by brushing with a little water to keep the sugar from burning.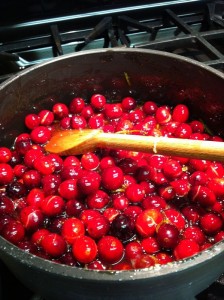 3. When the sugar is caramel colored, add the julienned ginger and orange zest. Cook for about 1 minute, then add the cranberries, orange juice and pepper. Continue to cook on medium-high heat, stirring frequently, for about 5 minutes or until the cranberries are slightly broken but not mushy (frozen cranberries will take about 7 minutes). Remove from the heat and let cool.
Cook's Notes: I like my berry sauce a little soft, so I cooked it a little longer than they said.  I also tasted it and added about 2 Tablespoons sugar as it was a bit mouth-puckery too tart for me.  I think my oranges were smaller so everything was more intense.  I also grated my fresh ginger, as I keep it in the freezer and there was no way it could have been julienned.
Mom's Cranberry Sauce, 2006
Cook 12 oz bag fresh cranberries in 1 cup water until skins pop open.  Add 2 cups sugar, scant cup chopped golden raisens, 1 chopped Granny Smith apple, zest and juice of 1 lemon, zest and juice of 1 orange.  Cook 15 minutes or until slightly thickened.  Add 1/2 cup chopped walnuts.
(The best yet, she says.)