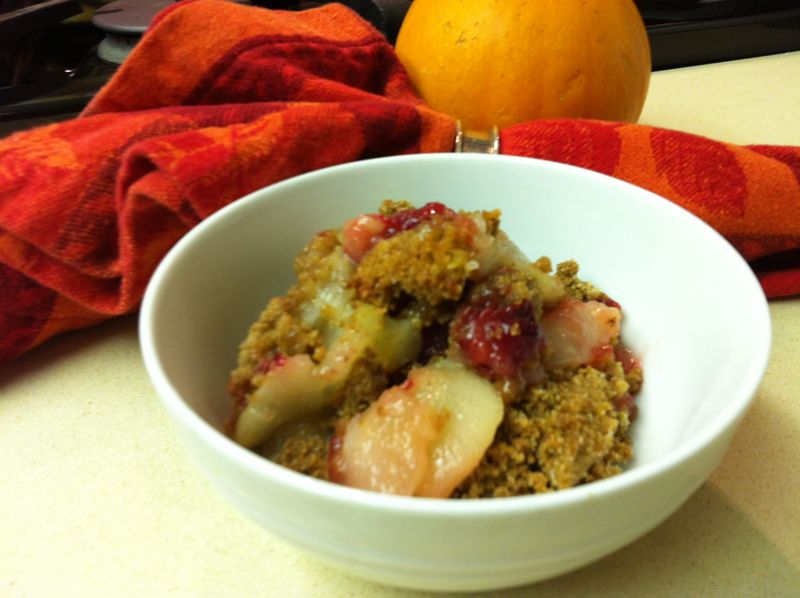 I regularly haunt Smitten Kitchen's website as she cooks food that I can make, with only a few photos here and there, which makes it an easy read. (I don't particularly object to a raft of photos, as they are helpful when a new technique is being presented, but occasionally they can get out of hand.)  But I'd have to say it's her combination of ingredients that are the usual standouts.  She just has a way with food.  Summer Strawberry Cake is one of hers, too, and if you haven't made that this summer, then you've really missed out.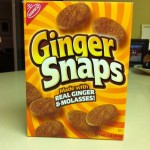 Anyway, here's a fall treat, made beautiful with three kinds of pears and cranberries and an interesting crumble on top, made from gingersnap cookies.  I bought a box in the grocery store and on first glance, I thought I'd bought a box of brown thin hockey pucks.  I snapped them (with some effort) into fourths then whirled the 16-18 cookies in my food processor to make the crumbs (although a ziploc bag and a swift firm hand with a kitchen mallet would also do the trick).  Amazingly, with the suggested addition of the ginger and pepper, those hideous store-bought cookies turned out okay atop the steaming, juicy pears and cranberries.
Adapated from Smitten Kitchen, who adapted it from Sweet Melissa Patisserie
Crumble
1 cup (125 grams) all-purpose flour
1/4 cup (50 grams) granulated sugar
3 tablespoons (37 grams) packed dark or light brown sugar
1 cup gingersnap crumbs (4 ounces or 113 grams or about 16 storebought cookies)
1/8 teaspoon ground ginger
1/8 teaspoon table salt
Pinch of white pepper, especially if your gingersnaps aren't particularly snappish
1/4 cup (1/2 stick  or 113 grams) butter, melted and cooled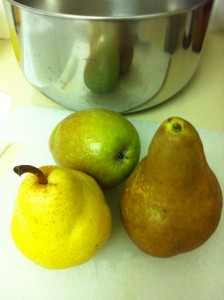 Beauty shot of the pears.
From left to right: Bartlett (yellowish), Anjou, and Bosc.
The Anjou and Bosc are a little crisper than the Bartlett, but cook up well.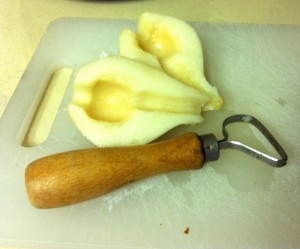 And here's my trick for coring pears: a clay tool from an art supply store.
Filling
2 pounds (about 4 to 5) large ripe pears (I used combination of Anjou, Bartlett and Bosc) peeled, halved, cored and sliced 1/4 inch thick
1 1/2 cups (6 ounces or 170 grams) fresh cranberries
1 tablespoon (15 ml) lemon juice
1/2 teaspoon finely grated lemon zest
1/2 teaspoon vanilla extract
1/2 cup (100 grams) granulated sugar
2 tablespoons (14 grams) cornstarch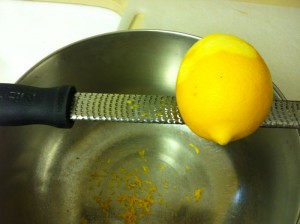 Do you have one of these microplanes for zesting?  I figure I used about 1/2 of the lemon for this recipe.  You can freeze the remainder, wrapped up in a square of wax paper, then into a ziploc baggie.  Label it, please, before you stick it in your freezer. (You'll thank me later.)
Preheat the oven to 350°F.
Stir together the flour, granulated sugar, brown sugar, gingersnap crumbs, ginger and salt. Stir in the melted butter until large crumbs form.
In a large bowl, mix the pears, cranberries, lemon juice, lemon zest and vanilla. In a small bowl, whisk the sugar and cornstarch together then toss it with the fruit mixture.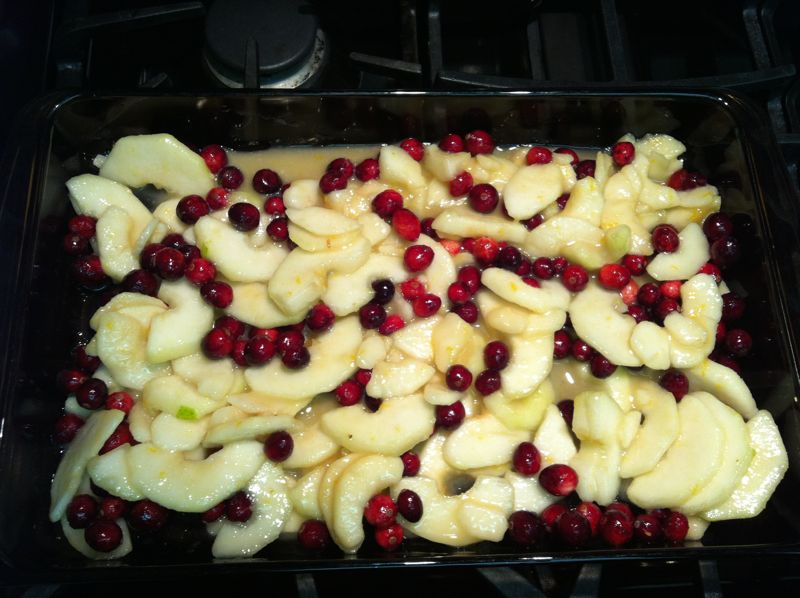 I just had to show you a picture of this before I sprinkled on the gingersnap topping.  Positively holiday-ish! I made this, doubled, for serving to the ladies in church.  Aside from the time taken to peel the pears, it's a quick and easy recipe.
In a 1 1/2 to 2 quart baking dish, layer in the pear-cranberry mixture, then sprinkle the gingersnap crumble over the fruit. Set the crumble on a foil-lined baking sheet (if you are worried about it  bubbling over—I baked mine in a 9×13 pan and had no troubles) and bake it for about 45 minutes, until the crumble is a shade darker and you see juices bubbling through the crumbs. Let cool a little bit, then enjoy.
Cook's Notes: The original recipe called for 1/2 cup [unsalted) butter in the gingersnap crumb topping; if you use that amount then the crumble will probably stay crisper an extra day.  Ours became softer the second day, but the flavor was still amazing—I wonder if it is the combination of the three pears together?  (The original merely asked for Anjou.)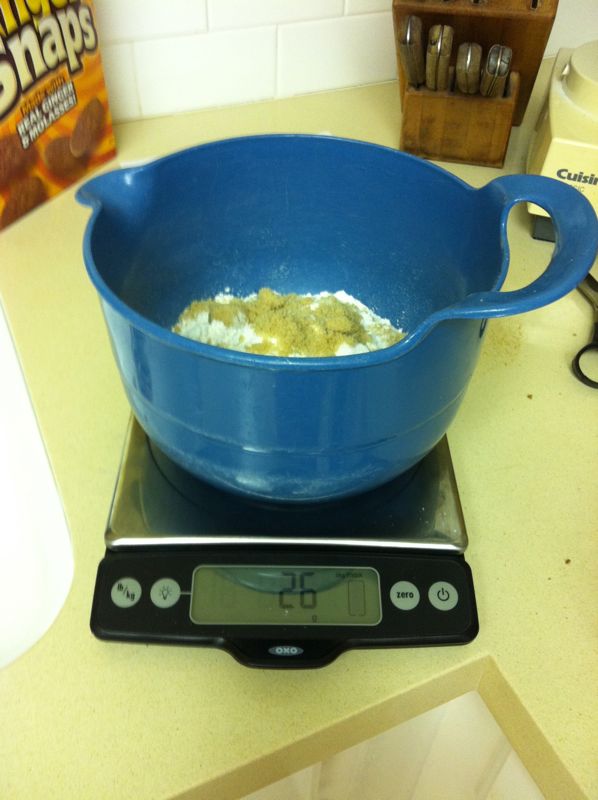 And what am I doing in the photo above?  Weighing the ingredients.  You've noticed that all of her ingredients have a weight listed next to them.  She predicts that this will be the wave of the future, similar to what they do it in Europe. I decided to try it.  I placed the bowl on, zero-ed it out, then added each ingredient, zero-ing out after each.  I can change to kilograms from ounces on my scale; I suggest if you are going to try this, you look for that feature as well.  Instead of multiple cups and bowls, it's just one-bowl-mixing for the dry ingredients.  Nice.