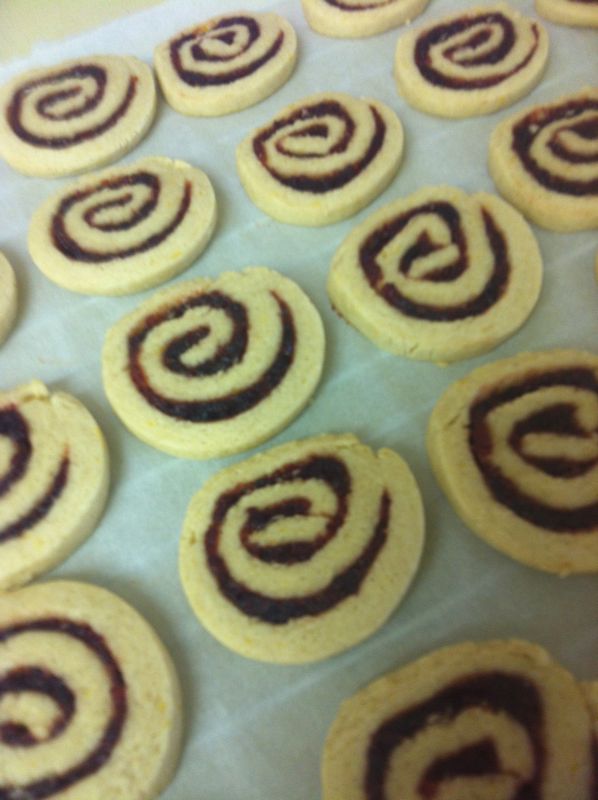 A few years ago I bought this sliver of a book, Joy of Cooking Christmas Cookies, and thumbed through it to find a cookie or two to try.  I placed little pieces of torn paper as bookmarks–which the book still has.  But I don't need one for this page, as I've made it so much, it opens by itself exactly here.  I like these cookies because you can make them ahead of time and store them in the freezer.  Some slicing and a quick bake and they're ready to go.  They are also one of the few things on the holiday table that is lower in fat, but they still have a delicious flavor with the sweet-tangy cherry-cranberry filling and the dough with its grated orange zest. There are a few steps to this recipe, but it's not difficult.
Filling
Combine in a medium saucepan:
1 and 1/2 cups dried cranberries ( 6 ounces)
1 jar (10 ounces) cherry preserves
1/4 cup water
1/2 teaspoon ground cinnamon
Simmer, stirring frequently, for 5-8 minutes, or until the mixture is soft and most liquid is absorbed.  Transfer to a food processor and process until smooth.  Cover and refrigerate until cool.  Filling may be stored up to 48 hours.  Let return to room temperature and stire well before using.
Dough
Using a wire whisk, thoroughly stir together and set aside:
3 and 1/3 cups all-purpose flour (16.75 ounces)
3/4 teaspoon baking powder
1/8 teaspoon baking soda
1/2 teaspoon ground cinnamon
Using an electric mixer, beat together until very well blended:
1/4 cup butter, softened (2 oz.)
3 tablespoons corn or canola oil
1 and 1/4 cups sugar (8.75 oz.)
3 large egg whites
2 tablespoons milk
2 teaspoons vanilla extract
1-1/2 teaspoons grated orange peel (about 1 small orange)
Beat in half of the dry ingredients until just incorporated, then stir in the remainder until well blended.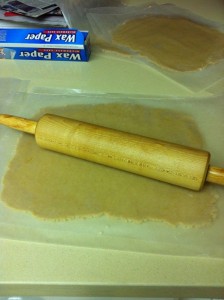 Divide the dough in half.  Form each half into a rough oblong shape about 6 inches long.  Center each log on a 12-inch-long sheet of wax paper.  Cover with a second 12-inch-long sheet of wax paper.  Press, then roll each log into an even 11-inch square, occasionally checking the underside of the dough and smooth out any creases.  Patch the dough as necessary to make the sides relatively straight.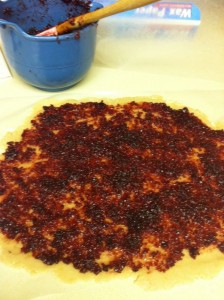 Working with one square of dough at a time, peel away and discard the top sheet of wax paper.  Spread half of the filling evening over the entire surface of the dough; the filling layer will be thin.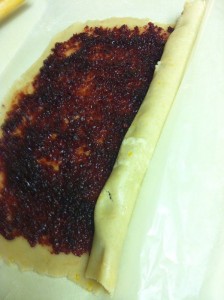 Using the second sheet of wax paper, roll up the pinwheel, by easing the dough onto itself; use the paper to assist you.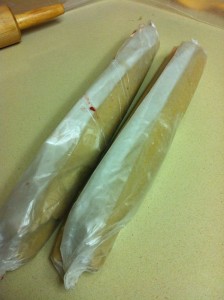 Wrap the roll in wax paper (I use the existing sheet), and twist the ends to prevent unrolling.  Place on a tray or cookie sheet.  Repeat with the remaining dough.  Freeze for at least 2 and 1/2 hours or until the rolls are firm enough to be cut neatly.  (If you wish to bake them much later, place the rolls in a plastic bag for up to a month.)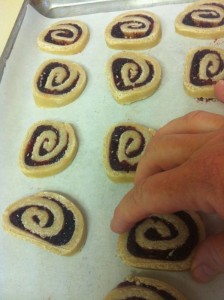 Preheat the oven to 375 degrees F.  Line a cookie sheet with a sheet of parchment paper.  Cut the rolls crosswise into scant 1/4″ slices.  Place them on the prepared cookie sheets, spacing them about 1 1/2 inches apart.  Try as I might, my cookies are always misshapen, so I kind of squeeze them into shape at this point.   Bake in the upper third of the oven for 10-12 minutes, or until the edges are browned and the tops are VERY lightly colored.  One of the attractions for this cookie is that they are pale with that brilliantly colored red filling.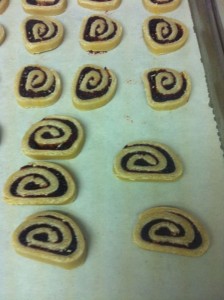 Drag the entire sheet of parchment paper from your baking sheet to a cooling rack, and let them cool.  Store, airtight, for 10 days, or freeze for up to one month.  I promise you no one will complain that yours are as lopsided as mine.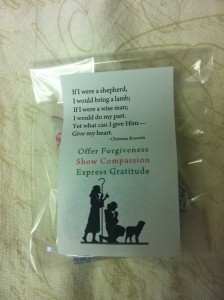 I made them up into favors for my lesson to the church ladies at Christmastime.  Here's the front, and then the back.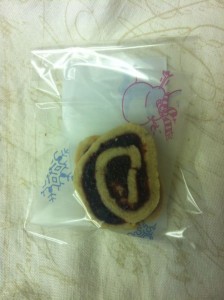 Some time ago I had purchased 8 1/2 by 11- inch sheets of "sticker" paper.  I print out what I want to say, cut them into shape then peel and stick them on the treat bags.  The filling is kind of sticky sometimes, so I sandwiched a piece of fancy wax paper between the two cookies.