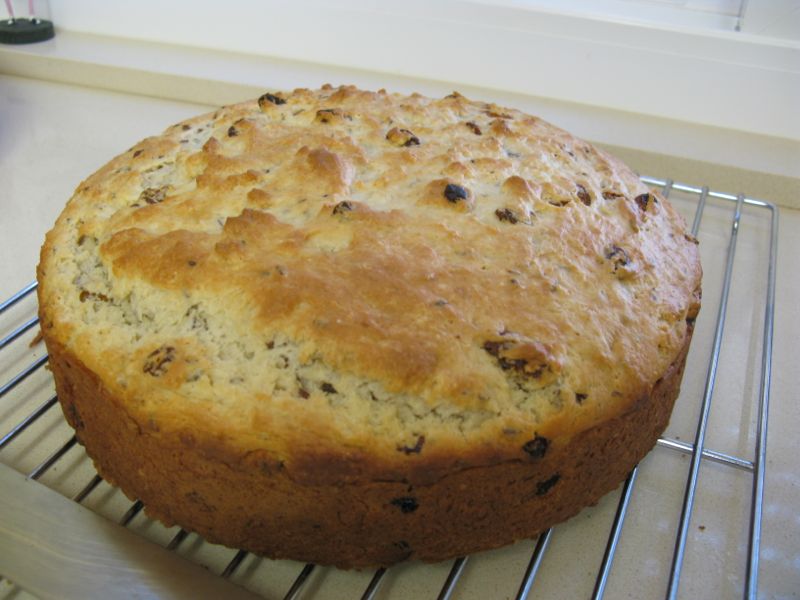 First of all, this apparently is NOT traditional Irish Soda Bread.  According to the Society for the Preservation of Irish Soda Bread, the traditional one does not have raisins in it.  Well, we can agree on that score.  The one I love to make doesn't have raisins either — it has sultanas — also known as golden raisins.
Back in March of 2009, when we were having book group, I wanted a recipe to take to Joan's house to compliment the fresh-squeezed orange juice she had promised to serve for refreshments.  And, because it was March.  And when we in America think March, we think green, Ireland, shamrocks, and corned beef and cabbage.  Of, if you're like me, See's Irish Potatoes, as well.  Now, with this recipe, you can think "Irish Soda Bread." Modified slightly from one published in Bon Appetit Magazine.
You'll need a sturdy 10-inch baking pan; I use a springform pan.  It will fill that all the way.
5 cups all-purpose flour
1 cup sugar
1 Tbs. baking powder
1 1/2 teaspoons salt
1 teaspoon baking soda
1/2 cup (1 stick) REAL butter, chilled when cut into small cubes, then left out to come to room temperature (if you are having a hot day, maybe leave it in the fridge)
2 cups golden raisins (also known as sultanas; you can buy them at Trader Joe's)
2 Tablespoons caraway seeds
2 1/2 cups buttermilk
1 large egg
Preheat oven to 350F.  Generously butter heavy 10-inch-diameter springform pan with 2 to 2 1/2-sides.  In large mixing bowl, blend first five ingredients to blend well.  Add cubes of butter; mix only until they become coated with flour and are about pea-size (NO MORE!).  Stir in sultanas and caraway seeds.  In a separate bowl, whisk egg and buttermilk together to blend.  Add to dough.  Mix briefly, just until dry is thoroughly moistened.  You may have some dry ingredients in the bottom of your mixing bowl, use a wooden spoon to stir in the dry ingredients thoroughly.  A light touch on the mixing yields a tender loaf.  Go easy.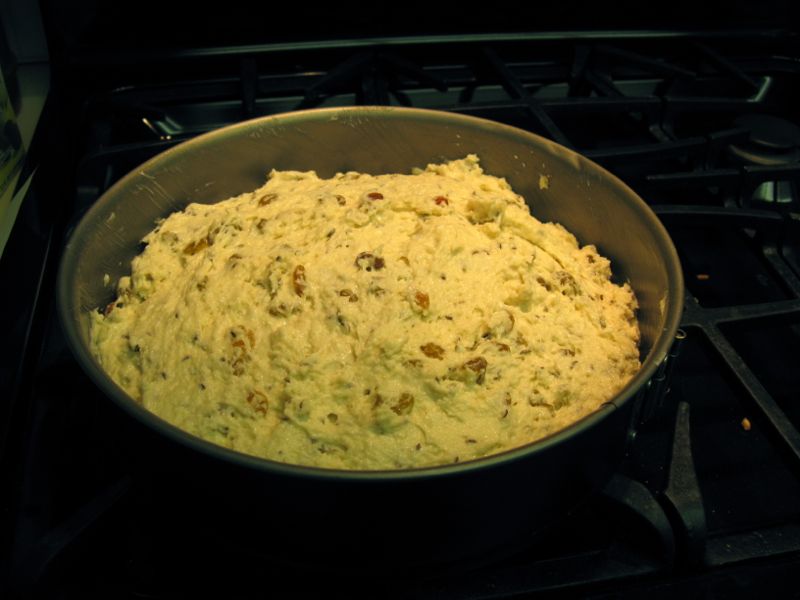 Turn dough into the prepared pan, smoothing top and rounding slightly in center.  If desired, dip a small sharp knife in flour and cut a 1-inch deep X in the top center of the dough.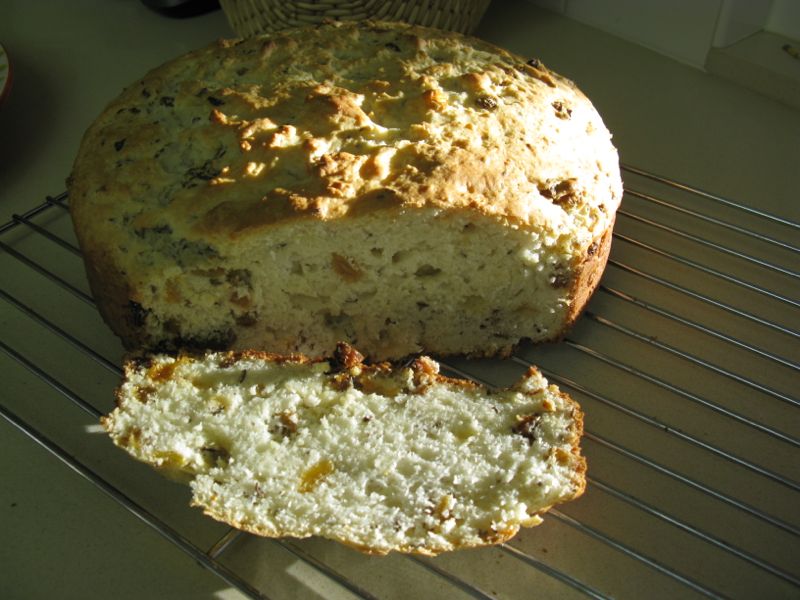 Bake until the break is cooked through and tester inserted into center comes out clean, about 1 hour.  Cool bread in pan for ten minutes, then transfer to a wire rack to cool thoroughly.  To serve, slice into 3/4″ slices, across the loaf.  This is really good spread with butter (and a little bit of jam if you want, but I'm sure that's not Irish, either).  For book group, I carted it over there warm, and we gobbled it down accompanied by sweet orange juice, freshly squeezed from Joan's own orange trees.
May you have warm words on a cold evening, a full moon on a dark night, and the road downhill all the way to your door.