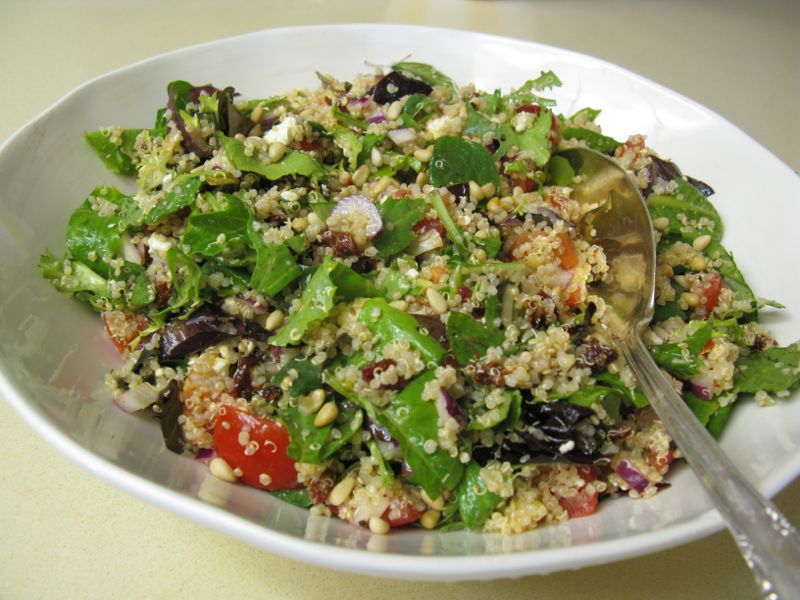 On our regular Friday night date, we went to California Pizza Kitchen to share a salad and a mushroom pizza, our usual.  But CPK had a new salad on the menu, and I came right home and tried to duplicate it, with a couple of twists.  Since I didn't measure too many of the ingredients, a lot of this is sort of "throw a little of this in, then throw a little of that."  If you want the original, head to CPK, but this is a good approximation.
1 cup dry quinoa
2 cups water
Cook the quinoa in the water, according to package directions.  Rinse under cool water, then drain.  Alternatively, you could cook the quinoa ahead of time, then chill it before use.  It also freezes very well. [Check other salads on this site for more detailed directions on how to cook quinoa.]
Place the quinoa in the bottom of a large sloping bowl, suitable for tossing a salad.  Douse the quinoa with some dressing: you can use any vinaigrette from this site, or any purchased light vinaigrette would do.  For this salad I used Brianna's Real French Vinaigrette and added a splash or two of red wine vinegar, as I think the ratio of vinegar to oil is a bit too low in many commercial dressings. I buy both of those things at Ralph's.
 To the bowl, add the following:
About 2-3 cups baby greens, loosely chopped
1 large tomato or three medium on-the-vine tomatoes (from Costco), chopped
1/2 small jar of sun-dried tomatoes (about 2 ounces, from Trader Joe's.  The variety I chose were already cut into strips so I just threw them in.)
1-2 ounces (about a handful) of toasted pine nuts (also from Trader Joe's.  You can buy regular pine nuts, then toast them slightly either under the broiler and a watchful eye, or tossing them lightly in a non-stick skillet)
2 ounces feta cheese–I buy mine in a brick (keeps fresh longer) lop off about an inch worth and crumble it by hand
Chopped red onion.  I cut off 2 slices for a large salad, each slice about 1/4″ thick.  Then I chop those slices into a medium dice, of about 1/4″
Then I tossed everything lightly. Check for the salt/pepper balance.  I found it needed quite a bit more salt than pepper.  Since I always like to heighten the flavors a bit on grain salads, I used a light shake of cayenne powder, then tossed really well.  My cayenne is on the old side, so I use two light shakes.  To make sure I know how much is going in, I "shake" it into the lid, check (that I haven't dumped half the bottle in), then sprinkle it over the salad.   Serve with a La Brea baguette, or some other fine piece of bread.
I think you could add some deboned rotisserie chicken to this, if you want to move it beyond vegetarian.  I always have some chicken in the freezer, ready to go, but it's really a fine salad by itself.