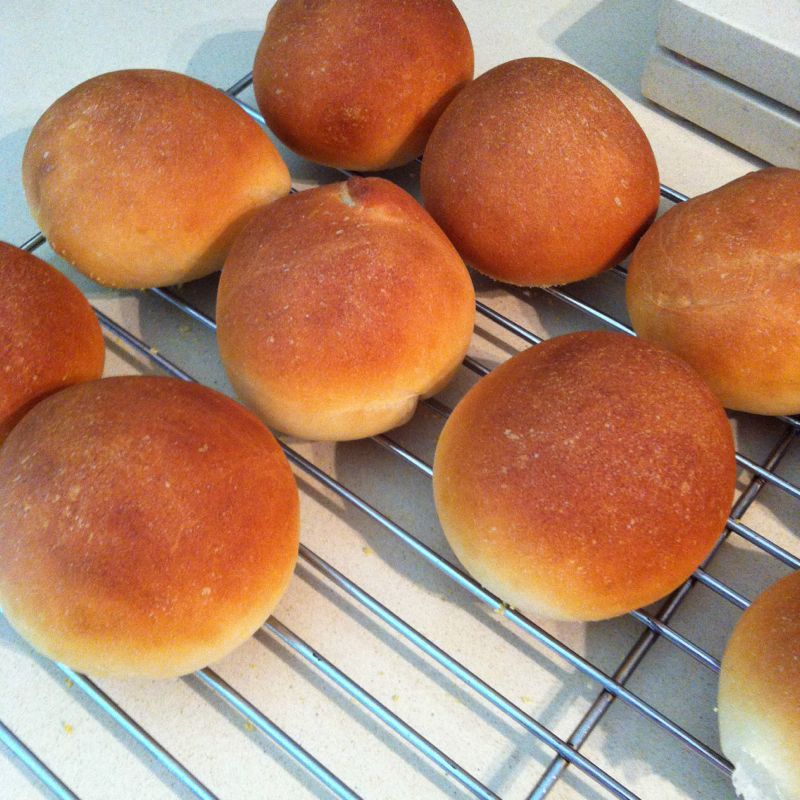 I was casting around for a buttermilk roll recipe, as I had to do a luncheon for seventy people and I wanted to order the local bakery's buttermilk rolls, but alas, the tight budget prevented that option.  This one did the trick, as it has a good "heft" and bite to it, as well as that slightly tangy taste that buttermilk gives.  I'd make it as written once, then if you wanted to cut that flavor, I suppose you could up the sugar by a tablespoon or two, but you're on your own for that variation.  This one is a little odd because it calls for yeast AND baking powder AND baking soda, but I suppose the soda's there as a companion to the buttermilk; I always see them together in my recipes.
Can I remember where I found this?  Nope–one of the mindless tired nights trolling the web, but there aren't too many buttermilk rolls out there that you'd want to make.  This one has the notation that "they got it from their neighbor" and "it doubles and triples well," but my mixer could only handle the single version (I know because I tried the double.  Don't do that at home) but after I figured out the logistics, I was on my way.  If you measure the dough (see below), each batch makes about 18 rolls.  As breads go, this one's an easy one.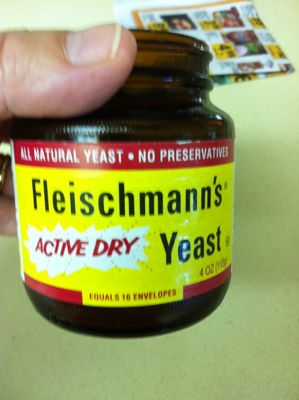 One last thing.  Don't use the bread machine yeast as it has dough conditioners in it.  In my experience (strictly anecdotal) I think it makes the bread go stale faster.  Try for the regular kind. (Sorry about the blurry picture.)
Ingredients
2 cups buttermilk (100-110 degrees F)
2-3 packages dry yeast, or about 2 1/3 Tablespoons dry yeast granules
2 tablespoons sugar
2 teaspoons salt
1 teaspoon baking soda
1 teaspoon baking powder
3 tablespoons extra virgin olive oil
5 – 6 cups flour (I used the full six cups of flour)
shortening, for baking sheets
cornmeal, for baking sheets
Directions
In a large mixing bowl or bowl of a heavy duty mixer, dissolve yeast and sugar in warmed buttermilk.  Add 1 cup flour, and beat until smooth.  Allow to set for 5-10 minutes, until mixture starts to foam and bubble.  Add salt, baking soda, baking powder, and olive oil.
Stir to dissolve, and add 3 more cups flour, 1 cup at a time, and mix until smooth. If using mixer, replace paddle beater with dough hook.
Add fifth cup flour, 1/4 cup at a time, while kneading; dough will still be rather sticky.
Add sixth cup flour, 1-2 Tbsp at a time, while kneading dough, until dough is no longer too sticky.  I used nearly the full amount of 6 cups flour.
If using mixer, dough will begin to form a ball around the dough hook.  If kneading by hand, dough will no longer stick to bowl and hands too much, though it may still be slightly sticky. Use more or less flour as necessary to reach this state.  Place dough in an oiled bowl, and turn to oil top of the dough.  Cover, and let rise in a warm place, 80-90º F, until doubled in volume, about 45 minutes.
Punch down dough, and knead by hand for about a minute to incorporate surface oil.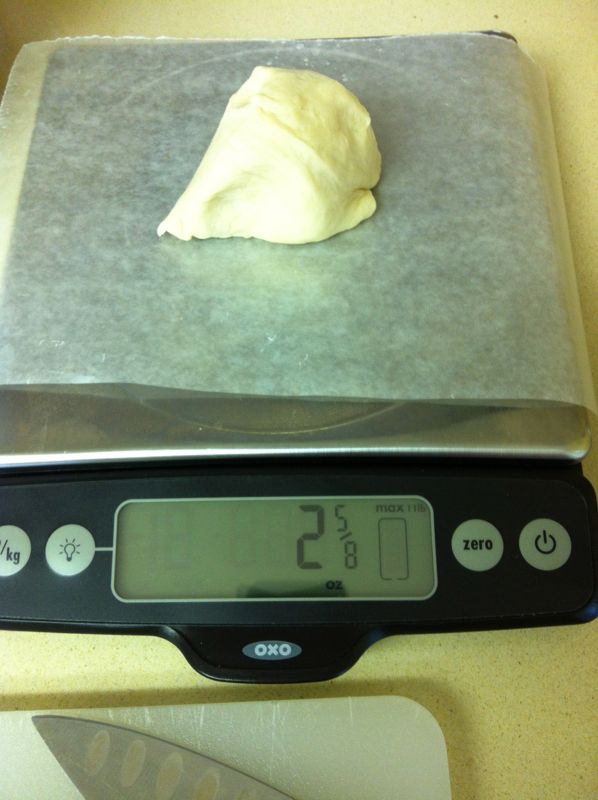 Here's where the measuring comes in.  Divide dough into one-ounce pieces, about the size of a large walnut, for small rolls, or two ounce pieces, a little larger than a golf ball, for normal size rolls.  I used a scale and made 2 1/2 ounce pieces, which yields about a 3″ diameter roll–a good sandwich size.
Shape pieces by hand into smooth balls, as shown above, by pulling the dough around to the underneath.  Then roll them around underneath your hand on the counter.  The resistance of that surface is needed. Alternatively you could use a glass-topped stove, or a large smooth cutting board, but no flour.  Apply some slight pressure downward as you roll the ball under your hand.  When you feel it kind of come together, stiffen up (my husband said they felt "cold" in his hand) and when turned over there is a little dimple, they are ready.  Check out the video, above.  I figure it's about 20-25 circles of the hand that does it.  No need to count–figure out what it "feels like" and go for that.
Place about one inch apart on greased cookie sheets that have been sprinkled with cornmeal.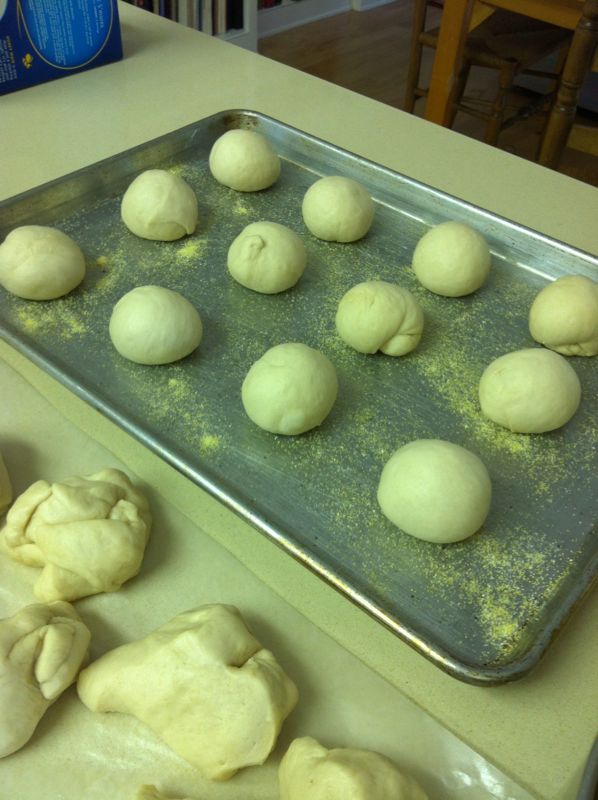 Brush the rolls with cold water, or mist them using a spray bottle. I forgot this step once, and the world didn't end.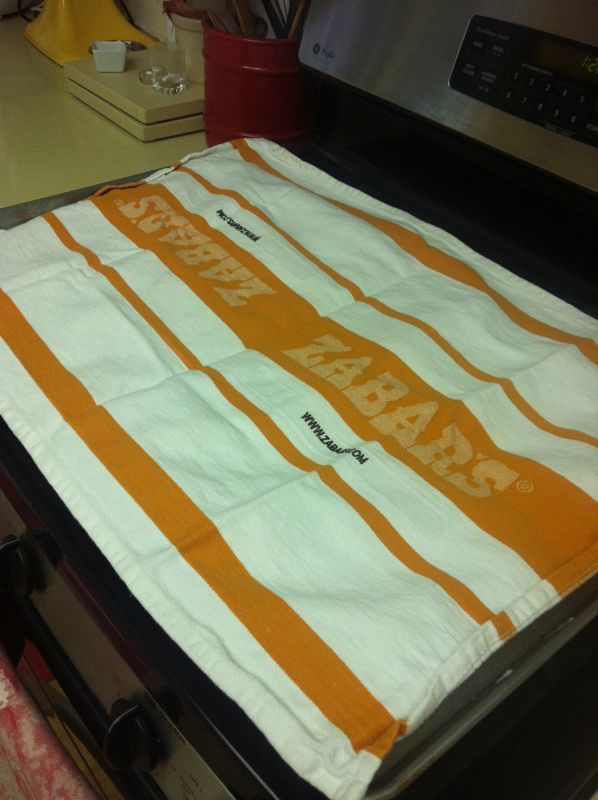 Rising rolls, covered with the souvenir dishtowel from Zabar's in New York City
Let rolls rise in a warm (80 degrees F+), draft-free place for 30-45 minutes, until doubled in volume.  A good place to do this is your oven: if the oven has a pilot light, just place the baking sheets in the oven. If you have an electric oven or one with an electric ignitor instead of a pilot light, turn on the oven for 45-60 seconds, and turn it off before placing the baking sheets in the oven.
Remove the baking sheets from the oven, and preheat oven to 400 degrees F.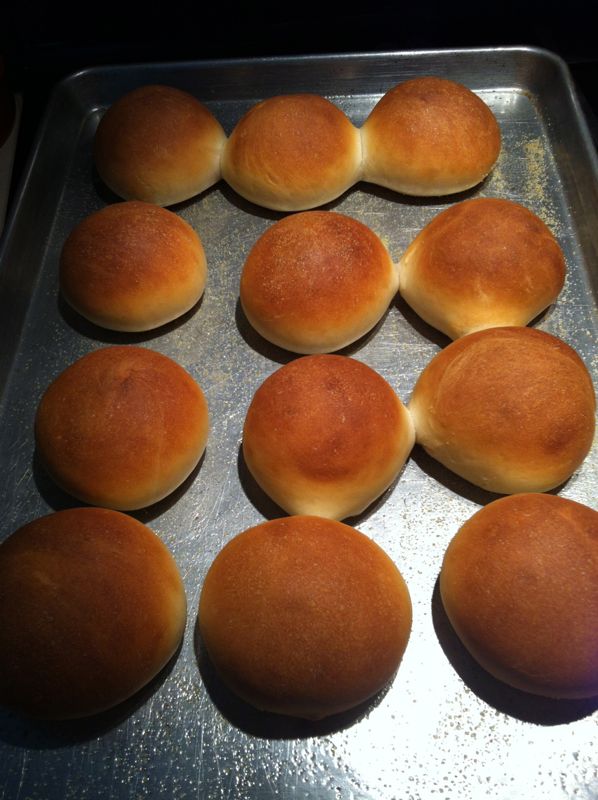 Bake rolls for 16-18 minutes, checking after 16 minutes, until a medium, golden brown.
Remove rolls from baking sheets, serve immediately, or cool to room temperature on wire racks if you plan to freeze them.  If you are going to freeze them, place cooled rolls in plastic freezer bags, preferably double bagging them.
To reheat, thaw for about a half hour, and heat in a 350 degree F oven for about 10 minutes.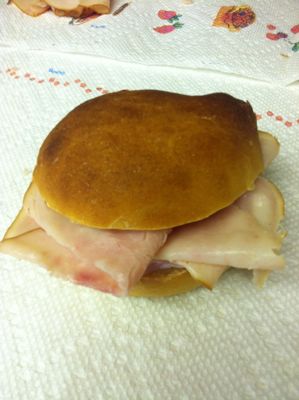 This recipe makes about 60 mini-rolls or 30 large rolls, or 18 even-larger (2 1/2 ounce) rolls.  Here's the little sandwich we made for the luncheon, using 1 1/2 ounces of lunchmeat (or about 3 pieces of  thinly-sliced Hillshire Farms pieces of turkey).  Since we were making these a week ahead, we slipped them into ziploc sandwich bags, then into larger bags.
Nutrition Facts
Serving Size: 1 (1223 gram–I think this must be the smallest roll; I didn't check)
Servings Per Recipe: 1
Calories 99.0
Calories from Fat 15   —     15% Daily Value
Cholesterol 0.6mg
Sugars 1.6 g
Total Carbohydrate 17.7g  —  5%
Protein 2.8g