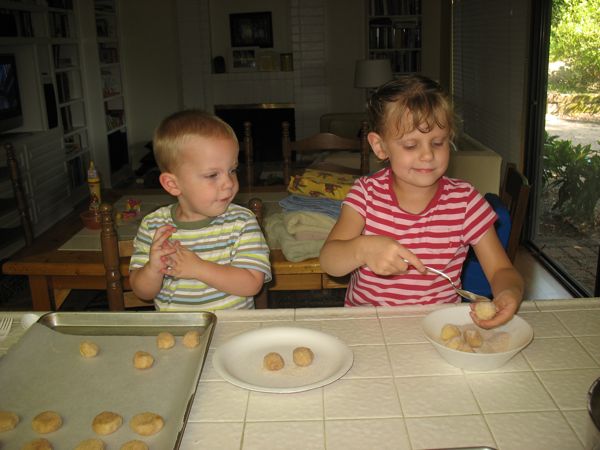 These are best made if a couple of grandchildren can be around to help you douse the balls of dough with some cinnamon-sugar and put them on the cookie sheet.  Barring that, you can always place the cinnamon-sugar mixture in a bag, drop the balls of dough in that way, then put them on the cookie sheet.  Shown here is a cookie sheet covered with parchment paper.  If you don't have that, just lightly grease the pan for the first batch, then keep cooking along.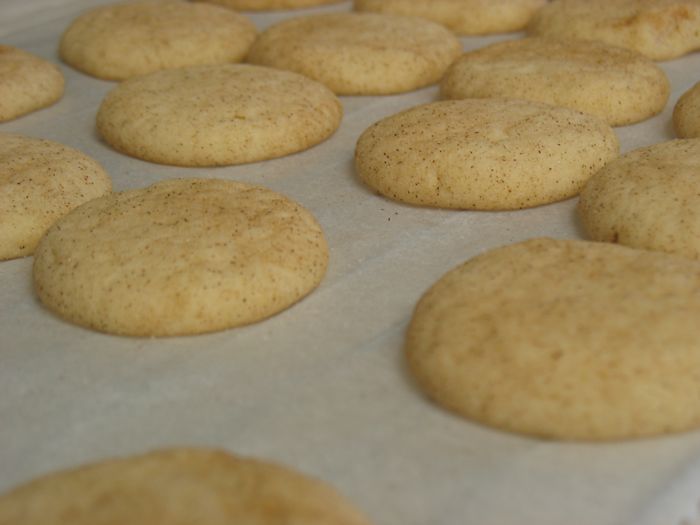 Snickerdoodles!
from the King Arthur Flour Cookie Companion book
1/2 cup shortening
1/2 cup butter (1 stick)
1 1/2 cups sugar
scant 1/2 teaspoon ground nutmeg
1 teaspoon vanilla extract
2 teaspoons baking powder
1 large egg
3/4 teaspoon salt
2 3/4 cups flour
Coating:
1/2 to 1 cup sugar
1-2 teaspoons cinnamon
Preheat oven to 400 degrees F. Lightly grease cookie sheets or line with parchment paper.
In a mixer bowl cream together the shortening, butter, sugar, vanilla and baking powder, beating until smooth. Add the eggs, again beating until smooth. Add the nutmeg, salt and flour (mixed together), scraping the bowl occasionally.
Mix together the sugar and cinnamon in a separate bowl (or a large plastic bag).
Roll the dough (about 1 Tbls each cookie for regular size, double that for larger cookies) into balls, then roll it in the cinnamon-sugar (or toss it lightly in the bag, very gently). Place on prepared cookie sheets and bake for 8 minutes (10 minutes for the large), or until golden brown around the edges. Cool on rack and store in air-tight containers.
Yield: about 7 dozen cookies.