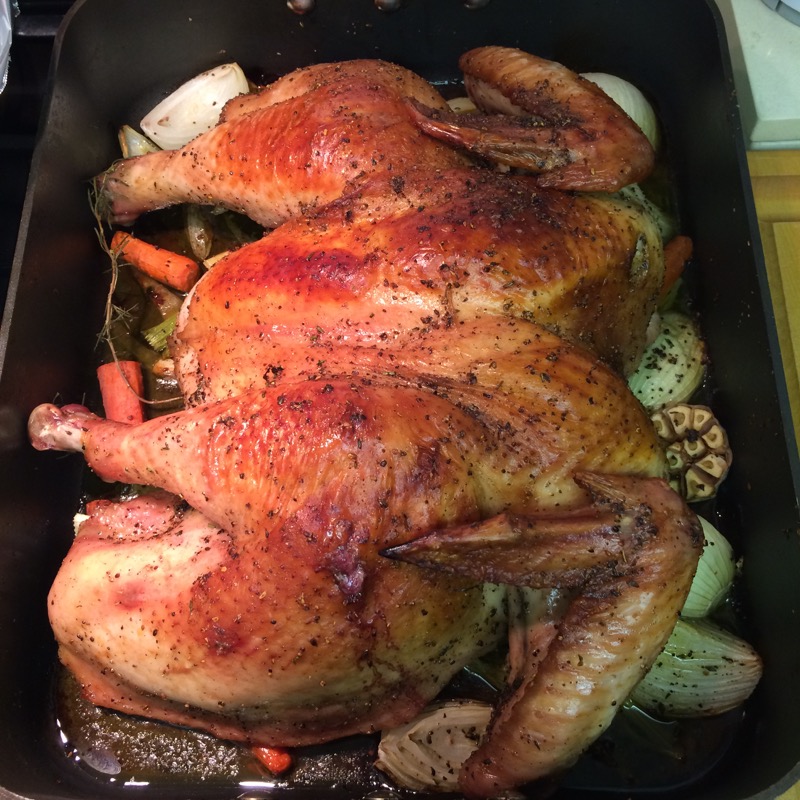 Or at least that's what Bon Appetit Magazine calls it: "The Turkey That Will Change Your Life."  I'm never having it another way.  Yep, I've found THE recipe, and here it is:
Spatchcocked Turkey with Anise and Orange, from Bon Appetit, November 2014
To start, watch this video:
http://video.bonappetit.com/watch/thanksgiving-manual-how-to-spatchcock-a-turkey
Most butchers will remove the backbone for you. Lots of guests? Roast two 12–14-pounders; spatchcocking anything larger will be harder and takes longer.
Ingredients
Servings: 8–10
5 teaspoons aniseed
½ cup kosher salt
¼ cup finely grated orange zest, plus 4 wide strips orange zest
2 tablespoons dark brown sugar
1 tablespoon coarsely chopped fresh rosemary, sprig reserved
1 tablespoon fresh thyme leaves, sprigs reserved
2 teaspoons freshly ground black pepper
1 12–14-lb. turkey (neck, giblets, and backbone removed and reserved)
2 medium onions, quartered
4 large carrots, peeled, halved
4 celery stalks
3 heads garlic, halved
½ cup olive oil
Preparation
Toast aniseed in a dry small skillet over medium heat, tossing occasionally, until fragrant, about 3 minutes. Let cool; finely grind in a spice mill or a mortar and pestle. (Alternatively, chop with a knife, or do what I do: put it in a small resealable bag and pound it with a food mallet.)
Finely chop salt, grated zest, sugar, chopped rosemary, thyme leaves, pepper, and 4 tsp. aniseed in a food processor.
Place turkey, skin side down, on a cutting board. Use a knife to score down long oblong bone in the center of breast. Turn skin side up and press down on breastbone to flatten. You should hear a crack and feel the bones give way. Rub all over with salt mixture; place turkey, skin side up, on a wire rack set inside a rimmed baking sheet and chill, uncovered, 6–18 hours. (Note: Of course, I forgot to do this, so I put it in the refrigerator that morning, then roasted it about 4 hours later, and it was still amazing.)
Preheat oven to 450°. Arrange onions, carrots, celery, garlic, and thyme and rosemary sprigs in a roasting pan. Rinse turkey, pat dry, and place, skin side up, on top of vegetables; let sit at room temperature 30 minutes.
Meanwhile, heat oil, orange zest strips, and remaining aniseed in a small saucepan until oil is sizzling, about 2 minutes; let cool slightly.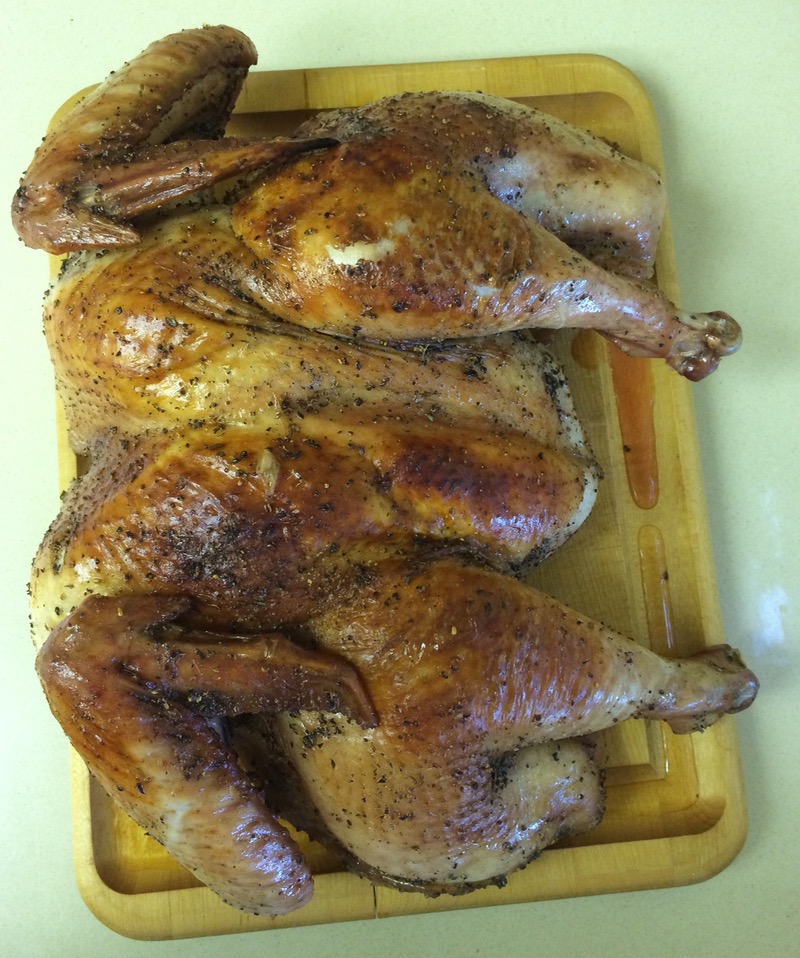 Brush turkey with oil, add ½ cup water to pan, and roast turkey 30 minutes. Reduce oven temperature to 350° and continue to roast, brushing with oil every 20 minutes, until skin is deep golden brown and crisp and an instant-read thermometer inserted into thickest part of thigh registers 165°, about 1 hour longer. Transfer to a platter; tent with foil and let rest at least 30 minutes before carving.
Here's their version of how to cut it up: