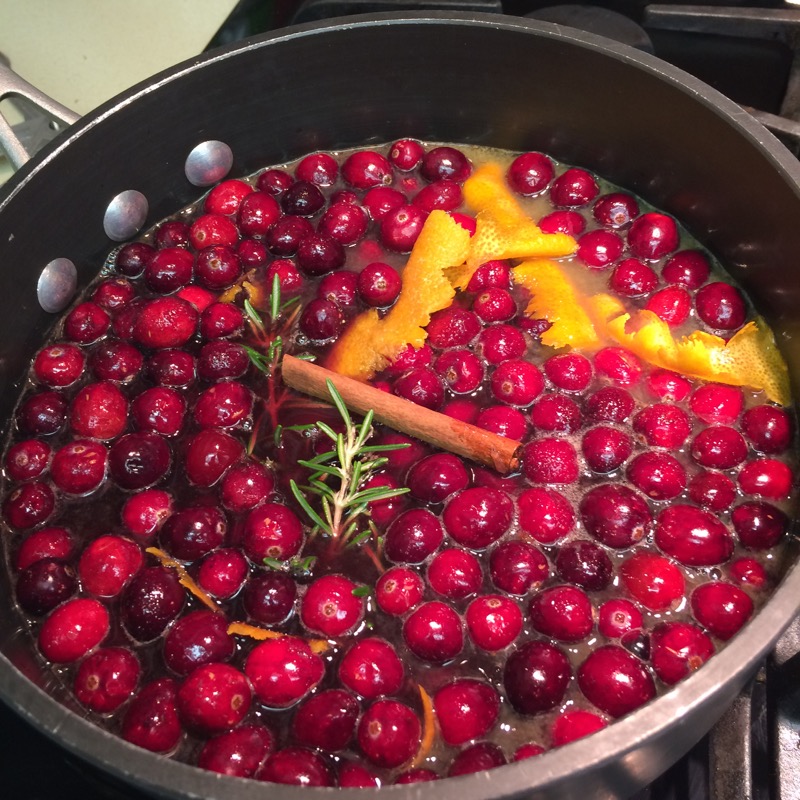 I wanted to try a new version of cranberry sauce this year, and found this one on the New York Times website.  Since I don't drink alcohol, I tried it with grape juice and it was still really delicious.  See Cook's Notes at end regarding the amount of sweeteners.
Time needed: 20 minutes, plus cooling  Yield: 2 1/2 cups
10 whole allspice berries (I took that to mean "whole allspice"; see note below)
10 whole cloves
10 whole black peppercorns
Combine allspice, cloves and peppercorns in a spice grinder or coffee grinder and pulse until finely ground.
———-Or, just use powdered spices, substituting 1/2 tsp. of each for the whole spices——
3 cups fresh or thawed frozen cranberries
1 cup Welch's purple grape juice
3/4 to  1 cup light brown sugar**
3/4 to 1 cup clover or wildflower honey**
3/4 cup fresh orange juice
4 strips orange zest, about 1 inch by 3 inches, removed with a vegetable peeler
1 (6-inch) sprigs rosemary
1 small cinnamon stick
1 vanilla pod
Preparation
In a medium saucepan, combine cranberries, grape juice, brown sugar, honey, orange juice, orange zest, rosemary, cinnamon stick and ground spices.  With the tip of a paring knife, split vanilla pod lengthwise. Use the back of the knife to scrape seeds from pod. Add seeds and pod to pot.
Bring mixture to a boil, then reduce heat to a gentle simmer. Cook, stirring often, until cranberries have burst and liquid thickens slightly, about 15 minutes. Remove from heat and discard zest, rosemary sprig, cinnamon stick and vanilla pod. Transfer mixture to a bowl and let cool.
**Important: TASTE the sauce.  Start with the lesser amount of sugar and honey and add as needed.  Early in the season my oranges are more tart so I need to use the full complement of sweeteners.  Later, when the oranges are more sweet, I can use the lesser amount of honey and/or brown sugar.  This sauce should be tart, balanced by sweet.
Updated November 2016