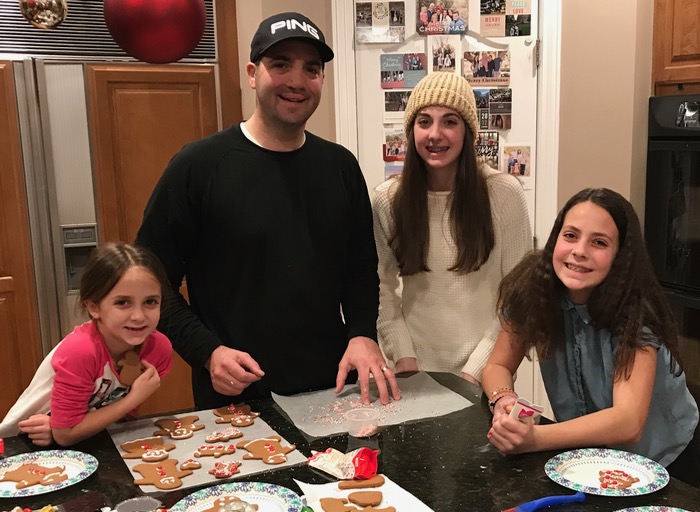 I was visiting Matthew's house at Christmastime, when we decided to rustle up a batch of Gingerbread Cookies, for eating and for sharing.  I found this recipe online at the King Arthur Flour website, and they all turned out so well I wanted to put it up here (I own the King Arthur cookbook).  We made a few modifications for ease in preparation, which I've incorporated into the recipe below.
Ingredients
3/4 cup unsalted butter
3/4 cup brown sugar, packed
3/4 cup molasses
1 teaspoon salt
2 teaspoons cinnamon
2 teaspoons ground ginger
1/4 teaspoon allspice or cloves
1 large egg
1 teaspoon baking powder
1/2 teaspoon baking soda
3 1/2 cups King Arthur Unbleached All-Purpose Flour
Instructions
In a large mixing bowl, place the brown sugar, molasses, salt, and spices.  Melt the butter in a microwave, and add to the sugar/molasses mixture.  Beat in the egg.
Whisk the baking powder, soda and flour together, then to the molasses mixture about a quarter at a time.
Place the dough in a gallon-sized quart bag, shape it into a flat disk, zip closed, and refrigerate for 1 hour or longer. The dough may be sticky and hard to roll if not thoroughly chilled, so make sure it's cold before continuing.
Preheat your oven to 350°F. Get out several baking sheets; line with parchment parchment paper.
Once the dough has chilled, take one-half of the dough out of the refrigerator.  I always use a floured pastry cloth and a stockinette on the rolling pin, but if you don't have this, work on a well-floured surface, and roll the dough 1/8″ to 1/4″ thick; the thinner you roll the dough, the crispier the cookies will be.
Cut out shapes with a cookie cutter, cutting them as close to one another as possible to minimize waste.  Roll scraps into a ball, and re-roll and cut out again.
Transfer the cookies to prepared cookie sheets. Bake the cookies just until they're slightly brown around the edges 8 to 10 minutes, or until they feel firm. Let the cookies cool on the baking sheets for several minutes, or until they're set. Transfer them to a rack to cool completely. Repeat with the remaining dough.
Cook's Note: We doubled this with no troubles at all, but worked with only 1/4 of the dough at a time, keeping the rest refrigerated.