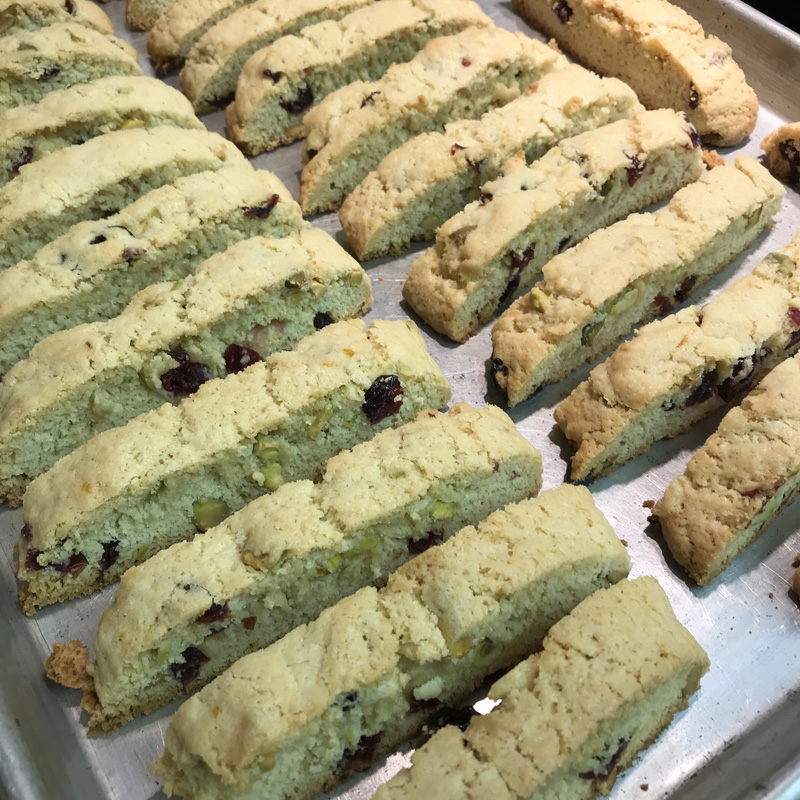 I had to make a batch of cookies to take to a holiday event, and decided to revamp my traditional biscotti recipe, adding pistachios, orange zest and dried cranberries (Craisins) to the recipe.  The original, Anise-Almost Biscotti, are great biscotti, but I omitted the almonds and the anise and added the above treats.  They were a hit.
Preparation: Position rack in center of oven and preheat to 350°F. Line1 baking sheet with parchment paper.
Ingredients
1 and 1/4 cups sugar
10 tablespoons (1 1/4 sticks) unsalted butter, melted
3 large eggs
1 tablespoon vanilla extract
3 1/4 cups all purpose flour
1 tablespoon baking powder
1/3 teaspoon salt
zest from two medium oranges (about 1 Tablespoon)
1/2 cup dried sweetened cranberries (Craisins)
1/2 cup coarsely chopped pistachios (unsalted, unroasted preferred, but it's okay if you don't have them that way.  I buy mine at Trader Joe's).
In mixer, mix sugar, melted butter, 3 eggs, vanilla extract, and orange rind. In another bowl, sift (or stir together) flour, baking powder and salt.  Add flour mixture to egg mixture and stir on low speed, scraping when needed until well blended.  Add dried cranberries and pistachios.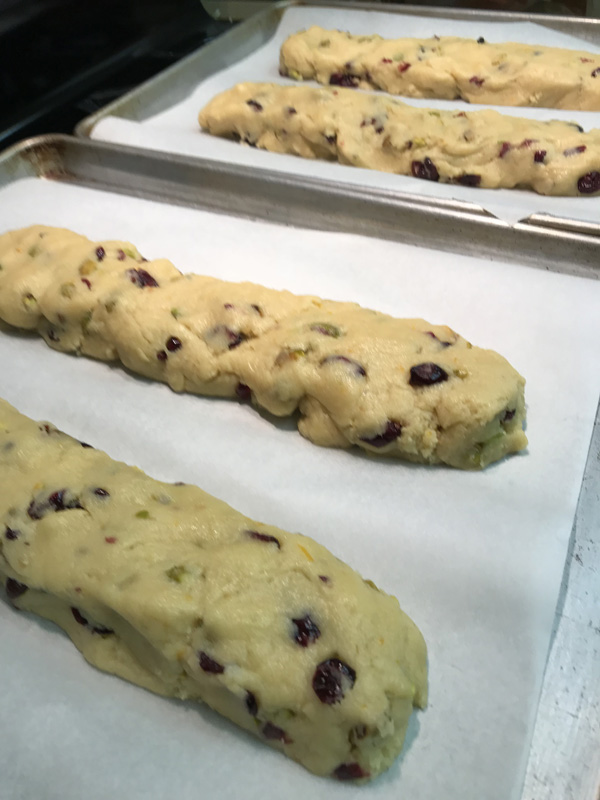 Glop half of the dough onto the parchment-lined cookie sheet. Dough is kind of gooey–so I used my spatula to shape each dough half into 13 1/2-inch-long, 2 1/2-inch-wide log. Mine got a little wide, so the final biscotti were a little flat. Remember that, when you shape them. Space the logs 2-3 inches apart.  (What you see here is a doubled batch.)
Bake logs until golden brown (logs will spread), about 35 minutes (a little longer than the usual biscotti). They should be firm to the touch. Don't turn off the oven! 
Cool logs completely on sheet on rack, about 20 minutes.  I dragged mine over onto a baking rack by using the edge of the parchment paper, and tilting the cookie sheet a little bit.
Transfer logs to work surface; discard parchment paper. Using serrated knife, cut logs on diagonal into 1/2-inch-wide slices. Stand them on edge, as shown in the first photo.  If you do it this way, you don't have to turn them over, and you can get it all on one baking sheet.  Bake 15-20 minutes.  You want to make sure there are no doughy spots, and they are good and crunchy.
Transfer to rack and cool. These can be prepared 1 week ahead of your Big Party. Store in airtight container at room temperature.  These have a melt in your mouth crispness that are typical of homemade biscotti, but unlike store-bought, they won't break your jaw.