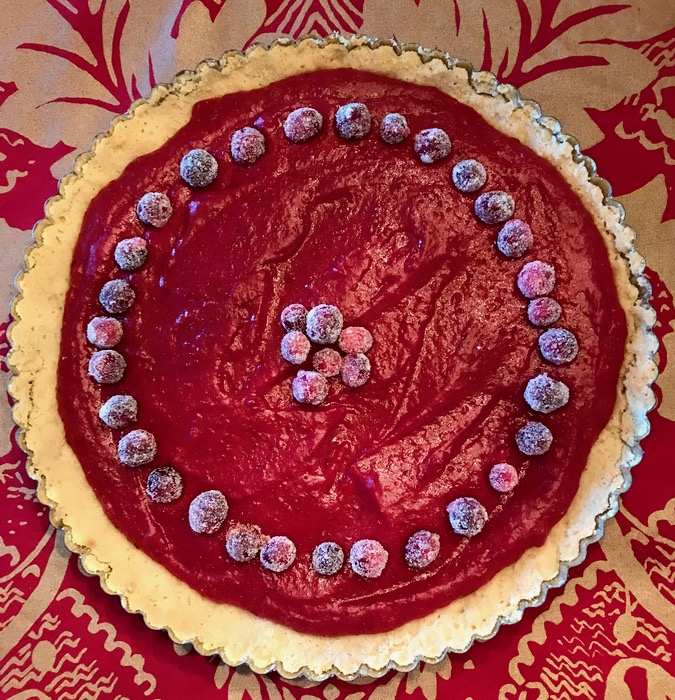 I first saw this on the New York Times website, then saw it again on the Bon Appetit website, then about a bajillion other bot-driven websites (all looking the same, all "authored" by a single-named woman, who promised hearth and home and happiness while inundating the viewer with ads-ads-ads).  What is it with these robot websites??
I read about 90% of the comments on the NYTimes recipe site pertaining to this recipe, and have incorporated my changes below.  This pie is gluten-free because I wanted to make it for a woman at my church who can't eat gluten, and has not had a dessert at a church dinner in a millenia.  This is my holiday gift to her, and to you.  First, the recipe, then the photos (reverse of the usual).
Cranberry Curd Pie
Almond Crust
2 cups almond meal
1/4 teaspoon salt
1/2 cup sugar
Place in medium bowl, stir to mix (or use food processor).
Cut in 6 Tablespoons of softened butter, until crumbs are fine, and you can gather the dough together in your hands.  If too dry, add 1-2 Tablespoons water, a bit at a time.  Press dough evenly into a 10-inch tart pan with removeable bottom; use half the dough for the sides and half for the bottom.  Prick all over with a fork.  Tear off a piece of aluminum foil the size of the tart pan, and butter the dull side.  Press onto your tart butter-side down; freeze for at least 30 minutes.  This can be made a couple of days ahead.  Just make sure the aluminum foil seals the tart well. (photos below)
To bake, preheat the oven to 350 degrees.  Place the chilled tart shell with the foil into the oven and bake about 10 minutes. Remove from oven, and carefully take off the foil.  Finish baking for another 5 minutes.  Cool.
Cranberry Curd Filling
12 ounces cranberries, washed and picked over (almost 2 cups)
1 cup sugar
Peel of one orange, removed with a vegetable peeler, in strips (then rip into about 2″ pieces)
Juice of one orange, or 1/2 cup freshly squeezed orange juice
2 eggs plus 2 egg yolks
1-1/2 Teaspoons cornstarch
4 ounces (1/2 stick) butter, softened
Put cranberries, sugar, orange juice and peel in a saucepan over medium heat.  Simmer until cranberries have popped and softened, and liquid has diminished, about 10 – 15 minutes.  Remove orange peels.  Using an immersion blender, blend the mixture until berries are not noticeable in the pan.
Set a medium mesh sieve over a bowl, and spoon the cranberry mixture into the sieve, pressing it into the bowl. (See note below about what remains in the sieve.)
Wash the pan (or get another).  Break in the two eggs, then add in the two egg yolks.  Stir to break up yolks.  Stir in 1-1/2 teaspoons (1/2 Tablespoon) cornstarch until blended.  You may see some white bumps; ignore.
Spoon cranberry puree into the yolk mixture.  Set over low heat, and constantly whisking/stirring, bring mixture to a temperature of between 140 and 160.  The commenters noted that when properly cooked, the curd should coat a spoon.  This took me about 15 minutes.  I did keep it constantly stirring, but I wasn't beating it.  I didn't want to incorporate any air into the mixture and disrupt the anticipated color.
Remove from heat, and stir in the butter a bit at a time, whisking well in between each addition.  Again, don't incorporate air in your mixing.  Let cool to room temperature (mine was a little warmer), and pour into the prepared pie shell.  Bake at 350 for 10 minutes, in order to set the curd.  Cool on a rack.  Store at room temperature for up to 2 days.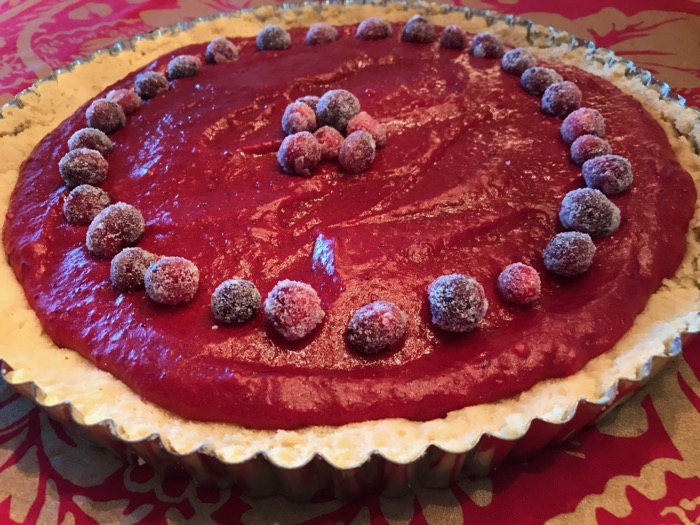 Sugared Cranberries for topping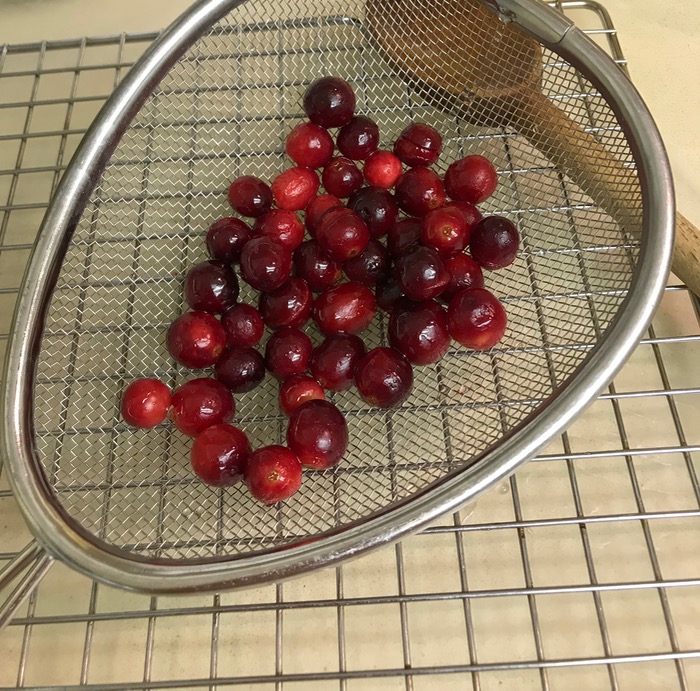 Boil together 3/4 cup sugar and 1/2 cup water until mixture is at a full boil and looks clear.  If you have time, let the syrup cool.
Wash and pick out your best handful of berries (3/4 to 1 cup), and stir into the syrup, making sure they are well coated.  Remove to a fine rack (or into a strainer).
Sprinkle some sugar onto a square of waxed paper, and sprinkle some more over the top.  Then roll the berries in the sugar.  If they are well-drained, you won't get clumps of sugar, but a nice, even coating.  Let cool and dry, then decorate the top.  I meant to clip some mint sprigs to place at the center berries; you might want to consider this.
Cooks Notes:
After all was said and done, I had about 1/2 cup left of the cranberry mash in my sieve from making the curd.  This went nicely with a slice of Cranberry-Orange Bread that I had in the freezer, as it's like a jam. Store in the refrigerator.
If using the almond crust, best eaten on the day you make it.
Day One: it was perfection.
Day Two: crust was really soft, but curd was still good.
Alternate crust: Sweet Tart Dough (more like a shortbread cookie)
Curd can made be ahead.  Cover curd with plastic wrap (pressing it against the surface of the curd) and refrigerate up to one week.
Now the photos!