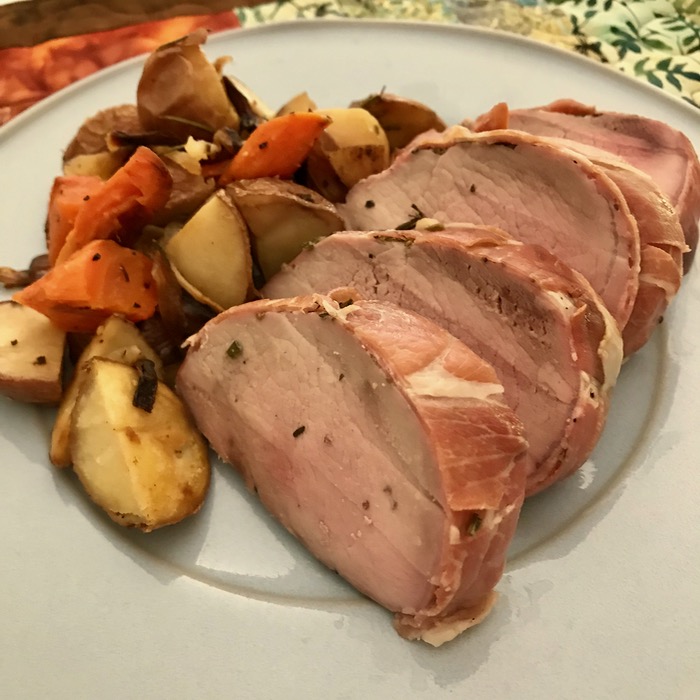 Pork:
2 tablespoons minced fresh rosemary
4 teaspoons herbes de Provence
4 teaspoons olive oil
2 pork tenderloins (about 2 pounds)
Kosher salt, freshly ground pepper
16 thin slices prosciutto (Italian bacon; about 4 ounces)
Preparation
Stir rosemary, herbes de Provence, and oil in a small bowl. Rub all over pork; season with salt and pepper. Wrap prosciutto slices around pork and tie at 2″ intervals with kitchen twine to hold together. DO AHEAD: Can be made 1 day ahead. Cover and chill.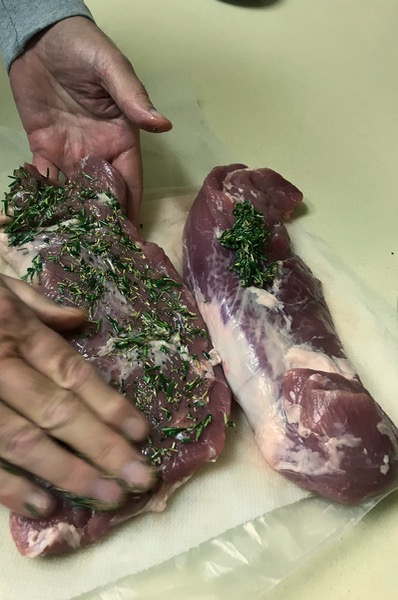 To make life easier, I spread out a length of wax paper, cut five piece of twine, and laid them out like railroad tracks.  I laid out the prosciutto in an area that I thought might match the length of the pork loin, plus double the width.  I placed the herbed meat on top of the prosciuttio, then brought the string up and tied it, which wrapped the prosciutto into place.  We flipped them over when we placed them in a lidded container, which we then put into the refrigerator overnight.
Spray a broiler pan with cooking spray (don't forget the bottom of the pan that catches the drippings), place the pork loin on top.  Bake at 400 degrees for about 30 minutes, or until an instant-read thermometer inserted into the middle of each loin registers 145 F.  Tent and let it rest for 10 minutes.
Transfer tenderloins to a cutting board, slice thinly and serve with plum chutney, or cranberry sauce.
NOTE: If using a charcoal grill, build a medium-hot fire; push coals over to 1 side of grill. If using a gas grill, heat all but 1 burner to high. Grill tenderloins over hot part of grill, turning frequently, until a crisp brown crust forms on all sides, 8-10 minutes. Move tenderloins to cooler part of grill to gently cook through; cover and cook until an instant-read thermometer inserted into the middle of each loin registers 145°F, 15-20 minutes longer.