It is the 14th of July, hotter than blazes, and over in France they are celebrating their national holiday, Bastille Day.  But here in the U.S. of A. I'm all about making a giant cookie that is really more like a cake, but in modern fashion, it is "everything-free."  That means is is dairy-free, gluten-free, but not chocolate-free or taste-free.  Enjoy.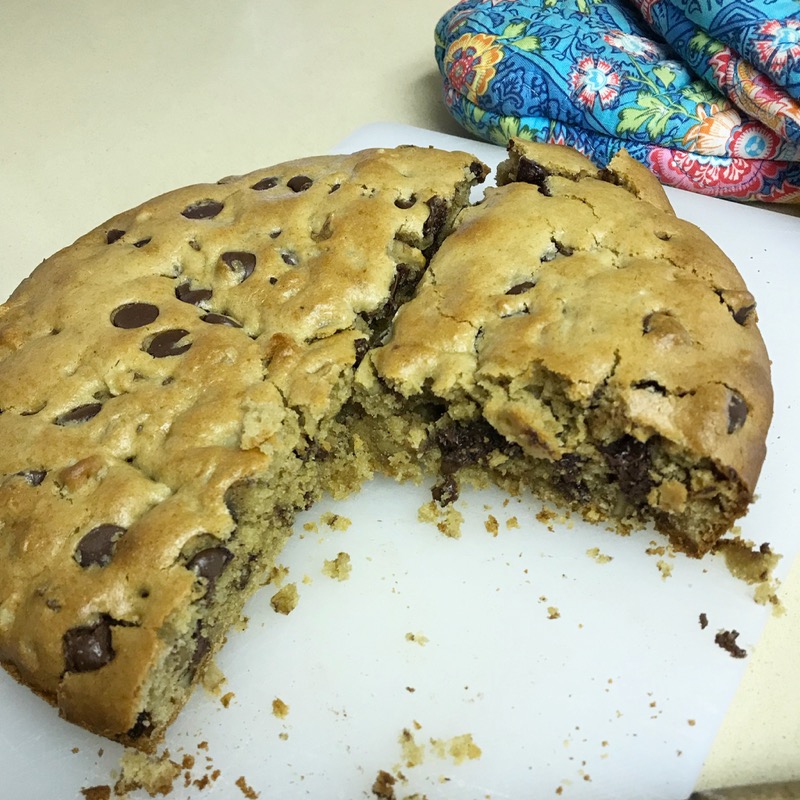 Ingredients
1/4 cup olive oil
1/3 cup maple syrup
1/4 cup tahini
1 large egg
1 teaspoon pure vanilla extract
1 cup gluten-free all-purpose flour blend (I used Bob's Red Mill 1 for 1 blend)
1/4 teaspoon sea salt
1/4 teaspoon baking soda
2 handfuls dark chocolate chips or chunks (about 3/4 to 7/8 cup)
1/2 cup chopped walnuts (optional)
Instructions
NOTE: I didn't have an 8-inch oven-proof skillet, so used an aluminum cake pan instead; it was fine.
Using a pastry brush, lightly grease an 8-inch oven-proof skillet with olive oil, brushing the oil around the sides of the pan as well. Set the pan aside.
In a medium bowl whisk together olive oil, maple syrup, tahini, the egg, and vanilla extract.  In a separate small bowl whisk together flour, salt, and baking soda.  Add the dry ingredients all at once to the wet ingredients and stir to combine completely.
Stir in the chocolate chips and nuts and place the mixture in the refrigerator to chill for 30 minutes.
Place a rack in the upper third of the oven and preheat oven to 350 degrees F.  When you're ready to bake the cookie, spread the dough in an even layer across the prepared pan and bake.
Although the original recipe says to bake for 16 to 18 minutes, and until just baked through but slightly underbaked — my cookie-cake took about 25 minutes to get to that the-top-is-still-shiny, slightly underbaked, gooey status.  It could have been my use of the aluminum pan, or maybe not.
Remove from oven and allow to cool for about 10 minutes before inhaling.
This is modified from Joy Wilson's recipe of  Gluten Free Tahini Dark Chocolate Skillet Cookie, from her Joy The Baker website.